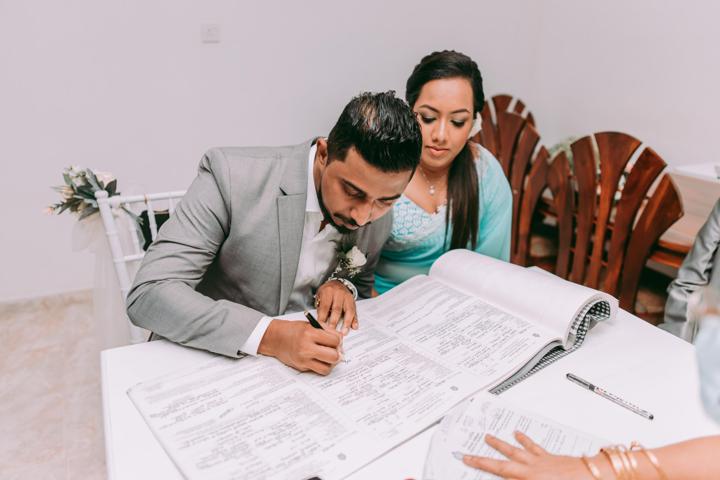 Photo credits: Unsplash
Key Takeaways
Zoho and DocuSign

are easy-to-use digital signature solutions for businesses of all sizes.

Zoho Sign includes more features and is more cost-effective than DocuSign.

DocuSign is priced comparatively higher but is an extremely effective tool for digital signature management.
Zoho Sign and DocuSign
Zoho Sign is a digital signature app startups can use to manage their documents from anywhere; you can sign and securely send copies to others via email. It also allows you to request digital signatures or even get on-the-spot signatures for your documents.
DocuSign is a tool for managing e-signatures, so startups can close deals and execute agreements, regardless of time or place. This is a scalable solution that minimizes disruptions to workflows and has global reach.
Zoho Sign vs. DocuSign
Pricing
Zoho Sign
The General Plan has four pricing tiers:
Free
Standard: $8.69 per user per month; billed annually
Professional: $13.37 per user per month; billed annually
Enterprise: $17.38 per user per month; billed annually
The API plan does not have a separate subscription fee but to access Zoho Sign's REST API, users have to purchase Zoho Sign Credits.
DocuSign
Four plans are available at different prices:
Personal: $10 monthly; $120 annually
Standard: $25 per user per month; $300 annually
Business Pro: $40 per user per month; $480 annually
Enhanced Plans: Custom quotes are available.
The API plan offers 5 pricing tiers:
Developer Account: Free 
Starter: $50 monthly; $600 annually
Intermediate: $300 per user per month; $3600 annually
Advanced: $480 per user per month; $5760 annually
Enterprise offerings: Custom quotes are available.
Conclusion: Both platforms offer multiple pricing tiers so users can choose from a wide array of options, but it is important to note the differences in each. 
Zoho Sign offers a free 14-day trial that allows users to access the Enterprise Plan. The free trial with Zoho Sign permits up to 10 users and up to 50 signed documents. DocuSign offers a free 30-day trial that comes with the basic e-signature functions. No credit card is required to access the free trial. 
In comparing the general plans, Zoho Sign's Free plan includes more features than DocuSign's most basic paid plan (Personal). The Free plan with Zoho Sign offers authentication of the signer code via email, certificate of completion along with the audit trail, provision to import documents from cloud storage apps such as Dropbox, Box, Google Drive, Zoho Docs, and basic integrations with Zoho apps. These features are not available with DocuSign's Personal Plan. Again, the Personal Plan with DocuSign offers integrations with Box, Dropbox, Evernote, Google Drive, and Microsoft Office 365.
Some of these integrations are available with the Free plan of Zoho Sign, whereas the Standard plan with Zoho Sign offers Microsoft Office 365 integration and is relatively less expensive than the equivalent DocuSign pricing tier. Again, at the Enterprise level, Zoho Sign offers more features than DocuSign does, such as document time-stamping, qualified electronic signatures, and the provision to sign via third-party DSC providers. In addition, with Zoho Sign, users don't lose unused credits as they are rolled over to the next month, which is not the case with DocuSign. It can be said that Zoho Sign is more cost-effective than DocuSign, but for the API plans, DocuSign spells out its solutions more clearly. 
Features
Zoho Sign
Some interesting features offered by Zoho Sign include:
Audit trail followed by a completion certificate

Basic and advanced integrations

Multiple language support

Signer attachments

Rebranding

Provision to sign with USB token for DSC

QES

Trusted document time-stamping

Reminders and notifications

Automatic cloud backup
DocuSign
Some interesting features offered by DocuSign include:
Real-time audit trail

Automated reminders and notifications

Pre-existing templates

Multiple language support

Team reports

Signer attachments

Payment collection
Conclusion: Both platforms offer a wide array of useful features, but Zoho Sign offers additional features such as provision to sign with USB tokens for DSC, qualified electronic signatures, and signing via third-party DSC providers. DocuSign does not offer these features but is still effective as a flexible tool for scaling a startup to the global level because it offers multiple language support even with its most basic plan (Personal), whereas Zoho Sign offers multiple language support only with the Professional plan that costs a little more than DocuSign's Personal Plan.
Signer attachments are available with the Business Pro Plan by DocuSign that is priced at $40, but Zoho Sign offers the same with its Professional Plan, priced at $13.37. Template sharing is available at a higher price with DocuSign's Standard Plan, but Zoho Sign offers this feature with its Professional Plan that costs comparatively less. To conclude, both platforms are feature-rich, but businesses can choose among the two according to their needs. Zoho Sign is cost-effective with more features, but DocuSign has the ability to connect globally, albeit at slightly higher prices. 
Integration
Zoho Sign: A host of integrations are available with Zoho Apps (Zoho CRM, Zoho Desk, Zoho Mail, Zoho People, Zoho Invoice, Zoho Books, Zoho Recruit, Zoho Forms),  Microsoft Apps (Office 365, Microsoft Teams, Outlook, and OneDrive), Google Apps (G Suite, Gmail, and Google Drive), and other apps such as Zapier, Dropbox, Box, Formstack Documents, and Integromat.
DocuSign: Google, Microsoft, Salesforce, Oracle, SAP, Apple, Workday, and Smart Communications among 350+ cloud-based integrations are available with the Solution Base of DocuSign.
Conclusion: Both platforms are evenly placed in the number of integrations they provide, but DocuSign does not provide integrations with Zoho Apps.
Security
Zoho Sign
Several layers of security are available:
AES 256-bit encryption for data at rest

Data transmission is always through a secure SSL/TLS connection

Generation of a cryptographic flash for all documents converted into PDFs

User data is not available - even for Zoho employees - in plain text

Redirection of users to the Zoho Accounts login page

Multi-factor authentication

The first layer of authentication is the Zoho Accounts Login, the second is ensured through one of the following: Zoho OneAuth, Mobile-based OTP, Time-based OTP, or Yubikey

Regular penetration testing

Overall design of Zoho Sign is compliant with OWASP (Open Web Application Security Project) standards

SOC 2 Type II, US-EU and US-Swiss Safe Harbor Frameworks and certified by TRUSTe, CSA, ISO/IEC 27001, ISO/IEC 27017, ISO/IEC 27701, and ISO 9001 certification
DocuSign: DocuSign adopts an all-inclusive approach towards security, including measures like AES 256-bit encryption at the application level, HTTPS transfer of all data, SAML (Security Assertion Markup Language) use for optimal utilization of web-based authentication, SSO, multi-factor, and two-factor authentication for users, and industry-standard compliance such as HIPAA, IRS, SOC 1 Type 2, and SOC 2 Type 2.
Conclusion: Both platforms have incorporated the best industry-grade security measures, but Zoho Sign stands out as the clear winner in terms of the multiple layers of security it provides as well as the transparency that it consistently maintains in spelling out its security measures.
Customer support
Zoho Sign: Zoho Sign offers extensive customer support in the form of a user guide (detailed description of how to use Zoho), Admin Guide (discussion of how to administer your business's Zoho Sign account users, preferences, and licenses), Integration Guide (detailed guide on how to integrate Zoho Sign with other apps), FAQs, Legal Guide (legal requirements of 70+ countries), forums, blogs, and webinars.
DocuSign: Enterprise-level support only on Enhanced Plans, 24/7 chat support that is not as quick as users would expect it to be, FAQs, knowledge base, live chat, webinars, and live online training.
Conclusion: While the customer support offered by DocuSign is certainly satisfactory, Zoho Sign stands as the clear winner with the number of resources that it incorporates for the benefit of its customers and its comprehensive guides that deal with complete access to the different aspects of the platform.
Why Zoho Sign?
The benefits of using Zoho Sign are as follows:
Zoho Sign is ideally suited for startups and medium and large businesses across several industries

Intuitive and easy-to-use interface

Efficient audit trail with a complete report and completion certificate

Robust API

Unused credits are carried over to the next month, providing better value for money

Swift workflows
Why DocuSign?
The benefits of using DocuSign are as follows:
DocuSign is ideally suited for businesses of all sizes

DocuSign boasts user recommendations for its flexibility

Easy to use

Provision to manage multiple contracts at once using the drag-and-drop feature

Intuitive interface
Bottom line
What is the difference between Zoho Sign and DocuSign? 
To answer this commonly asked question, it is important to note that both Zoho Sign and DocuSign are suited for startups and businesses of all sizes. However, DocuSign has a bit of an edge over Zoho Sign because of its characteristic flexibility that comes in handy for startups that are in the process of or are planning to scale to higher levels. Perhaps this is why DocuSign can boast a much wider user base compared to other solutions. Having said that, Zoho Sign ranks higher in all other respects because of its easy-to-implement, cost-effective solutions. Zoho Sign also has a list of additional features and more integration options than DocuSign. 
Learn more with us
Access our Knowledge Base for Startups.
We can help!
At AbstractOps, we help early-stage founders streamline and automate regulatory and legal ops, HR, and finance so you can focus on what matters most —your business.
We can help you decide whether to use Zoho Sign or DocuSign for your startup! Learn more.
Like our content?
Subscribe to our blog to stay updated on new posts. Our blog covers advice, inspiration, and practical guides for early-stage founders to navigate through their start-up journeys.  
 Note: Our content is for general information purposes only. AbstractOps does not provide legal, accounting, or certified expert advice. Consult a lawyer, CPA, or other professional for such services.
---