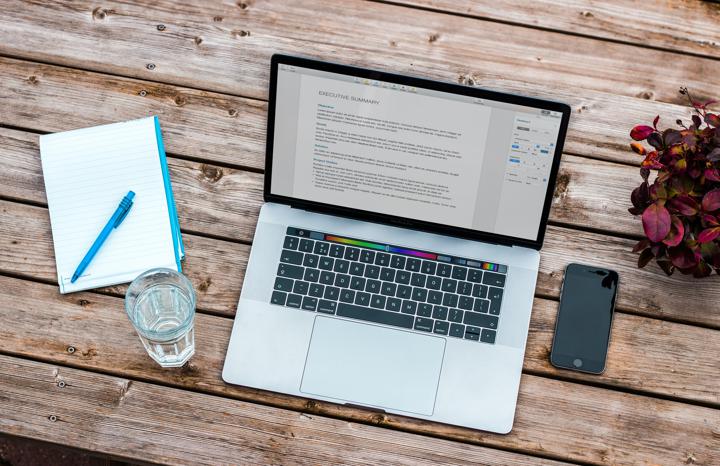 Image credit: Unsplash
Key Takeaways
A solid job description will explain the employee's responsibilities, the job's purpose, and the extent of the work to be done.

A well-written job description could make your open position stand out among the competition. Your job descriptions are how you introduce your startup and available jobs to potential employees.

The key to crafting great job descriptions lies in striking the right mix between offering enough data to ensure that candidates understand the role and your overall startup while being succinct and to the point.

It is advisable for founders to ensure that their list of responsibilities is thorough but not excessively long. It's also a good idea to underline any responsibilities that are exclusive to your startup.

While many startups might be tempted to highlight every qualification they expect from the perfect candidate, including too many values, certifications, and talents may put off good-quality potential candidates.
What is a Job Description?
A job description identifies the actual work that's completed or expected to be completed by the individual in the job. It identifies this work by defining the specific tasks and responsibilities of the position. 
For this reason, a job description is a versatile tool that may be used for a variety of purposes:
It assists the founder in effectively dividing the responsibilities that are required for the startup to function and thrive.

It assists founders in

assessing employee performance

.

It assists team members in recognizing what is required of them.

It also aids

HR

in

recruiting

and retaining fresh talent.
Writing Job Descriptions: Best Practices
Conduct a job analysis
Before you draft a job description, always conduct a job analysis. Even if you've previously hired for this position or even performed it firsthand, you should still undertake a job analysis.
At the very least, you should look at how your competition is marketing and compensating for this role, as well as any new job specifications or other position-specific facts that are necessary for correctly defining the available position in your own job description.
If you're not sure about how to conduct a job analysis for a certain role, one of the ways to learn is to speak with some of the individuals who will be dealing with the new employee: fellow co-founders, supervisors, co-workers, and / or direct reports. Apart from collecting job analysis information, you want to get to know the thoughts of these individuals in order to ensure a good fit for the new employee. Getting to know these people (especially their opinions and insights) will improve your odds of making a slam dunk recruitment. This will be even more significant if this is a completely new role for your startup.
As you compose your job analysis, keep the following questions in mind:
What internal/external pressures (or factors) have generated this job opportunity in your startup or your team?

How have the responsibilities of this position evolved at your startup over the last few years (or a similar timeframe)? In your field, how has the function of this job altered in the last 5 years?

When you look at the samples of this job description and specifications for this job listed by competitors in your market, what variations do you notice?

What does this role require that, perhaps, isn't standard?

What technical proficiencies and soft talents would a new recruit make use of to satisfy the job's requirements?

How does the remuneration for this position compare to that of competitors?
Any significant job criteria, such as compulsory qualifications, certifications, and abilities, should be clearly stated (within the job description) to provide potential candidates with the information that they need to make an informed and intelligent choice.
Know What to Include in a Job Description
Though every section of your listing is relevant, there are a few job description sections that are key in catching the eye of candidates and making them see if your job would be a good fit for their career.
Every section of the job description needs to accomplish a specific goal, and understanding how to develop a job description into a fantastic job opportunity means understanding the ins and outs of what each section is supposed to accomplish.
Understanding what prospects will find most intriguing about the larger image of your open position has a bit to do with knowing how to create job description summary sections successfully. Evaluate what your ideal applicant will find most fascinating about, say, the position's real-world effect or its unique (and important) location in your startup when contemplating how to communicate job profile features to readers.
The Job Title
The first thing to keep in mind when looking about how to design an appealing job title is what your ideal applicant finds appealing. When determining how to create a good job title, the second aspect to think about is incorporating the keywords that you'll need for your job post to show up in a (relevant) google search.
Candidates are drawn to their particular areas of expertise - so be precise with job titles. Include a brief description of the position together with the job title. To offer applicants the most exact specifications in a job description, avoid ambiguous action verbs and use precise wording. The "Skills" and "Tasks" portions of many job descriptions may appear to be boilerplate, and if that's the case, then the job description isn't very good. The significance of precision in the job description cannot be emphasized, as insufficiency in this aspect may drive applicants to abandon your listing. Although there is a lot of information to include, these portions of your job description could still be interesting, engaging, and reader-friendly if written well.
Promote Employee Career Options
Candidates are more inclined to take up a position that offers them the chance to further their careers. Highlight these chances (of career growth) in your job descriptions to attract candidates by mentioning the particular tasks on which they will be evaluated and how these tasks will make a positive impact on the trajectory of their career.
Ensure that the job terms are mentioned properly
Key job terms include full-time vs. part-time, salaried vs. hourly, W-2 employee vs. 1099 employee, and so on. 
Whatever they might be for your role and startup, the overall best practice is to use precise, succinct wording in your job descriptions to eliminate any misunderstandings in this regard. This approach will guarantee that everyone involved in the hiring process (i.e., both candidates and founders) are on the same page.
Make sure your job descriptions are well-written and easy to understand
Proper templates, spacing, bullet points, and headings will help your job descriptions seem more structured and uniform, which will help appeal to potential candidates better.
What does the job entail?
The job description must correctly reflect the position's tasks and responsibilities. A well-written description creates a realistic image of the job and addresses the question: "What would the individual in this capacity truly be required to do?"
A job description not only explains the tasks of the job but also lays the groundwork for attracting, developing, and keeping the right people at your startup. Moreover, it helps in setting the scene for optimal work performance by clearly explaining responsibilities and anticipated outcomes, while helping in performance assessment. It's also crucial for guaranteeing legal compliance and sustaining a fair compensation scheme. Furthermore, the job description document should be reviewed and updated every year - if necessary - in order to keep up with the yearly performance review cycle.
The ideal job description has enough detail to define the job responsibilities and important tasks as they currently exist. In other words, they offer the information that's needed to categorize the post, not the individual; as a result, they are "incumbent neutral", meaning they are not focused on any particular attribute of the incumbent team member (such as educational qualifications, talent, skills, experience, etc.).
To stay relevant even when small modifications occur, the description should not cover each and every aspect of how (and what) work is executed. Job descriptions can be developed collaboratively by the team members and the founder, but it's the founder who must sign off on them.
Define Job Function
A set of responsibilities discharged by a professional in a specific position is referred to as the job function. This outlines the primary duties of that team member's job. A list of daily activities that an employee undertakes is a common representation of job duties. Founders tend to employ active verbs to define a role - for both internal and external usage - when defining a job function.
Components of a Job Description
Founders should make sure that the content covered under "Elements of a Job Description" (the very next subheading) is able to accomplish the following:
Establish the responsibilities of the job 
When a vacant position at a startup is advertised online, a job function is usually included with the job description so that potential employees are aware of the job's responsibilities before applying. This is important because a job seeker can generally determine if the job responsibilities match their intent, talents, and interests by looking at a job function.
Describe primary job duties
A job function is a term that describes the abilities, competencies, and attributes required to carry out a certain task. Founders and team members may understand the exact nature of the competence they want for their role by listing essential competencies. In this way, a job function could help establish the expertise that a candidate needs before they take up the role at the startup.
Job functions act as an accountability tool
A job function lays the groundwork for the job's obligations that are acknowledged by team members and founders alike. Team members can use the activities specified in the job function as a kind of aid for self-reflection, even as founders can use them to conduct performance assessments.
Heading information.

Job description, salary level or ranges, reporting relationship (by role, not by person), work duration, and the possibility - if any - of extra hours, overtime, or weekend work should all be included.

Job Objective.

  List basic duties as well as explanations of vital tasks and their purposes. Include interactions with customers, colleagues, and others, as well as the expected outcomes of incumbent employees.

Qualifications.

Indicate the level of education, expertise, certification, and technical abilities required for this position.

Demands.

This should include any unusual working circumstances (for example, exposure to severe temperatures, continuous standing, or travel).

Responsibilities and duties.

Only two aspects of job responsibilities are truly critical: recognizing tasks that account for 90-95% of the overall work and ranking tasks in order of time spent (or, often, in order of relevance):
The most essential or time-consuming duty should be put first - and this pattern should be followed for subsequently mentioned duties.

In a few well-written sentences, founders could cover 90-95% or more of most tasks and responsibilities.

If there is more than one method to do anything, it is more necessary to state

what

must be done and achieved.
Elements of a Job Description
The founder can choose what to write in a job description, but we suggest that it comprise the job's title and FLSA classification, the key responsibilities of the job, the skills required to accomplish the work, and a synopsis of the physical requirements and working conditions. Supervisory and pay grade sections are very useful and highly recommended. Disclaimers and a space for the employee's acknowledgment could also be included.
Summary
Clear and thorough job descriptions that specify the anticipated duties to be undertaken by the employee and the expected behaviors to be shown by the employee are the foundation of a good recruitment and training strategy.
Many startups are hesitant to develop job descriptions for fear that team members would use them to avoid taking on new tasks and / or refusing to participate in special initiatives. In reality, a thorough job description gives team members vital information that allows them to swiftly assimilate into a new workplace. It does so by clearly and accurately defining the standards of behavior, performance, and day-to-day responsibilities that a new team member must live up to.
Learn more with us
Access more guides in our Knowledge Base for Startups.
We can help!
At AbstractOps, we help early-stage founders streamline and automate regulatory and legal ops, HR, and finance so you can focus on what matters most—your business.
If you're looking for help with writing a good job description for a position in your startup, get in touch with us.
Like our content?
Subscribe to our blog to stay updated on new posts. Our blog covers advice, inspiration, and practical guides for early-stage founders to navigate through their start-up journeys.  
Note: Our content is for general information purposes only. AbstractOps does not provide legal, accounting, or certified expert advice. Consult a lawyer, CPA, or other professional for such services.
---