Every startup needs to go through the incorporation process in the US. As a founder, going through this process can be challenging and overwhelming.
Here's a quick summary of key steps and considerations when incorporating your startup.
Identifying where to incorporate the company

is the first step. There are several states to choose from, however, choosing the appropriate state will determine the regulations that must be followed by the business. It is suggested that a single owner should

register the LLC

in the state where they live in or in the state that the owner does business.

Filing a Certificate of Incorporation

is the second step which

failing to do so can cause fines and personal liability exposure

. It's important to figure out what needs to go into the Certificate of Incorporation specific to your business.

Understanding the

litigation risks

when incorporating a company in the US is a crucial consideration. If a person owns a US legal entity, even if she is not a US citizen, then there is a possibility that she can be sued in a US court system. This applies mostly to Delaware C Corporations because Delaware does not protect founders of a company from being sued by investors for any number of grievances, except for cases involving negligence and fraud.

Transfer pricing rules

need to be considered if you're an offshore startup. When incorporating in the US, the corporation will be used to send money to the company located outside the US. Thus, a certified accountant who understands both international business and transfer pricing is necessary in creating a set of transfer protocols that must be followed by the startup.
Getting through the process correctly will prevent expensive errors that may require legal work to correct. For instance, failing to file an 83b election in time can take away much of the upside of starting up.
This is why we've put together a comparison of the top 3 solutions to incorporate your startup. We've provided information on key features, pricing, and pros and cons to help you make your decision.
Comparison of the Top 3 Solutions to Incorporate your Startup
Generally, in the United States, a remote opening of a bank account is not possible, however, Stripe Atlas offers a way to start a business on the Internet from outside the US. It will help the startup fill out the paperwork and pass it through a partner Registered Agent in Delaware for filing. After that, Stripe Atlas will help in opening a company bank account, setting up payment processing with Stripe, and providing access to some optional startup services. In terms of documentation, Stripe Atlas provides detailed documents courtesy of their legal partner that lays down the options that the startup owner has regarding equity splitting, C-corp benefits, and other legal items that are needed to start a business. One negative aspect about this tool is that it requires the clients to use Silicon Valley Bank which charges $25 / month for maintenance fees.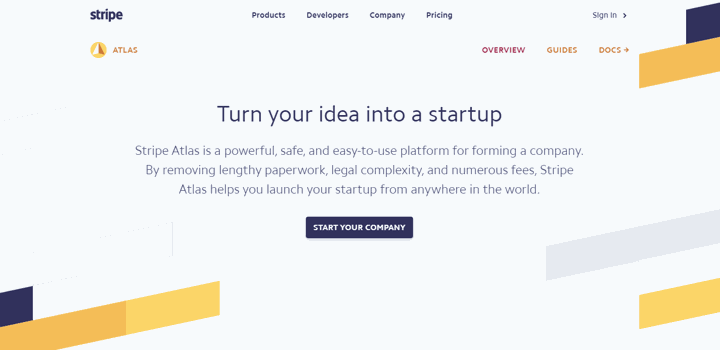 Pricing:

$500

Post-incorporation company setup:

Yes

Post-incorporation advice & support:

$349

Issuing stock:

Yes

Board modifications:

No

Cap table software:

No
Pros:
Low ACH fees

No monthly statement fees or annual PCI compliance fee

Easy integration with most tools

Excellent security.
Cons:
No option to download statements in PDF

Dispute resolution policies are usually not in favor of the startup owner

No invoice given for Stripe commission

Use of multiple sub accounts to utilise various currencies

Requires you to use Silicon Valley Bank
Clerky is an online solution for automated legal paperwork for startups. Similar to Stripe Atlas, the site requests information, fills out the forms to set up the company as a Delaware C corporation, and then submits it to a third party partner in Delaware to file them with the state and serve as the Registered Agent. Clerky also offers additional optional services such as post-incorporation paperwork and Foreign Qualification in the client's home state. One thing to consider is that Clerky does everything online so all documents are emailed to startup owners which they can instantly sign electronically. Additionally, Clerky ensures total protection of the startup in non-disclosure agreements and charter amendments and provides startups with a special legal dashboard for added legal work such as fundraising and hiring.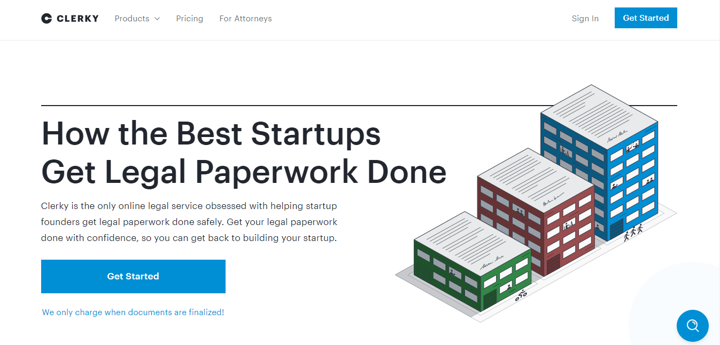 Pricing:

$799

, one time fee

Post-incorporation company setup:

Yes

Post-incorporation advice & support:

No

Issuing stock:

Yes

Board modifications:

Yes

Cap table software:

No
Pros:
Clear pricing

Simple to get started

Fast service

Uses standard documents

Good customization
Cons:
Only incorporates C-corps

Can be challenging to search specific documents
Gust Launch incorporates the business as a Delaware C Corp, files with the IRS for the tax ID, files Foreign Qualification in the client's home state, handles all of the post incorporation legal setup, opens a bank account, establishes a cap table online, and provides the ongoing legal document services necessary to keep everything accurate, coordinated and investor-ready.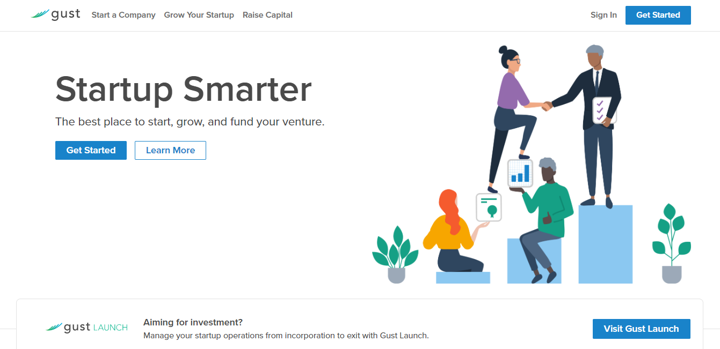 Pricing:

$300

per year

Post-incorporation company setup:

Guided online setup

Post-incorporation advice & support:

Yes

Issuing stock:

Yes

Board modifications:

No

Cap table software:

No
Pros:
Interface is generally clean and easy to use

Good to use to raise capital

Good responsiveness to questions
Cons:
Document system is limited to an NDA with limited features
Stripe Atlas vs Clerky vs Gust: Which is the best solution for startups?
There are some crucial considerations involved when incorporating a company in the US. These include identifying what state to incorporate in, filing a Certificate of Incorporation, calculating litigation risks, and determining if transfer pricing rules apply to you. Choosing the right partner to help you incorporate can provide good legal guidance and prevent expensive mistakes. 

Our recommendation is Clerky. Clerky merges top Silicon Valley legal expertise with a tech platform that's easy to use to form and manage the legal side of the business. It has clear pricing, fast service, and flexibility to reduce the hassle in incorporating a company in the US.
We Can Help
Looking to incorporate your startup? We can help you decide which solution is right for you and guide you through the process. Write to us at hello@abstractops.com to learn more.
At AbstractOps, we help founders like you automate and streamline back office functions so you can focus on what matters.