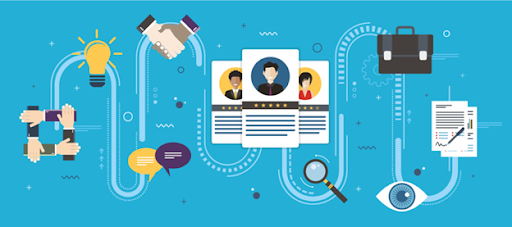 What is SOC 2 Compliance?
SOC 2 compliance (SOC is Service Organizational Control) arose from the need to provide standardized technical audits and processes for security, privacy, and quality assurance of cloud-based systems. With the increase in demand for cloud-based solutions followed an increase in vigilance for data and privacy breaches. Following a standard protocol such as SOC 2 gives your startup peace of mind in being compliant with customers' security expectations (especially if you target enterprise customers), avoiding expensive mishaps and liability, and efficiently scaling your infosec systems.
What's the difference between SOC 1, SOC 2, and SOC 3?
The American Institute of Certified Public Accountants (AICPA) launched the SOC reporting platform that comprises three reporting options: SOC 1, SOC 2, and SOC 3. 
Here's a quick summary of the differences between the 3 reports:
SOC 1:

Focused primarily on financials and requires an

audit of internal controls relevant to financial reporting

(ICFR).

SOC 2:

Focused on controls over the

5 Trust Services Criteria

- Security, Availability, Processing Integrity, Confidentiality, and Privacy. This report is to be shared with users who utilize or rely on your services. This is the most standard audit for tech-based companies and will be our focus today.

SOC 3:

Similar to SOC 2, SOC 3 focuses on the 5 Trust Services Criteria but offers a summarized version of SOC 2 that can be

freely distributed

and potentially used as marketing material. 
The goal of SOC 2 compliance is to ensure that the company's systems are set up with the assurance of the 5 Trust Services Criteria as attested by an independent licensed CPA third party. This includes assurance across privacy, security, availability, processing integrity, and confidentiality.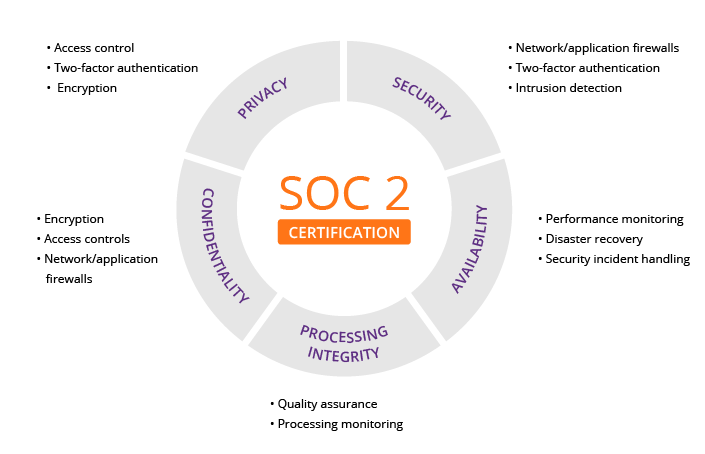 Source: https://blog.rsisecurity.com/what-are-the-SOC 2-compliance-requirements/
Does a startup need to be SOC 2 compliant?
For B2B tech startups, SOC 2 compliance is a go-to standard for being able to reach and acquire enterprise customers that typically require stringent cybersecurity protocols to be followed. The earlier you start this process, the more confidence you will have in being able to scale your infosec systems alongside your product without major rework.
Who Needs SOC 2 Compliance?
SOC 2 applies to tech companies, SaaS companies, and service providers that store, process, and transmit sensitive customer information in the cloud. This applies to startups and companies of all sizes.
Key reasons to get SOC 2 compliance include:
Market competitiveness:

Consumers of cloud-based products are more and more concerned with security and privacy breaches. A SOC 2 compliance stamp makes your product competitive and attractive whether you're a small startup or a large enterprise. It shows your commitment to information security and can help you grow your business upmarket.

Standardized compliance protocols:

Getting SOC 2 compliance early on can help you stay compliant with standardized norms of security, privacy, and quality assurance without having to make larger changes at a later point once your processes are set. This can give you peace of mind in scaling your startup the right way without critical missteps.
What should you look for in SOC 2 Solution Providers?
For most startups, pursuing SOC 2 certification can feel overwhelming because it can be time-consuming and expensive, especially if the organization does not have the compliance expertise and engineering flexibility to implement changes.
The good news is startups can utilize SOC 2 solution providers to become SOC 2 compliant. We've evaluated the top 4 solutions that you can consider for your startup.
Before diving in, let's look at our criteria of evaluating these solution providers:
Tailored approach:

The vendor you go with should design a compliance program based on your specific goals and timeline providing you with relevant tailored advice in setting up. 

Customer service:

Having access to real-time, knowledgeable support will prevent you from spending hours trying to decipher the complex

AICPA

guidelines for answers.

Credible expertise:

  The SOC 2 Compliance vendor must have Security Policies & Procedure Templates with 100% SOC 2 Coverage. Ensure that these documents and processes are accessible to guide you through the process. 

Reporting and analytics:

It is necessary to have dashboards to gauge the progress and audit preparedness of the business. With this, you will be able to track progress against compliance goals and manage due dates effortlessly.

Ease of use:

SOC 2 Compliance Solution must provide an easy-to-navigate interface that allows team collaboration and easy import/export of data. 

Integrations:

It's important to evaluate whether the solution providers can integrate with all if not most of your software tools out-of-the-box to automate the evidence collection process. This will have you spend less time, effort, and money on engineering work and help you focus on achieving compliance.

Pricing:

Given we are talking about solutions for startups, value for money is something we will be evaluating.
So let's get to it - what are our best options in 2021?
Top 3 SOC 2 Compliance Solutions for Startups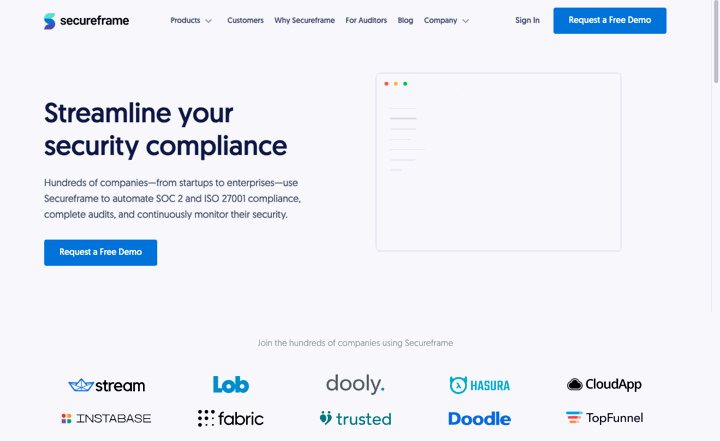 Pricing:

$20/user/mo ($12k annual min)

Free Trial:

No

Customer Support:

Yes

Knowledge Library:

Yes

Collaboration:

Yes

Data Import/Export:

Yes

Progress Tracking:

Yes

Due Date Tracking:

Yes
Pros:
Quick setup to achieve compliance through

integrations with 40+ services

including AWS, GCP, Azure, and Okta to assess security practices and meet compliance requirements. 

Immediate and accessible support with compliance experts through shared Slack channels

Good for scaling from a startup stage to a larger company

Immediate introductions to pen testers and Secureframe partner auditors who are familiar with the Secureframe platform to streamline the audit process
Cons:
There is no free trial provided for the businesses.

Users mention that some processes (like the checklist) are more on the manual side
Noteworthy Features:
Cloud infrastructure scans:

Secureframe helps you connect to, monitor, and provision cloud infrastructure to be SOC 2 compliant through read-only access without installing agents.

Comprehensive integrations:

40+ integrations

(the most among competitors) with tools that you already use

Vendor risk assessment:

Secureframe integrates with dozens of currently used vendors and fetches their security data to provide detailed risk reports. It also collects vendor security certifications and reports, including SOC 2, ISO 27001, CCPA, and GDPR.

Creation of client's own compliance policies:

Secureframe assists in designing SOC 2 security policies appropriate for your business and allows adaptation of policies from its library of 40+ policies.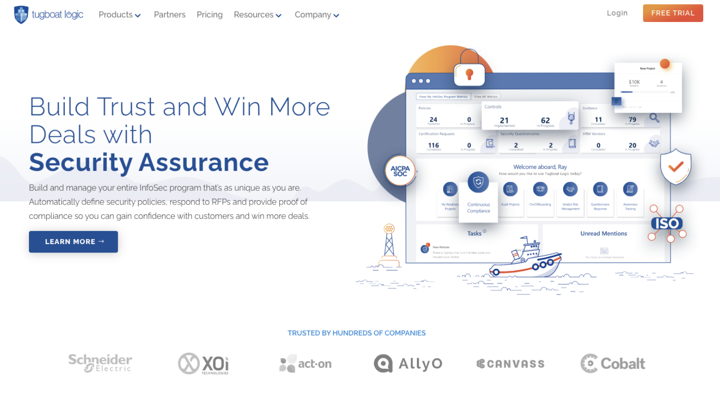 Pricing: SOC2 compliance requires $499 base plan / mo. plus Audit Readiness at $999/mo. which is a

minimum of ~$18K / year

.

Addons such as the following are in addition to this:

Questionnaire Management: $499 per month, Vendor Risk Management: Custom quote, Enterprise Plus: Custom quote

Free Trial:

Yes (14 days)

Customer Support:

Yes

Knowledge Library:

Yes

Progress Tracking:

Yes

Due Date Tracking:

Yes

Collaboration:

Yes

Data Import/Export:

Yes
Pros:
Easy to use, automated interface for developing a credible infosec policy, responding to RFPs, and sharing questionnaire responses within minutes

Support team is knowledgeable and available for help
Cons:
A limited number of integrations available compared to Vanta and SecureFrame

Expensive compared to other solution providers starting at ~$18K / year
Noteworthy Features:
Accelerated Audit Readiness

: Tugboat Logic allows small businesses to get specific policies and controls mapped to the security framework in order to be always audit-ready.

Vendor Risk Assessment

: Tugboat Logic allows small businesses to assess and audit the security posture of the vendors. It automates the process of sending out security questionnaires to third-party vendors and collects their responses in a cloud-based centralized management console.

Questionnaire Response

: Tugboat Logic allows small businesses to answer security questionnaires in minutes using automation and machine learning.

Multiple Certifications

: Tugboat Logic allows small businesses to prepare for and maintain

SOC 2, ISO 27001, PCI, HIPAA, and other certifications

.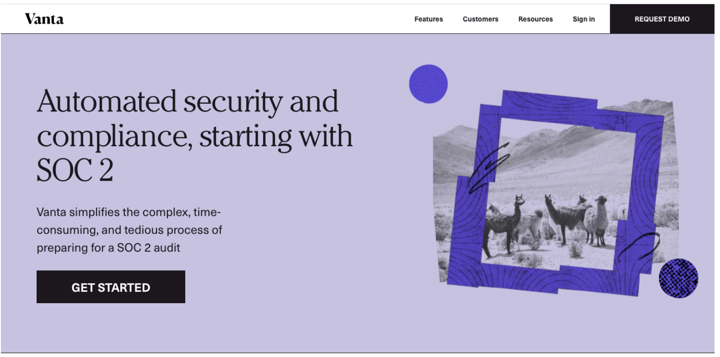 Pricing: Vanta must be contacted to obtain the current pricing.

Free Trial:

No

Customer Support:

Yes

Knowledge Library:

No

Collaboration:

Yes

Data Import/Export:

No

Progress Tracking:

Yes

Due Date Tracking:

Yes
Pros:
Vanta auditor network provides certified auditors who are familiar with Vanta platform and can help you get SOC2 compliance with ease

Continuous monitoring ensures ongoing compliance with intelligent alerting

A decent number of integrations for automation
Cons:
Users complain that parts of the UI are non-intuitive and clunky

Only a basic level of support provided

Users mention that it's easy to trick Vanta into providing green light compliance on certain things. The implementer needs to ensure that compliance protocols are followed
Noteworthy Features:
Cloud infrastructure configuration:

Vanta provides security assurance over IAM permissions, container vulnerabilities, and more

Employee onboarding and offboarding:

Vanta provides ability to grant and revoke employee access to key tools as appropriate

Laptop management and monitoring:

Vanta automatically solicits insights from employees' Mac, Windows, and Linux devices and triggers alerts

Comprehensive integrations:

Vanta offers a variety of integrations to connect your tools for auto-monitoring

Flexible gap assessments:

Vanta utilizes custom checklists tailored to your business' stage and commitments

Reliable alerts:

Vanta provides alerting when compliance actions are missed and recommends appropriate remediation steps
Not sure which solution provider is right for you?
We can help!
At AbstractOps, we help early-stage founders streamline and automate regulatory and legal ops, HR, and finance so you can focus on what matters most—your business.
If you're looking for help on getting SOC2 compliance, we can connect you with a SOC2 solution provider that works for your specific needs. Sign up here to get started.
Like our content?
Subscribe to our blog to stay updated on new posts. Our blog covers advice, inspiration, and practical guides for early-stage founders to navigate through their start-up journeys.  
Note: Our content is for general information purposes only. AbstractOps does not provide legal, accounting, or certified expert advice. Consult a lawyer, CPA, or other professional for such services.