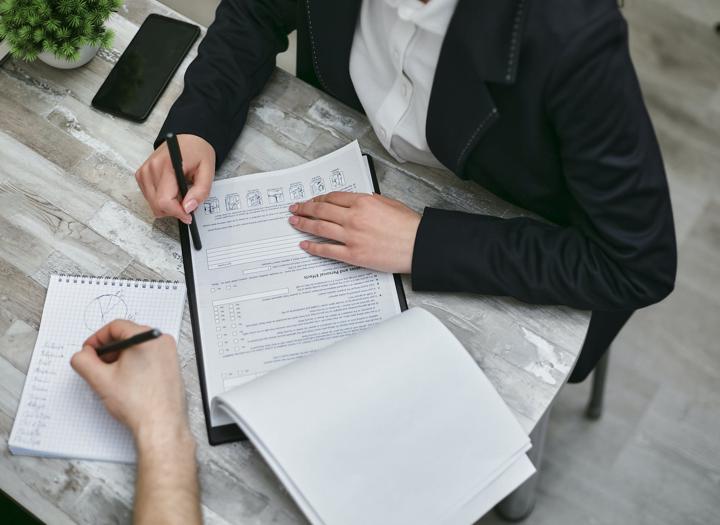 Photo credit: Pexels
Key Takeaways
Both Signeasy and signNow are efficient solutions for e-signatures.

There is not much of a difference in the prices of both platforms.

signNow offers more features than Signeasy.

signNow also has more in-built integrations.

signNow users have several layers of security available to them.
Signeasy and signNow
Signeasy is an e-signature solution for businesses of all sizes. With Signeasy, startups can manage documents, PDFs, and forms, from any location Since Signeasy is compatible with any device, startups can implement an easy and hassle-free e-signature solution. Signeasy allows small and medium-sized businesses to function efficiently, so they can focus on improving customer service, without having to worry about the paperwork.
signNow is a scalable e-signature solution startups can use to automate the entire document management process, including signing and sending, generating agreements, negotiating contracts, and processing of payments. signNow is known for its flexible pricing tiers and feature-rich solutions.
Signeasy vs. signNow
Pricing
Signeasy
Two plans are available for different needs:
For individuals
Essential: $8 per month for a single user; $96 billed annually

Pro: $15 per month for a single user; $180 billed annually
For teams and companies
Business: $25 per user per month (starts at 3 users), $300 per user, billed annually.

Enterprise: Custom quotes are available.
signNow
Four plans are available at different prices:
Business: $8 per user per month, billed annually
Business Premium: $15 per user per month, billed annually
Enterprise: $30 per user per month, billed annually
airSlate Business Cloud: $50 per user per month (minimum 5 users), billed annually.
Conclusion: While both solutions offer four pricing tiers each, Signeasy has a free trial for 14 days, whereas signNow offers a free trial for 7 days. Both platforms are comparable in terms of the features they offer with each pricing tier. The Business Plan with Signeasy is priced at $25 and allows only 3 users. The Business Plan with signNow is priced at $8 for 10 users. Custom branding is available at $15 with signNow and $25 with Signeasy. Both platforms offer bulk sending, reminders, and notifications at the same price ($15).
Signeasy offers unlimited templates with its Business Plan that is priced at $25, while signNow offers the same with its most basic paid plan, Business, priced at $8. Signeasy has the provision for a customer success manager with its Business Plan, whereas signNow offers the same with its highest-priced tier, although it is not explicitly stated on their website. Again, Signeasy offers more features such as 2-factor authentication, usage reports, and email and phone support with its Business Plan (starting at $25), which signNow does not offer at its equivalent pricing tier.
Integration
Signeasy: Salesforce, Microsoft Teams, Google Workspace, Google Drive, Freshworks, Gmail, Google Docs, Google Sheets, and Zapier.
signNow: Microsoft Teams, Microsoft 365, Microsoft Dynamics 365, Salesforce, NetSuite, Egnyte, AWS, Oracle, Google Workspace, Google Drive, Procore, Box, Dropbox, Plumsail Documents, Workplace, Word, Zapier, PaperWise, WebMerge, Jitterbit, 1Password, Android, eSignPay, ServiceNow, Grooper, Gmail, Autodesk BIM 360, SharePoint, Salesforce CPQ, Braintree, Chargify, Activecampaign, Optix, MailChimp, Google Sheets, Magento, Highrise, Pipedrive, Zoho CRM, Slack, Google Docs, Xero, HubSpot, WordPress, Help Scout, Agiloft, Agilewords, Amelio, Amitree, Anaplan, API Nation, AventX, and Concord.
Conclusion: signNow stands as the clear winner with the number of integrations it provides. Its pricing tiers are very reasonable in terms of the number of integration options. Signeasy may prove to be more cost-effective with certain features, but overall its prices seem higher for the comparatively fewer integrations it provides.
Features
Signeasy
Signeasy features:
Support in 24 languages

Compatibility with all devices

Sends documents for signing in a sequential order

Tracks who has signed the document, and who is left to do so

Email reminders and push notifications for signers

Emails and push notifications when signers have completed the task

Integrations

Audit trail

Standard compliance and security measures

Provision to sign documents across popular file formats such as Excel, Word, PDF, JPG, etc.

Provision to access incomplete documents as offline drafts

Signatures resembling those on paper through the smooth signature interface

Several signature options

Provision to add text, annotations, images, and checkboxes to documents

Offline signing

Custom email footer 

Provision to create most used data fields to custom fields.
signNow
signNow features:
Support in 24 languages

Authentication of a signer's identity through a phone call

Dual-factor authentication

Provision to create a unique document ID for each document

Password protection

signNow PKI technology 

Cloud solutions for respective needs

Provision to sign documents remotely 

Provision to add checkbox fields, calculated fields, text fields, edit and sign fields to the document

For customizing signing order, there is a provision to add signers, add multiple signers and roles, delete roles, and view recent signers

Creating templates that can be shared with team members

Provision to add a team admin

A centralized account of the multiple teams working in your org through the organizational dashboard

Editing tools such as a PDF document editor, annotations to a PDF, and adding signature fields to a PDF

Creating a Super Admin position that allows you to have complete access to documents and users within your business org

Keeps track of the number of documents within a stipulated time

Add your custom logo to your profile to make your documents recognizable

Customization of emails with your company logo

Kiosk mode to get documents signed in-person on Android

Wet ink signature

Signing documents offline

Data validation

Exporting data to any apps of your choice that support a PDF format

Provision to search documents from your org by text, email, or document name

A quick search of documents from your iOS home screen.
Conclusion: While both platforms offer several attractive and useful features, signNow ranks higher in terms of the sheer number of features in each category. All feature categories provided by signNow allow users to fully optimize the purpose of an e-signature solution. All signNow plans offer a complete range of useful features accordingly and in doing so, they are spaced out evenly.
Reviews
Signeasy: On G2, Signeasy has a rating of 4.7 out of 5 stars and has positive reviews for quick completion of contracts, integration with Google services, mobile accessibility, and ease of use even for those who are not tech-savvy. Some users would like the option to send a document for signing to fewer people so they do not have to manually input data each time there is a need to sign.
signNow: G2 users have positive responses for signNow based on its easy interface, provision by which signed documents come in the form of email attachments and satisfy a state law by virtue of which keeping the IP addresses of signers is mandatory, reasonable prices, time-saving capacities, capability to manage contracts efficiently and measures around personalization. Some users desire the invitations to not land up in their clients' spam folders.
Conclusion: Both, Signeasy reviews and signNow reviews show user satisfaction, but signNow has more users who are fully satisfied with the product and do not find any major feature missing with it.
Security
Signeasy: Every user has a verified email, two-factor authentication, audit trail, and efficient verification of all documents, signer authentication, a signature certificate with the signer's IP address, date and time of signature, and Amazon's cloud computing that is ISO 27001-certified.
signNow: GDPR, 21 CFR Part 11, CCPA, HIPAA, ESIGN and UETA compliance, PCI DSS and SOC 2 Type II certification, along with data encryption with a 256-bit encryption algorithm for data at rest and transfer, and two-factor signer authentication. Users have access to several authentication methods to ensure the security of their documents, such as dual-factor authentication and authentication via phone.
Conclusion: Both platforms provide effective security measures, but signNow ranks higher because of the multiple options around authentication and more compliance certificates.
Why Signeasy?
Signeasy benefits:
Seamless integration with Google services

Easy-to-use intuitive interface

Comprehensive articles for customer support

Efficient management of all core tasks pertaining to e-signatures

Secure platform

Prompt customer support
Why signNow?
signNow benefits:
Easy to use for business clientele

Time-saving

Exceptional support during the COVID-19 pandemic

Eliminates the need to constantly follow up with different people for signatures

Extremely cost-effective with its comparatively lesser prices 

Feature-rich despite being budget-friendly

Ease of use even for first-time users

Efficient for startups and small businesses

Allows several people to work on a document simultaneously

Notifications all along, so you never miss out on anything

Efficient management of digital business through complete automation of paperwork

Creates a link to access recurring forms

Ease of editing

Changing signatures is also easy
Bottom line
While both Signeasy and signNow are effective solutions for managing e-signatures, it is important to consider that Signeasy is a very basic solution and provides mostly all essential features essential for managing a business digitally. signNow provides enhanced features with all its plans so users get the maximum benefit from using the solution. Users of signNow can upgrade when the need arises for more feature extensions. This is because all the necessary features, such as unlimited templates, are provided to them on all paid plans. signNow has more integrations than Signeasy. Again, the margin of difference in the prices of both platforms is very small. Having said so, signNow provides more features with all its plans than Signeasy.
Learn more with us
Access our Knowledge Base for Startups.
We can help!
At AbstractOps, we help early-stage founders streamline and automate regulatory and legal ops, HR, and finance so you can focus on what matters most — your business.
We can help you decide whether to use SignEasy or signNow for your startup! Learn more.
Like our content?
Subscribe to our blog to stay updated on new posts. Our blog covers advice, inspiration, and practical guides for early-stage founders to navigate through their startup journeys. 
Note: Our content is for general information purposes only. AbstractOps does not provide legal, accounting, or certified expert advice. Consult a lawyer, CPA, or other professional for such services.
---