What Are OKRs?
OKRs represent essential metrics for outlining what you want to achieve and how you plan to get there. They help organizations and teams set out strategies and goals in manageable chunks. They provide a reference to help you evaluate how well you did against what you set out to do, and can be used for anything from performance to productivity. Essentially, OKRs boil down to two simple parts:
Objectives – A qualitative, far-reaching statement of what you're trying to achieve.Example: increasing company revenue by 10%
Key results – A quantitative, measurable outcome – often within a set timeframe – showing what meeting that objective looks like.
It was John Doerr, a venture capitalist who had worked at Intel (under Grove's leadership), that introduced OKRs to Google. Google's version of OKRs was much similar to that of Intel's, only that Google sets theirs every three months. Everyone in Google can check each other's OKRs and see what everyone else is up to. This strategy has kept employees' objectives in line with company goals. It has also facilitated collaboration and created a sense of accountability.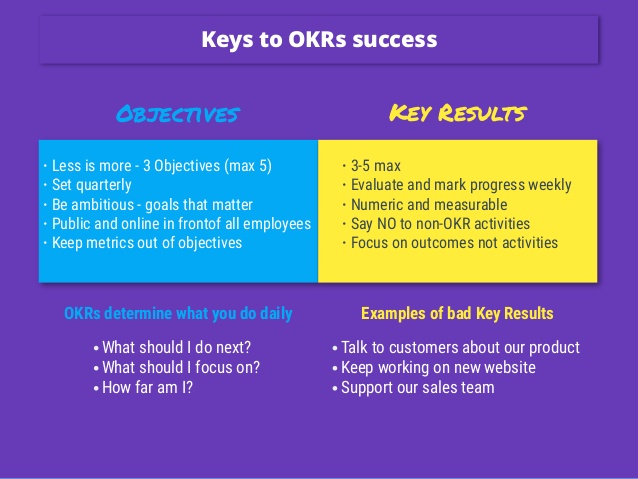 Why Are OKRs Important for your Startup?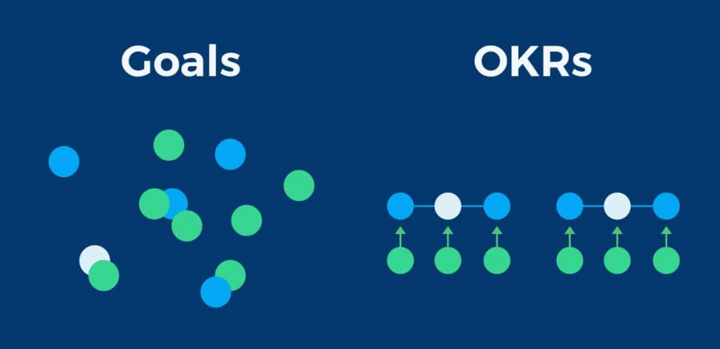 OKRs are important for the following reasons:
Goal Management: Startups need to have clear and effective goals that can be understood by everyone in the team.
Progress Tracking: Startups need to define and measure team performance against clear objectives. OKRs create a shared understanding of overarching organization objectives, where the progress is, who is responsible for those results, and how progress towards them is measured.
Strategic Planning: Create a greater sense of shared accountability, transparency and purpose. With OKRs, you can make sure to use your available resources for the things which matter most.
Comparison of OKR Tools Based on Offer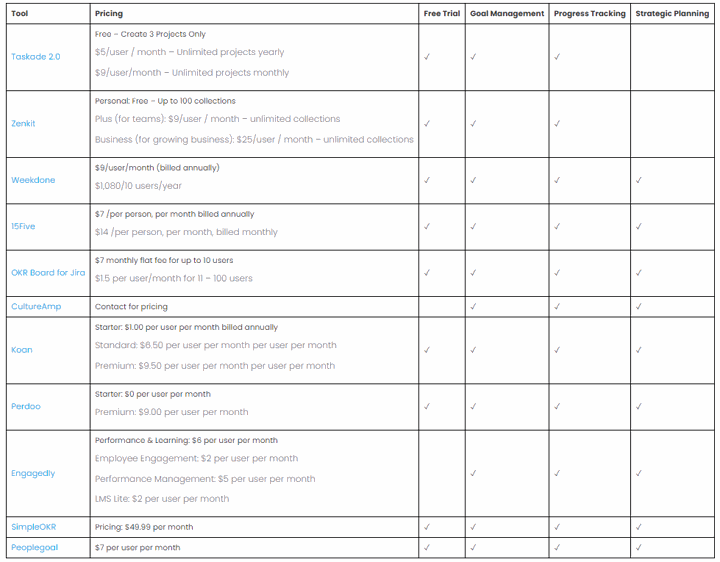 OKR Tools and Its Features
Features:
Instantly collaborate on team agendas, meeting notes, and project roadmaps.
Chat as you work together on the same page, keep everyone on task. (text + audio + video call)
Transform a task list into any view you prefer. (checklist, outline, kanban board, mindmap)
Create templates and tags to automate your workflows.
Start a Workspace for your project, team, company.
Features:
Plan Agile sprints, schedule a Gantt chart, assign tasks, manage resources, track benchmarks. Manage it all in one place.
Publish project updates, share brand and design assets, write an employee onboarding guide and more with wiki view.
Build a database of your customers and clients. Track communications, calculate lifetime value and more.
Track personal to-dos, set up a GTD workflow, or create a family planner.
Collaborate on work with your team in real-time
Quickly build a flexible database to track anything: store information, manage inventory, create a wiki, and more.
Features:
Live dashboards and reports let you know the status of everyone's weekly plans and objectives.
Quickly see when an indicator underperforms, so you can be proactive and take action before problems arise.
Weekdone simplifies the reporting process, makes goals visible, and increases transparency. Align weekly, employee activities with high-level objectives and see how everyone's work drives the company forward.
Know what needs to be accomplished each week and quarter.
Features:
Create individual, department, collaborative, and company-wide objectives.
While completing their check-in, individuals quickly set the status of the objective (on track, at risk, or behind), and can update the progress on key results or use the Jira Cloud integration to automate this.
Collaborative objectives in 15Five enable teams to align and work together to drive company initiatives forward.
Spot performance issues and take action sooner with Objectives Dashboard and Reports.
Features:
Filters – by Assignee, Team, Quarter and Status
Permissions – nobody can accidentally mess up OKR
Single and habitual workplace – no need to leave Jira
Auto-track progress – Jira epic or issue can impact to the progress of parental Key result and Objective
Dashboard – see only Objectives and Key results assigned on you
Features:
Culture Amp's library of survey templates and continuous listening technology allows for feedback throughout the employee experience so you see the whole picture.
Focus resources and know which initiatives to prioritize
Assess employee performance holistically across your company. Tailor reporting to your exact specifications by filtering evaluation data based on departments, levels, and other criteria for effective calibration meetings.
Know the skills of a top performer to drive success throughout the company. Get a clear understanding of skills at the team and organizational level to help with strategic talent planning and learning and development programs.
Get everyone on the same page by setting and managing personal goals. Set and track goal progress, associate them with department objectives, and leave comments or flag blockers that require attention.
Features:
Status Reports for the Modern Team
Share progress, priorities, and concerns to surface issues before they become major problems.
Monitor progress and discover blockers so you can get ahead—and stay ahead—of your goals.
Seamlessly integrate Koan with where you work today
Maintain regular communication and prioritize productivity
Features:
Build a clear roadmap to success, and enable you to share it in real-time with your team.
Perdoo helps everyone identify the right goals to work on, and focuses execution on measurable outcomes.
Perdoo makes achievements visible, so that you can see what needs attention—and when it's time to celebrate.
Features:
Engagedly's Performance Management approach makes it easier for managers to implement a comprehensive employee performance management system that incorporates real time feedback, public praise and peer feedback into it.
Employee Appraisal Software with 360 Degree Feedback
The performance management software helps you familiarize with the concept of continuous ongoing feedback and helps you create a culture of frequent feedback.
Users have the option to provide real-time one on one feedback, request one on one feedback, provide social praise, enable employee recognition and utilize notifications and alerts.
Set goals "on demand" for yourself or cascade to your directs.Use Engagedly to lay out objectives and key results with customizable check-ins and progress indicators
The social module on Engagedly is all about empowering employees to collaborate, communicate, share ideas, ask and answer questions and solve tough problems together.
Offers surveys to find out what your employees are thinking, what they want to do, and how they feel.
Offers Engagedly's Rewards feature to award points for different actions and motivate employees with social recognition.
Offers Engagedly's Learning feature, anyone can share knowledge, take courses and accumulate points for it.
Includes comprehensive dashboards to managers who can now go beyond plain vanilla ratings and now measure engagement and performance continuously.
Features:
Quickly set, share and align Objectives that drive company goals forward.
Capture OKRs, related notes and comments, grades and everything in between with an easy to use and understand OKR software.
Quickly access your priorities and see where things stand for your teams and direct reports.
Features:
Employees can set SMART goals, OKRs or any other custom types of goal setting methodology in order to help them set and achieve their objectives.
Extremely customizable system for building 360 degree feedback forms
Customizable workflow builder that delivers complex processes across performance evaluations, one to ones or multi-input meetings
PeopleGoal analytics allows you to examine the raw engagement data at a low level and pull out key insights and reports.
Comparison of Tools Based on Reviews