Introduction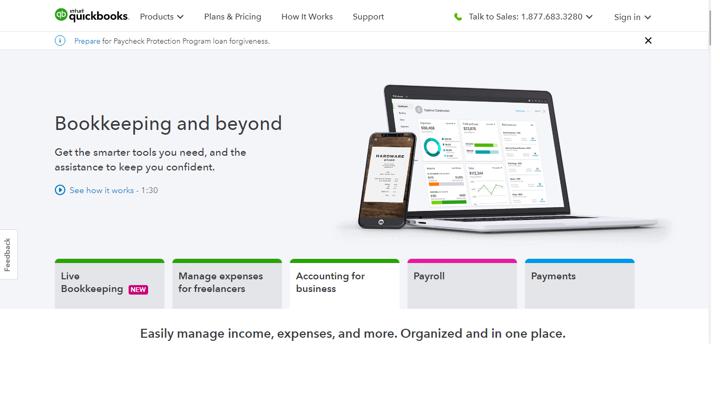 QuickBooks is an accounting software package developed and marketed by Intuit. QuickBooks products are geared mainly toward small and medium-sized businesses and offer on-premises accounting applications as well as cloud-based versions that accept business payments, manage and pay bills, and have payroll functions.
Features: 
Ability to handle multiple classifications/qualifiers: Yes
Offers 250 Chart of Accounts. Unlimited chart accounts for the Advanced tier
Specialization with startups: Yes 
Ability to connect to Salesforce and/or an open API: Yes
Connection to various banks and credit cards: Yes 
Connect your bank and credit card accounts in QuickBooks and get cash flow insights at a glance.
Bill Pay Feature: Yes 
Organize bills in one place, plus schedule and make payments online right in QuickBooks.
Quality Dashboard & Reports: Yes 
Price: 
50% for three months 
Simple Start: $12.50 /month 
Essentials: $20/ month 
Plus: $35/ month 
Advanced: $75/ month 
Self-Employed: $ 7.5/ month 
Regular price: 
Simple Start: $25/month 
Essentials: $40/ month 
Plus: $70/ month 
Advanced: $150/ month 
Self-Employed: $ 15/ month 
Business Size: Best for startups 
Free Trial: Yes (for 30 days) 
The two most frequently cited disadvantages of QuickBooks among TrustRadius reviewers are customer support and high subscription costs. Others are frustrated that the limited Inventory Management features require many users to upgrade to more expensive software.  
If these are concerns for your business, or you have your own unique issues with Quickbooks Online, there are alternatives that can serve your needs at different stages of your business. 
Best QuickBooks Alternative for Startup Stage
The Startup Stage is the stage you came from – the stage you survived. It was risky and difficult, but your efforts paid off. At the startup stage, you most likely experienced challenges such as:
exceeding your initial budget
establishing your presence in the right market
following through with your business plan
Accounting apps in the startup stage offer to keep a close eye on your cash flow, focus on your immediate goals, and adapt to feedback from your customers. These are some of our favorites:
Features: 
Ability to handle multiple classifications/qualifiers: Yes 
In Odoo 13 Chart of accounts is defined in the accounting module which acts with the balance sheet or profit and loss accounts.
Specialization with startups: Yes 
Ability to connect to Salesforce and/or an open API: Yes 
Odoo integration with Salesforce gives power to sync customers, products, sale orders, quotes, leads, contract and opportunities and many more. 
Connection to various banks and credit cards: Yes 
Get your bank statements automatically synced with your bank. Save time with Automated reconciliation.
Bill Pay Feature: Yes
Control supplier invoices and get a clear forecast of your future bills to pay.
Quality dashboard & reports: Yes 
Price: $30.00 USD/user/month, $288 USD/ user/annually 
Business Size: Best for small businesses 
Free Trial: Yes (15 days) 
Features: 
Ability to handle multiple classifications/qualifiers: Yes 
Kashoo comes with a default chart of accounts set up for you, but since the needs of business vary from one to another, you are able to add, edit, or remove this default set of accounts.
Specialization with startups: Yes 
Ability to connect to Salesforce and/or an open API: Yes 
Connection to various banks and credit cards: Yes 
Connect to 5000+ banks
Bill pay feature: Yes 
Set up payments in one minute with no hidden fees with your favorite payments provider. Every time a client pays you, it's automatically deposited into your bank account.
Quality dashboard & reports: Yes 
One-click financial reports 
Price: $16.65 per month, $199 per year 
Business Size: Best for small businesses 
Free Trial: Yes (14 days) 
Features: 
Ability to handle multiple classifications/qualifiers: Yes 
Specialization with startups: Yes 
Ability to connect to Salesforce and/or an open API: Yes 
FreshBooks API is available to integrate apps with FreshBooks data
Connection to various banks and credit cards: Yes 
Bill pay feature similar to Bill.com: Yes 
FreshBooks Payments make it easier for your clients to pay online, which means you get paid twice as fast.
Quality dashboard & reports: Yes 
Straightforward dashboard and reports.
Price: 
60% off 
Lite: $6-5 Billable Clients
Plus: $10- 50 Billable Clients
Premium: $20- 500 Billable Clients
Custom pricing- 500+ Billable Clients
Regular pricing: 
Lite: $15-5 Billable Clients
Plus: $25- 50 Billable Clients
Premium: $50- 500 Billable Clients
Custom pricing- 500+ Billable Clients
Business Size: Best for small businesses 
Free Trial: Yes
Features: 
Ability to handle multiple classifications/qualifiers: Yes  
Specialization with startups: Yes 
Ability to connect to Salesforce and/or an open API: Yes 
Connection to various banks and credit cards: Yes 
Get time-saving features such as scheduled payment reminders and automatic credit card payments
Bill pay feature: Yes 
Users have the ability to invoice and accept payments
Quality dashboard & reports: Yes 
Easy-to-use design and functionality on dashboard or syncing accounting records. 
Price: 
Payroll
Tax service states: $35 monthly base fee
Self service states: $20 monthly base fee
Business Size: Best for small businesses 
Free Trial: Yes
Best QuickBooks Alternative for Growth-Stage Companies
At the growth stage, you've launched your business. Now you're seeing consistent revenue and an ongoing stream of customers. Be prepared for sure and steady growth. You'll be facing these challenges in the growth stage:
meeting the demands of increasing sales and rising customer numbers
dividing your time as a business owner between various opportunities and issues
successfully continuing to grow
Accounting apps in the growth stage offer to formulate a business growth plan and build a growth strategy, fine-tune your methods, and make your processes more efficient. They will also set up more effective accounting, management, and reporting systems. Finally, they will let you hire people who are passionate about your business so you can delegate and move into more of a leadership role. These are a few of our favorites:
Features: 
Ability to handle multiple classifications/qualifiers: Yes
Xero assigns a default chart of accounts when you set up your organization. If you prefer, you can import a chart of accounts from your previous accounting system, or import your own custom chart.
Specialization with startups: No  
Ability to connect to Salesforce and/or an open API: Yes 
Streamline the sales process with professional online quotes.
Connection to various banks and credit cards: Yes 
Connect to the bank so transactions flow automatically into Xero each business day.
Bill pay feature: Yes 
Pay the bills on time, reduce office admin, and improve cash flow.
Quality dashboard & reports: Yes 
See all key information in one simple place with the online accounting dashboard. Track bank balances, invoices, bills and more, to keep an eye on your finances
Price: 
Early: $9/ month 
Growing: $30/month 
Established: $60/month  
Business Size: Best for medium-large businesses 
Free Trial: Yes
Features: 
Ability to handle multiple classifications/qualifiers: Yes 
Specialization with startups: No  
Ability to connect to Salesforce and/or an open API: Yes 
Connection to various banks and credit cards: Yes 
FINSYNC lets you collect money from your customers by credit and debit card by connecting to a Merchant Processor.
Bill pay feature: Yes 
FINSYNC streamlines the process of bill payments by delivering remittance details with electronic payments allowing users to pay from multiple accounts or email addresses. The solution allows users to store banking info online and receive invoice funds directly into the bank account.
Quality dashboard & reports: Yes 
The software could offer more reports but it does cover the basics.
Price: $0-$45/month
Business Size: Best for medium-large businesses 
Free Trial: Yes 
Features: 
Ability to handle multiple classifications/qualifiers: Yes 
The Chart of Accounts in Zoho Books consists of a wide range of accounts that are generally used with any type of business. The accounts are classified into different types such as Income, Expense, Equity, Liability & Assets.
Specialization with startups: No 
Ability to connect to Salesforce and/or an open API: Yes 
Send sales orders and confirm each sale before shipping goods to customers.
Connection to various banks and credit cards: Yes 
Get precise cash flow projections—plus balance mismatches, expected recurring payments, and past reconciliations—using the banking dashboard.
Bill pay feature: Yes 
Generate bills to track the payments you owe to your vendors.
Quality dashboard & reports: Yes 
Price: 
Basic: $ 9/ monthly 
Standard: $19/ monthly 
Professional: $29/ monthly 
Business Size: Best for small to medium-size businesses 
Free Trial: Yes (14 days) 
Best QuickBooks Alternative for Enterprise-Stage Companies
In the enterprise stage, your business has firmly established its market presence. Things are running routinely and smoothly, but more growth is possible. It's time to go bigger and better. You'll encounter these obstacles such as the following:
gaining a larger market share
moving into new markets
finding other profit channels or avenues of revenue
Accounting apps in the enterprise stage offer to plan carefully and do a ton of research. This will help you be realistic with the resources you have compared to the cost and the return on your investment. It will also help you focus on markets and avenues that complement your strengths and current business activities, as opposed to unrelated areas with increased risk and a greater potential to go wrong. These are a few of our favorites:
Features: 
Ability to handle multiple classifications/qualifiers: Yes 
NetSuite is a global financial software package, which allows us to both streamline the chart of accounts on a global level and have flexibility on the local level. The desired outcome in all ministries is a chart of accounts that meets the ministry's current needs, has room for expansion, and is globally consistent with all other CCC ministries.
Specialization with startups: No  
Ability to connect to Salesforce and/or an open API: Yes 
Connection to various banks and credit cards: Yes 
Support multiple payment methods such as Automated Clearing House (ACH), credit and debit card, and wire transfers
Bill pay feature: Yes 
You can set up company accounts to pay for different transactions. 
Quality dashboard & reports: Yes 
Has a centralized dashboard for users to interact with.
Price: Not provided by the vendor
Business Size: Ideal for modern mid-large size businesses (50+ employee size).
Free Trial: Free product demo 
Features: 
Ability to handle multiple classifications/qualifiers: Yes 
Sage 300 ERP has a fairly flexible mechanism for setting up your General Ledger Chart of Accounts.
Specialization with startups: No  
Ability to connect to Salesforce and/or an open API: Yes 
The Sage 300 Web API makes it easy to develop services that integrate with Sage 300 data and business logic. You can use the Web API to create integrated services for Sage 300 using many frameworks and tools—even just a web browser.
Connection to various banks and credit cards: Yes 
Automate and simplify the monthly reconciliation process. Detect unrecorded transactions and correct differences between your books and your bank account.
Bill pay feature: Yes 
Quality dashboard & reports: Yes 
Print reports including a chart of accounts, trial balances, posting journals, and transactions listings
Price: Not provided by the vendor 
Business Size: small to midsize enterprise
Free Trial: Not provided by the vendor
Features: 
Ability to handle multiple classifications / qualifiers: Yes 
Acumatica ERP supports four types of GL accounts: asset, liability, income, and expense. In each type, the accounts are also divided into classes.
Specialization with startups: Yes   
Ability to connect to Salesforce and/or an open API: Yes 
Connection to various banks and credit cards: Yes 
Able to track cash positions across all accounts, banks, business units, and countries
Bill pay feature: No 
Quality dashboard & reports: Yes 
Price: Not provided by the company 
Business Size: Small to midsize enterprise
Free Trial: Free demo only 
Features: 
Ability to handle multiple classifications/qualifiers: Yes 
The organization of the chart of accounts follows GAAP in which there is a separate "drawer" for accounts representing assets, liabilities, equity, revenues, cost of sales, expenses, financing, and other revenues and expenses
Specialization with startups: Yes
Ability to connect to Salesforce and/or an open API: Yes 
Oversee the entire sales process and customer lifecycle more efficiently – from initial contact to final sale, after-sales service, and support.
Connection to various banks and credit cards: Yes 
Process reconciliations, bank statements, and payments faster through various methods including checks, cash, and bank
transfers.
Bill pay feature: Yes 
SAP Business One offers a payment wizard to generate incoming and outgoing payment recommendations and bank transfers or cheques. 
Quality dashboard & reports: Yes 
Create standard or customized reports from real-time data to improve your business planning and audit review processes.
Price: Not provided by the company 
Business Size: Small to midsize enterprise
Free Trial: Free demo only