There are three commonly used factors used to redesign and optimize org structures: bands, spans, and layers.
Bands:

tiers of pay for employees of varying seniority.

Spans

: number of direct reports for a given manager.

Layers:

maximum number of steps in a direct reporting line, from the CEO down to the most junior employee.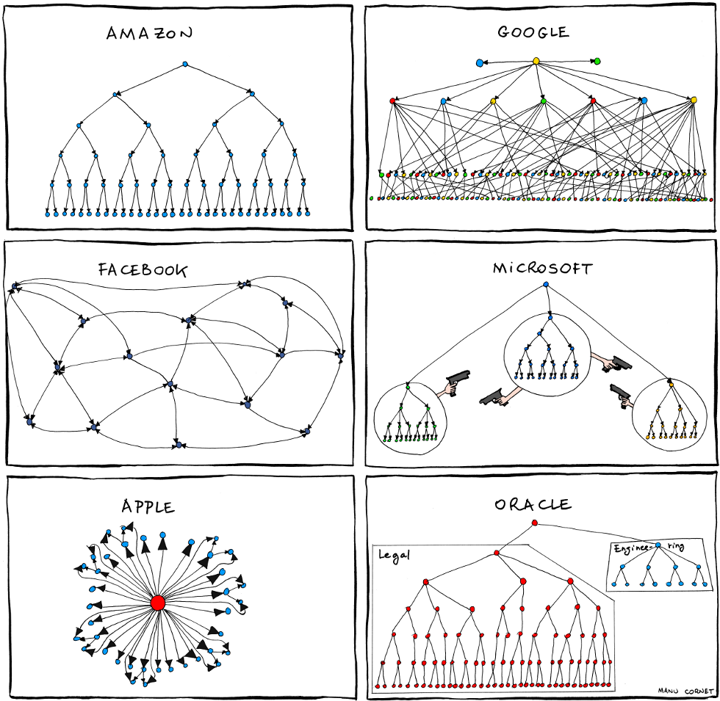 Manu Cornet (link)
Pareto rules for bands
Define bands as fully-loaded comp. I.e., base + annualized vesting equity + target bonus / commission (if applicable).

Set at least 8 bands, possibly more, with a range of 20% or less (e.g., $80-$100K, $150-180K)

Minimize gaps or overlaps between bands

Transparency is often a good thing when you have a fair framework. This reduces uncertainty and anxiety around whether each employee was being paid fairly and makes offer discussions extremely productive. It also grounds the company and candidate in a clear framework, with everyone speaking the same language

Revisit bands after a) You raise a new financing round and/or b) 6-12 months, assuming enough has changed about your business
Pareto rules for spans
There are more "right answers" with spans

The median span of control for a fully-staffed, mature, tech-centric organization should be ~5-6

Factors that result in a high span (6+) for a manager include a) more mature companies (i.e., there are well-codified procedures), b) companies that are more operationally heavy (there are standard procedures with people executing, e.g., CSM, operations), and c) cases where there are high-caliber / senior direct reports (i.e., reports serve as deputies; for example, CEOs often have 8+ direct reports)

Factors that result in a low span (4 or less) for a manager include a) smaller, earlier, or growing orgs and b) creative or complex functions (research, legal, engineering)
Pareto rules for layers
Excessive layers are the doom of most large organizations.

Layers will increase with the size of a company, but not as much as one might think.
Seed / Series A stage (<50 people)
Layers: 4 or fewer

Too many layers at this stage can cause confusion. (i.e. CEO → CTO → Eng Mgr → Sr. Engineer → QA Engineer is too much lost in translation for a 40-person company)
Series B/C stage (50-500 people)
Layers: 5-6 or fewer

Revisit reporting and layers 1-2 times per year during performance reviews (esp. once 200+ people)
Series D+ stage (500-5000 people)
Layers: 6-7

Only functions that are well codified or remote (e.g., warehouse, call center) should get to 8 layers
Series D++ stage (5000+ people)
Like our content?
Subscribe to our blog to stay updated on new posts. Our blog covers advice, inspiration, and practical guides for founders of early stage startups.
Note: We'll try to make this a fair guide, not an unbiased one (we have lots of strong opinions). The posts are subject to change and getting updated because the goal is to have this be as current and useful as possible.
Our content is for general information purposes only. AbstractOps does not provide legal, accounting, or certified expert advice. Consult a lawyer, CPA, or other professional for such services.