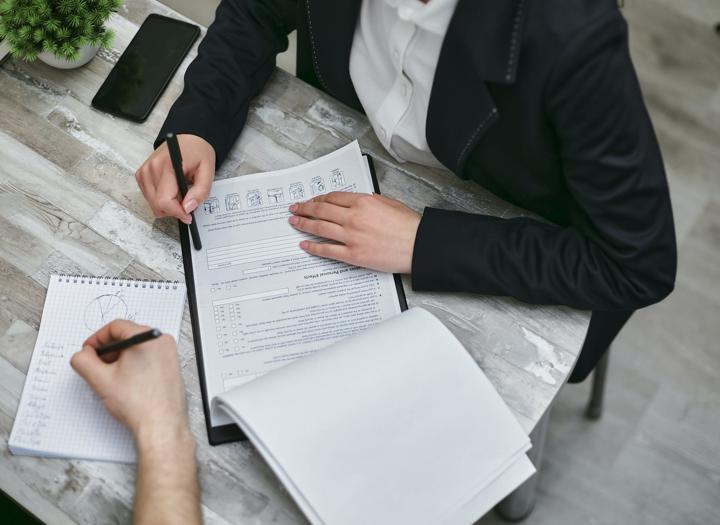 Photo credit: Pexels
Key Takeaways
Both PandaDoc and DocuSign are suited to the needs of startups of different capacities and sizes.

Businesses which need a simple and free e-signature solution can go ahead with the Free plan of PandaDoc, but it would make more sense if they were expected to have some scope of using all the features that PandaDoc provides, e-signature being part of them.

DocuSign is suitable for businesses of all sizes in all locations. It has flexible pricing tiers and features.
PandaDoc and DocuSign
PandaDoc is an efficient tool that allows you to create, manage, and sign documents by providing templates, approval workflows, and custom fields so you can instantly create and execute documents. Additionally, PandaDoc allows you to develop proposals, generate precise quotes, optimize pre-existing templates to write contracts, and easily create forms from the information you have gathered. The e-signature software by PandaDoc lets you create and manage documents effortlessly by keeping a track of everything related to document signing, so that you know when the document has been signed and by whom. Such details also come in handy for legal compliance and audit reports.
DocuSign is an e-signature management platform startups can use to quickly initiate the agreement process and sign important documents anywhere and on any device. Important deals do not have to wait for the time you take to reach your desk or access your computer. DocuSign is a scalable tool that simplifies the e-signature process.
PandaDoc vs. DocuSign
Pricing
PandaDoc
Four plans are available at different prices:
Free
Essentials: $19 per user per month
Business: $49 per user per month
Enterprise: Custom quotes are available.
DocuSign
Four plans are available at different prices:
Personal: $10 per month; $120 per year
Standard: $25 per user per month; $300 per year
Business Pro: $40 per user per month; $480 per year
Enhanced Plans: Custom quotes are available.
Conclusion: DocuSign offers integrations with Dropbox and Google Drive with its most basic (Personal) plan while PandaDoc offers CRM and Zapier integrations with its Business Plan. DocuSign includes these integrations in its Enhanced Plans. 
DocuSign offers custom branding with the Standard plan, while PandaDoc offers this feature only with its Business Plan. DocuSign offers bulk sending with its Business Pro Plan while PandaDoc offers bulk sending with its Business Plan which is priced comparatively higher than DocuSign's plan at the same tier. PandaDoc, however, offers unlimited legally binding e-signatures and document uploads with its Free Plan but DocuSign's most basic plan allows you to send only 5 documents for signature per month. 
This difference in services provided at different pricing tiers is that DocuSign is primarily an e-signature platform, whereas PandaDoc is an all-inclusive solution, that offers e-signature capabilities.
Security
PandaDoc: HIPAA compliance, GDPR compliance, and SOC Type II certification. PandaDoc hosts all its services on Amazon's AWS platform as part of its physical security measures for customers. All data is protected at rest using AES 256 encryption and backups are also encrypted. 
DocuSign: Industry-standard compliance such as HIPAA, IRS, SOC 1 Type 2, and SOC 2 Type 2. Apart from industry-wide compliance measures, DocuSign adopts an all-inclusive approach towards security, including measures like AES 256-bit encryption at the application level, HTTPS transfer of all data, SAML (Security Assertion Markup Language) use for optimal utilization of web-based authentication, SSO, multi-factor, and two-factor authentication for users.
Conclusion: While both platforms provide industry-standard compliance and top-notch security measures, DocuSign ranks higher. This is because it has two-factor and multi-factor authentication for users in place (unlike PandaDoc) and a more holistic status in terms of industry compliance. The security measures adopted by PandaDoc are adequate for most startups, but DocuSign can offer the extra layers of security required by more data-sensitive industries.
Features
PandaDoc
Some interesting features offered by PandaDoc are as follows:
An all-inclusive solution for managing, signing, and editing documents

Templates and custom fields, so that creating documents is faster and easier

Legally binding e-signatures

A robust API to integrate PandaDoc with apps of your choice

Collaborative features and insights for improvement

Simplified processes for creating proposals, generating error-free quotes, optimizing templates to draw up contracts, and using gathered information to generate forms
DocuSign
Some interesting features offered by DocuSign are as follows:
Scalable solutions for managing e-signatures.

Easy to use so everyone on the team can work efficiently

Compatible with any device

Several powerful native integrations

Agile platform.
Conclusion: Though both platforms offer equally lucrative and useful features, the utilitarian value for each can be determined by the users they serve. PandaDoc has more sales-specific features, while DocuSign has more features specific to document editing and management. E-signature is a part of all sales-specific services provided by PandaDoc, while DocuSign is wholly designed to provide e-signature management to startups that need a simple but fully functional and efficient solution. 
Integration
PandaDoc: Salesforce, Slack, Google Workspace, Zoom, Zapier Connectors, Microsoft Word, Canva, Zoho, Nimble CRM, Microsoft Dynamics CRM, Stripe, PayPal, QuickBooks Payments, Dropbox, Google Sheets, QuickBooks Online, and Microsoft OneDrive.
DocuSign: Salesforce, Google, Microsoft, Oracle, and Apple.
Conclusion: While both platforms offer a host of lucrative integration options, DocuSign ranks higher in terms of its flexibility in offering native integrations. Users are likely to find any app they need within the parameters of DocuSign's integration partners. Another difference is the pricing tiers offered by both platforms. DocuSign offers most integrations at a plan that is priced comparatively lower than the equivalent PandaDoc plan.
Customer support
PandaDoc: Offers a resource center for customers' problems, comprehensive user forums, and email support
DocuSign: Offers DocuSign University, which helps users with a number of lessons supported in multiple languages. Also offers email support, online chat, and phone support. Customers can upgrade any of the plans to receive a higher level of support.
Conclusion: DocuSign has an edge in terms of the support it provides. This is because DocuSign University is characterized by multiple language support for users across the globe. DocuSign also offers phone support, unlike PandaDoc. Users today need instant solutions for their problems and waiting for a response via email is not helpful in critical situations. It's a given that most users would expect phone support for the product they're using.
User reviews
PandaDoc: Positive user reviews for ease of use and overall functionality, but the reviews are limited in number.
DocuSign: Mostly positive customer reviews for its ability to scale and expand with the company's size and for its flexibility in overall functioning. It also has the maximum number of reviews.
Conclusion: DocuSign has the greater number of user reviews compared to PandaDoc and this is primarily because DocuSign is a scalable solution for small, growing, and large businesses. Its user base comprises businesses of all sizes. On the other hand, PandaDoc is a solution for small and medium-sized businesses, so it is likely to garner more reviews as and when startups and small businesses start to expand to a global scale.
Why PandaDoc?
PandaDoc qualifies as a preferred choice because:
It is easy to set up and use.

It provides collaborative features for effective teamwork.

It is a consolidated platform for the (multiple) needs of your sales team.

It offers startups economically friendly e-signing that comes with its free plan.

It comes with flexible payment options.

It provides over 400 templates for generating proposals.
Why DocuSign?
DocuSign qualifies as the most widely used e-signature platform because:
It comes with the drag-and-drop editor that is ideal for simultaneously managing multiple contracts.

It is an easy-to-use e-signature solution that offers users a hassle-free experience.

It has an intuitive interface.

It is a highly flexible tool, so it can assume the degree of simplicity or complexity that users need.

Users have vouched that once DocuSign was implemented, it did not need extensive technical support. Anybody could use it without a lot of hand-holding.
Bottom line
Both platforms aim to simplify the process of efficiently securing e-signatures. While PandaDoc is ideally suited for startups and medium-sized businesses, DocuSign is geared toward businesses of all sizes because of its ability to scale smoothly. Again, PandaDoc is primarily a tool for sales teams, whereas DocuSign is a tool specializing in e-signature management for all teams and can be used from any place, any device, and at any time.
To answer the question of, "Which products are better than DocuSign?" is to first examine the primary reason why a startup chooses a particular solution in the first place. PandaDoc and SignEasy rank as the top 2 software applications in the "DocuSign versus competitors" comparison. SignEasy is a significant competitor to DocuSign because it is available in 24 languages, a feature that highlights its target global audience, much like DocuSign, which has multiple language support in its resource base. Again, both PandaDoc and SignEasy are suited to the needs of startups and medium-sized businesses.
Other alternatives
HelloSign and Adobe Sign are noteworthy considerations as alternatives. The PandaDoc versus DocuSign versus HelloSign comparison gives HelloSign a higher degree of affinity among customers because of a host of features that HelloSign provides and PandaDoc does not. This includes white labeling and free app certification. Customers also vouched for the easy API account management with HelloSign. Meanwhile, in the PandaDoc versus Adobe Sign comparison, PandaDoc garnered a more favorable response from users because of its ease of use and its agility in suiting customers' needs.
Learn more with us
Access our Knowledge Base for Startups.
We can help!
At AbstractOps, we help early-stage founders streamline and automate regulatory and legal ops, HR, and finance so you can focus on what matters most — your business.
We can help you decide whether to use PandaDoc or DocuSign for your startup! Learn more.
Like our content?
Subscribe to our blog to stay updated on new posts. Our blog covers advice, inspiration, and practical guides for early-stage founders to navigate through their start-up journeys.   
Note: Our content is for general information purposes only. AbstractOps does not provide legal, accounting, or certified expert advice. Consult a lawyer, CPA, or other professional for such services.
---