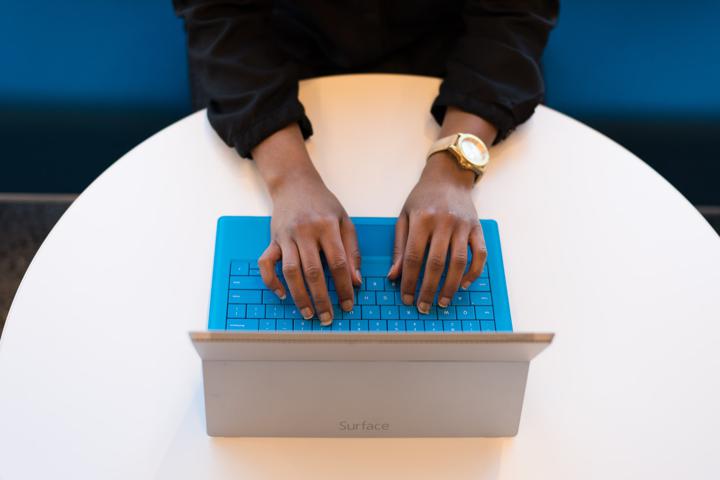 Photo credit: Unsplash
Thinking of launching a startup? Simple. But what about actually scaling it? That's an entirely different game.
What does HubSpot for Startups Include?
It is undoubtedly difficult to scale a startup. But scaling is crucial because it's what: 
Decides your long-term sustainability

Contributes to improved chances for growth and survival

Helps you

recruit top employees

 

Increases

profits
HubSpot is a software tool that allows startups to expand to their full potential. It provides a range of services to assist startups at every level of business growth.
It's essential to look at HubSpot's growth curve from a tiny marketing company to the software behemoth it is today to appreciate how much it can actually deliver for your startup. After graduating from MIT in 2004, Brian Halligan and Dharmesh Shah founded HubSpot as an online marketing firm. They found that customers were abandoning businesses that assaulted them with intrusive advertisements. Rather, people shopped from companies that genuinely cared about their customers.
As a result, HubSpot pioneered the notion of "inbound marketing," which allows consumers to find businesses and products that address their specific issues rather than the other way round. 
That's every bit as revolutionary as it sounds.
In subsequent periods, this has become the single most essential factor for HubSpot's explosive prosperity. They used inbound marketing as a startup themselves to attract new clients and eventually implemented a "marketing flywheel" to scale up. A marketing flywheel is when your company processes are aligned to address your clients' challenges and your branding, sales, and customer service loops continue to spin to meet your customers' demands. As a result, businesses experience near-certain growth.
HubSpot provides a program called HubSpot for Startups, which was influenced by their own success. It's a platform where businesses can leverage HubSpot's software, get trained on numerous online modules, and benefit from HubSpot's partnerships with other sophisticated products.
If eligible, startups can use the platform for a fraction of the actual cost of HubSpot software. For instance, if you're a startup with less than $2 million in funding, HubSpot for Startups is available to you at:
90% off for year 1

50% off for year 2

After this, you'll get a 25% discount
If you're a startup that has secured more than $2 million in investment up until and including Series A, then you can get up to a 50% discount in your very first year and 25% off every year after that.
If you're a startup that's part of HubSpot's Partner Program, then you'll get 30% off after your first year and 15% off every year after that.
There are other eligibility requirements in addition to benchmarks of capital invested.
Your startup must be a part of one of HubSpot's 2,000+ authorized incubators, accelerators, or

venture capital

partnerships.

It's also all right if you've already determined that you are not eligible for HubSpot for Startups. HubSpot can also help small businesses expand in other ways.
How much does HubSpot cost for startups?
The price you'll pay for HubSpot is determined by a number of factors, including:
Number of contacts

Chosen service product

Chosen sales product

Required number of seats
It's not always only about cost, although this is generally the top priority for an early-stage startup. It's also about the CRM's simplicity, efficiency, and how easy it is to migrate to if you haven't done so previously.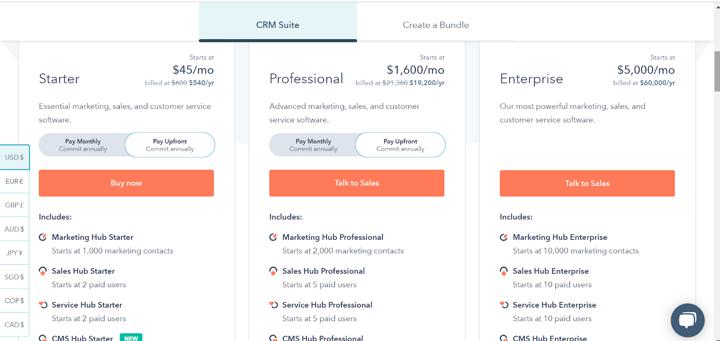 Photo credit: HubSpot
As is seen above, HubSpot's CRM Suite has 3 pricing tiers:
Starter: Starts at $45/mo 

Professional: Starts at $1,600/mo

Enterprise: Starts at $5,000/mo 
[Correct at the time of writing: December 11, 2021]
HubSpot Onboarding
Modeled on a few of HubSpot's more profitable startups, new clients can launch their growth strategy with initiatives that are tailored to their specific needs. It all starts with about two phone conversations with their Startup Setup Team, which will assist you in getting started.
Users gain access to a group of qualified Onboarding Specialists and the HubSpot for Startups platform and forum throughout the first month.
Startups will then be able to depend on HubSpot Academy's certification programs, paperwork, and instructional programs that help them get the most out of the service.
To help companies get onboarded swiftly, the onboarding procedure is well-thought-out and meticulously built.
HubSpot vs. Salesforce
UI/UX and Setup
HubSpot is simpler to use and set up than Salesforce, but it offers lesser customization and menu choices.
Pricing
HubSpot's price strategy is ideal for startups that just need basic CRM functionality, but Salesforce is a superior bet for startups that need highly sophisticated features in their CRM and is willing to pay more for the high-end experience.
Dashboard Management and Reports
Salesforce outperforms HubSpot in terms of reporting data into sales operations, pipelines, and forecasts.
Lead Generation and Management
Salesforce's lead managing and scoring are extremely flexible, while HubSpot's content marketing capabilities could get small startups up and running rapidly with lead generation.
Pipeline Management
Salesforce shows better performance when your sales processes are more complicated. HubSpot simplifies the sales funnel for small businesses with relatively simple sales cycles.
Customer Support
HubSpot is the superior alternative if you're a do-it-yourselfer with little need for customer support.
Workflow and Document Management
When it comes to complex approval systems and huge collections of documents, Salesforce has the upper hand.
Which software should you use?
Salesforce and HubSpot cater to different sorts of startups and individuals. HubSpot should be your go-to CRM if you're a small-to-medium-sized startup looking for an affordable platform that also helps with marketing initiatives and is very straightforward to use. Salesforce, on the other hand, will cover all the areas for startups with: 
Sophisticated marketing plans

A quickly increasing client base

A requirement for in-depth business intelligence tools
HubSpot Culture Code
The term "code" does not refer to a manual or a "code of ethics." It refers to real code, the kind that developers use to create software. However, rather than creating a code for clients, HubSpot's Culture Code was designed for the startup's employees. HubSpot decided to treat culture as a product. The now-famous Culture Code deck was the outcome. The initial SlideShare version has been visited over 5 million times ever since its release.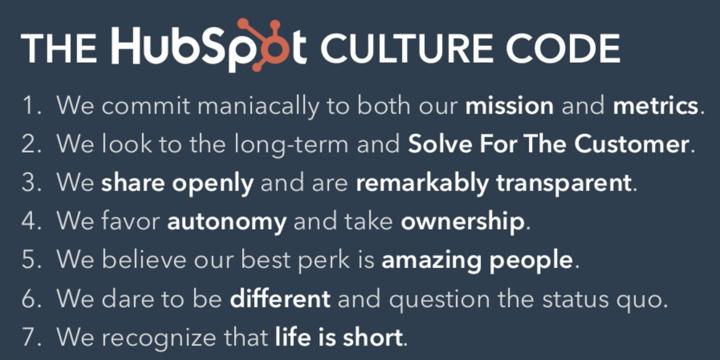 The Culture Code has undergone hundreds of changes since HubSpot's management recognized that establishing culture is a never-ending effort that requires thoughtful modifications over time.
HubSpot Marketing Contacts
You could pick which marketing contacts you'll be invoiced for if the Marketing Hub subscription covers them. Contacts marked as marketing will be added to your contact list. These contacts may be used for marketing purposes through HubSpot services. In the very same month, contacts cannot be configured as marketing and then non-marketing.
Your marketing contacts will function with the following marketing tools in your HubSpot account:
Marketing emails, especially follow-up emails upon form submissions

Contact list audiences in the ads tool

Marketing actions in workflows, such as Send Email and Add to or Remove from ads audiences.
As the number of marketing contacts reaches your contact level threshold, HubSpot will give you gentle alerts. Your current marketing contact number may also be viewed at any moment on your Account & Billing section or via a dashboard report.
HubSpot Lead Scoring
If your sales department has begun to voice concerns about the number of leads they need to handle, then it's probably time to start thinking about how you'll integrate a lead scoring procedure into your CRM to better assist your marketing and sales teams.
Lead scoring is used to assist marketing and sales teams in tracking and identifying when a lead is available to connect and have a meaningful conversation about purchasing your product or service.
Lead scoring assigns a score to your leads depending on several data variables, allowing your crew to rapidly identify the most high-potential prospects currently in your pipeline.
The HubSpot score contact attribute may be customized by users with Professional and Enterprise subscriptions to classify leads based on unique parameters. Custom score characteristics may also be created for your contacts, businesses, and transactions.
HubSpot Operations Hub
Synchronize, filter, and organize consumer data, as well as automate corporate activities, with this operations software. Your whole team will be united with a single, linked source of customer information and your startup will be able to respond to your clients' ever-changing demands.
Operations Hub provides you a common toolkit that integrates apps, arranges customer details, and automates workflows under one centralized CRM platform, whether you're a member of a central RevOps team or run Ops for a specific department. 
What's the outcome? 
A startup that is smart, coordinated, and adaptive to provide a frictionless customer experience.
HubSpot Demo
HubSpot's CRM solution is available to you at no cost. HubSpot's essential CRM capability is completely free, with up to 1,000,000 contacts and no restrictions on customers or customer details. Their premium Sales Hub packages have more comprehensive CRM capabilities.
Get a free demo of HubSpot's software here.
HubSpot Website Grader
HubSpot Grader is the primary website testing tool from HubSpot. The technology is available for all websites, not only HubSpot ones. The software assesses your website using specific criteria and assigns a score based on the results of the test.
Enter the website URL you wish to evaluate and your email address on the HubSpot website grader homepage, then click Get Your Score.
HubSpot Website Grader evaluates your website based on four basic yet critical criteria.
HubSpot Chrome Extension
The HubSpot Sales Chrome extension is a Chrome browser plugin that lets you monitor and record emails sent out by Gmail, as well as access a few of HubSpot's sales capabilities right in your inbox. You can also use your email to explore the HubSpot contact database and start meaningful conversations with contacts.
The HubSpot Flywheel
The Flywheel is a HubSpot-adapted model that describes the momentum gained when your entire startup is aligned around providing a stellar customer experience. It's incredible at absorbing and releasing "energy," which turns out to be crucial when planning out your corporate strategy.
Learn More with Us
Access our Knowledge Base for Startups.
We can help!
At AbstractOps, we help early-stage founders streamline and automate regulatory and legal ops, HR, and finance so you can focus on what matters most—your business.
We can help you understand HubSpot for your startup. Learn more.
Like our content?
Subscribe to our blog to stay updated on new posts. Our blog covers advice, inspiration, and practical guides for early-stage founders to navigate through their start-up journeys.   
Note: Our content is for general information purposes only. AbstractOps does not provide legal, accounting, or certified expert advice. Consult a lawyer, CPA, or other professional for such services.