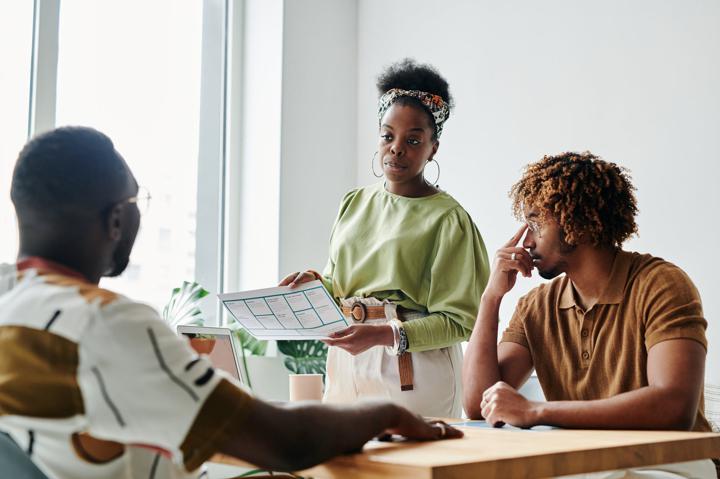 Photo credit: Pexels
Key Takeaways
In the U.S., an employer must document an employee's performance to prove that termination is needed.

Written

handbooks

must be used and not be kept to keep one. Maintain an employee handbook and review its termination policies when firing an employee.

Because of their limited time and resources, founders and small business owners must be even more aware of all relevant legal provisions.

One must understand and establish the grounds for termination, U.S. laws governing the employer-employee relationship, and the general working environment at a typical startup/business.

Find out if your state recognizes "at-will" employee termination.

Carefully document employee performance and disciplinary actions, establish proper grounds for the termination, inform the employee of your reason for termination, and fulfill all legal requirements.

Dick Grote, a management consultant in Dallas and the author of

How to be Good at Performance Appraisals,

states that "firing is the single most difficult thing we ask leaders to do."
How to terminate an employee? 
According to the law, an employment relationship functions on the principle of "at-will." Following this principle, most employment contracts can be terminated by either party without cause or notice. 
The contracts, thus, are open-ended contracts characterized by the absence of a written employment contract or the presence of merely a written offer of employment that lays down the basic terms and conditions of the employment. These terms and conditions are negotiable if none of the provisions violate any federal, state, or local law(s). A mandatory "trial period" has not been established by any legal requirement. It is up to the founder to see if their startup can benefit from a trial or probation period (usually 90 days). It can be beneficial in the long run as this initial performance evaluation can help hire the correct professional in the first place, and any adverse change in their performance will be noted right from the beginning. In addition to that, the Worker Adjustment and Retraining Notification Act (WARN) of 1988 requires most employers with 100 or more employees to provide 60 calendar days' advance notification of plant closings and mass layoffs. 
How to properly terminate an employee?
A founder/employer must understand and establish the grounds for termination, the laws governing the employer-employee relationship, and the general working environment at a typical startup/business. When terminating an employee, the employer needs to be aware of several established laws to protect employees. 
Federal laws that act as a check against unexpected termination are as follows: 
1. For employers with 20 or more employees, a Consolidated Omnibus Budget  Reconciliation Act (COBRA) notice must be provided to employees participating in the employer's group health plan the day before the termination and to any of the terminating employee's dependents on the plan. 
2. If termination is due to a layoff or position elimination covered under the WARN Act, notices need to be sent out 60 days before ending. 
3. The IRS requires notices to employees being terminated within specific time frames to inform them of their retirement or unemployment benefits - depending on eligibility.
It must also be kept in mind that the "at-will" principle does not approve of discrimination on any grounds. It is illegal to fire someone based on their age, race, religion, sex, etc. 
Some steps to follow while planning to terminate an employee - and avoiding any legal trouble while doing so - are as follows: 
Maintain an employee handbook and review its firing policies when terminating an employee
This will ensure that you have a basis for the termination at hand and a good overall foundation for the startup. The standard employee handbook must cover disciplinary practices, employee conduct, and potential reasons for termination. Any employer must ensure that all employees have received a copy during onboarding. The employer must have a signed confirmation from each employee that they have received and reviewed the handbook. The handbook should also spell out that it does not constitute an employment contract and that terms of employment are "at-will." Next, founders must review their termination policy and follow it to the letter when it comes time to let an employee go.  
Documenting violations
Documentation is considered a sound practice in every profession. The startup must document any violations or performance problems by the employee in writing and get it acknowledged (in writing). By observing such a documentation plan, the employer can be safe to allow the employee to improve their performance. A performance improvement plan can help in reviewing the employee's progress. Apart from avoiding legal trouble, your ultimate aim is running a successful startup where employees are among its most important assets. Also, documentation can help support your claims for termination. 
Establish grounds for the termination
The grounds for the termination must be documented in explicit detail. This will involve objectively assessing the entire situation by collecting related documents and evidence to support the termination. 
Informing the employee of your reason for termination
It is necessary to inform your employee why you chose to terminate their employment with your startup. This will help you establish that the employee has been given the information they need to understand their situation and can consult with the appropriate legal authority if they so decide. The conversation must be clear enough, leaving no room for any doubt or misunderstanding. 
Fulfill all legal requirements
Failure to observe the appropriate legal requirements can significantly trouble any employer. Legal provisions include providing the complete employee information about their post-termination benefits, their last paycheck, unemployment options, and insurance benefits if any. Any employer must seek sound legal counsel when terminating an employee. 
It is essential to know the laws surrounding protected "whistleblowing" activity - which means when an employee reports a potential violation of specific laws by the employer. Several employment contracts in the U.S. incorporate a "just–cause" termination clause, mandating that the employee may only be terminated for "cause" and states permissible grounds. In addition to the WARN Act of  1988, the U.S. Supreme Court weighed in on class action arbitration in April 2019. This is a departure from ordinary, bilateral arbitration of individual disputes and where parties must clearly state that they have agreed to resolve class and collective actions through arbitration. 
How to terminate an employee for poor performance? 
While terminating an employee is a difficult task, it is inevitable for the successful functioning of any startup, and more so for startups because they have limited monetary resources and time to deal with the legal matters surrounding employee termination. An article in the Harvard Business Review describes the termination process in great detail. Dick Grote, a management consultant in Dallas and the author of How to be Good at Performance Appraisals, states that "firing is the single most difficult thing we ask leaders to do." 
Below are some of the steps you need to take when it comes time to terminate an employee for poor performance:  
Documentation is an integral part of the termination process. Jodi Glickman, author, and founder of the communication consulting firm, Great on the Job LLC, stresses that "when the bad outweighs the good," termination becomes inevitable. The employer must establish through complete documentation that this termination, as it should be, is "the final step in a fair and transparent process" (

quoting the Harvard Business Review

).

Involving

HR

in the termination process is indispensable for two reasons. First, it is good to have someone else in the room while informing the employee of the termination. Next, HR can advise you whether termination is the best outcome for the situation (

e.g.,

if the employee is facing a severe health problem). In some instances, referring the employee to outside resources or allowing them to take a leave of absence might be a better solution for the time being.

Keeping the conversation concise goes a long way in maintaining clarity, which is particularly important during an employee termination meeting. The onus is on the employer to specify reasons for termination - such as not meeting expectations, targets, not adhering to punctuality, etc. - very clearly from the start. The blame for the poor performance rests entirely on the individual being terminated, which the employer must prove. 

The employer must be prepared to answer any questions that the terminated employee may naturally ask about their

severance

agreement, benefits, unused vacation time, etc.

Compassion towards the former employee is - in most cases - a moral obligation. If you think they might be a good fit elsewhere, offer a recommendation.

Talking with all other employees who have felt the direct impact of the termination is essential for closure and the startup to move on. 
How to terminate an employee without paying unemployment? 
Unemployment insurance is a joint federal-state program providing short-term cash benefits to those seeking employment. The authority to decide on the duration of such benefits rests with the state law. The FUTA (Federal Unemployment Tax Act) and SUTA (State Unemployment Tax Act) taxes paid by businesses go towards maintaining unemployment programs. The eligibility for benefits by a former employee depends on why they were terminated in the first place. 
Some ways to ensure termination without paying unemployment are:
Make sure the work environment at your startup is safe and is devoid of harassment, theft, bullying, etc., as these would prove as "good cause" for the employee to quit on their own accord, which generally qualifies them for unemployment benefits as harassment, violence, and any other attributes of an unsafe or "hostile" work environment are "good causes" for the employee to leave The CARES Act of March 2020 extended "good cause" to include pandemic-related reasons. 

Several forms of misconduct on the part of the employee disqualify them from receiving unemployment benefits; this misconduct could include sexual harassment, unexcused absences, safety violations, violations of internal company policy, etc. The employer must always check with state-specific rules and document and report any such violations as soon as they occur. This will also come in handy when you receive a notice from the state or federal unemployment agency; documentation will be needed as a backup if you choose to contest the employee's claim. 

Being consistent with your policies and ensuring they are consistently implemented throughout the startup is very important because the terminated employee can claim if they saw another employee getting away with any violation of the same rules. 

Mandatory warnings ensure that the employee is aware of the consequences of the violation, keeping the safety of other employees, customers, and the startup's future in mind. Statements from witnesses can help you prove the existence of a situation where there was no scope for a warning. 

Effective communication may seem like an ordinary or a minimally important measure, but it is neither of those things. Any infringement on the part of the employee must be addressed instantly and effectively, rather than pushing it to their annual performance review. As soon as the issue has been discussed, the employee must be put on a disciplinary or performance improvement plan with clear objectives and expectations set out for them yet again. If termination is inevitable even after that, then your attempts at

not

severing ties or

not

jumping to a rash conclusion are in your favor if an unemployment claim is made. 

Your startup's employment policies must be consistent with current state regulations. Some common mistakes of employers have led them to lose unemployment claim cases in the past. Such errors include unreasonably restrictive

non-compete agreements

, aggressive drug testing policies, and so on. 
How to terminate an employee without cause? 
Termination "without cause" means that the employee has not done anything wrong, has not committed a grave offense, has not been inefficient, has not indulged in any misconduct, has not violated a legal provision, or has been party to a breach of any written confidentiality. Termination without cause implies termination without a significant cause from the employee's perspective. The termination processes must be handled very carefully, or they can have adverse effects on the employer. 
Stated below are a few steps to carry out a termination without cause: 
Pending layoffs:

If there is a change in the startup's structure and the new structure no longer requires the employee in question, then a process of consultation and selection must be undertaken to establish redundancy in clear terms, and also specify the fact that the new

org structure

was imperative for the growth of the business. 

Special rules laid down for small business

owners: For businesses with fewer than 15 employees at the said time,

the Small Business Fair Dismissal Code

and Checklist

(and its compliance) ensures that the termination of an employee will be carried out in a way that will prevent unfair dismissal claims against the business. 
According to this code, a termination without cause can be exercised if the employee: 
Has been employed for less than 12 months

Is being laid off for a "valid reason," such as a reorganization
Termination without cause could include reasons like a sagging economy, cost-cutting, poor work performance, and reorganization. It must be noted that if the employer is entitled to termination without cause, then the employee is entitled to severance pay or reasonable notice upon such termination. 
How to terminate an employee in California? 
In addition to the federal laws that require some forms and notices to be given to employees upon termination, California has more requirements that the employer must meet to ensure legal termination. 
These are as follows: 
The California Employment Development Department (EDD) requires employers to provide their unemployment benefits pamphlet to all terminated or laid-off employees on the effective date of the discharge itself. 

A written "Notice to Employee as to Change in Relationship" form is required to be sent by employers under the California Unemployment Insurance Code 1089 to all laid-off employees immediately on termination. No written notice is required in a resignation, promotion or demotion, trade dispute, etc.  

The Department of Health Care Services mandates employers with 20 or more employees to provide the Health Insurance Premium Payment notice, DHCS 9061,  to certain employees covered under the program. 

Covered, terminated employees must be informed of their

CAL-COBRA

continuation rights, which must be offered to both terminated employees of small employers (up to 20 employees) and removed employees covered under federal

COBRA

when their 18 months of federal COBRA coverage expires.  

California Labor Code Section 2808(b) requires employers to provide all employees, upon termination, notification of all continuation, disability extension, and coverage options. 

The Worker Adjustment and Retraining Notification Act require employers to give at least 60 days of written advance notice of any plant closing or mass layoff.
Learn more with us
Access our Knowledge Base for Startups.
We can help!
At AbstractOps, we help early-stage founders streamline and automate regulatory and legal ops, HR, and finance so you can focus on what matters most—your business.
We can help you terminate employees in a sensible, responsible, and compliant way. Get in touch with us.
Like our content?
Subscribe to our blog to stay updated on new posts. Our blog covers advice, inspiration, and practical guides for early-stage founders to navigate their startup journeys.   
Note: Our content is for general information purposes only. AbstractOps does not provide legal, accounting, or certified expert advice. Consult a lawyer, CPA, or other professional for such services.
---