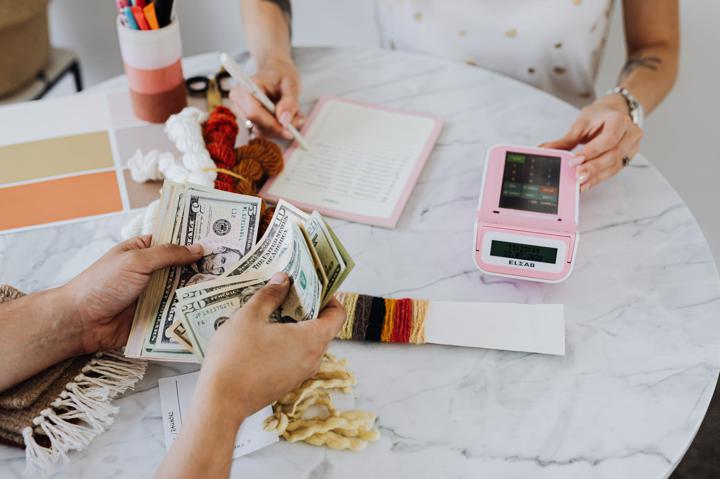 Image credit: Pexels
TLDR
The three most important financial reports for every startup are the balance sheet, the income statement, and the cash flow statement.

The income statement reports the revenues, expenses, profits, losses, and net income of a start-up company, over a specific time, such as month to month or year to year.

Further, an income statement can help founders and owners make critical business decisions, such as making a large purchase in the immediate future or putting that purchase on hold until the startup is in a better financial position.

Additionally, an income statement can help founders and owners track their startup's efficiency, performance against industry competition, and short- and long-term growth.

More specifically, an income statement identifies the expenses a startup incurs to generate revenue and make a profit, showing granular detail of money coming in and money going out.

An income statement is also called a profit and loss (P&L) statement.

Because most tech startups invest in intangible assets, such as digital networks, financial reporting in many ways has become "practically irrelevant for digital companies."

To show their value to investors (and shareholders), tech startups must demonstrate success through their business model, such as "acquisition of major customers, introduction of new products and services, technology, marketing, and distribution alliances, new subscriber counts, revenue per subscriber numbers, customer dropouts, and geographical distribution of customers."
For organizations — whether publicly-traded, non-profit, or private, including startups — the three most important financial reports are: the balance sheet, the income statement, and the cash flow statement. These reports are interconnected and offer unique insight into the company. By examining all three financial reports, investors, lenders, founders, and managers can assess a startup's holistic financial health at any given point in time.
The income statement reports the revenues, expenses, profits, losses, and net income of a startup over a specific time, such as month to month or year to year. Since so much of business success depends on cash flow and profits, the income statement provides critical insight into its overall profitability.
Further, an income statement can help founders and owners make critical business decisions, such as making a large purchase in the immediate future or putting that purchase on hold until the startup is in a better financial position. Additionally, it can help founders and owners track their startup's efficiency, performance against industry competition, and growth in both the short- and long-term.
This article will explore income statements for startups and what information they should include. Further, we'll highlight some income statement templates.
What is a Startup Income Statement?
A startup's income statement reports a company's revenues, expenses, profits, losses, and net income over a specific period. To drill down deeper, an income statement identifies the costs a startup incurs to earn revenue and make a profit, showing granular detail of money coming in and money going out. An income statement is also called a profit and loss (P&L) statement.
Arguably, the income statement is the most critical financial report of the three, as it gives founders, owners, and investors a financial snapshot of your company, offering direct insight into your startup's performance. Since running out of cash is the second reason most startups fail, behind no market need for its product or service, understanding your numbers is critical.
What Are the Elements of an Income Statement?
An income statement can be broken down into three main components: revenues, expenses, and net income. Expressed as an equation, these elements tell the financial story of your startup:
 Revenues – Expenses = Net Income
Each of these three elements can be broken down into sub-elements for the purposes of a complete income statement. According to the Financial Accounting Standards Board (FASB), "[e]lements of financial statements are the building blocks with which financial statements are constructed." Let's look at each one in turn.
Revenue:

 At the top of the income statement, you report the sales revenue your startup earned over a specific period of time, such as monthly or yearly.

Cost of Goods Sold (COGS):

Next, report cost of goods sold. Cost of goods sold, or COGS, refers to any direct costs related to producing the goods sold by your startup, including materials and direct labor.

Gross Profit:

Once revenue and COGS are identified, then you can determine your gross profit. To do this, you subtract cost of goods sold from your revenue. The comparison of gross profit and total sales gives insight into your startup's gross profit margin.

Expenses:

 Next, report your expenses. These are your direct expenses related to your ability to earn revenue, such as wages, manufacturing supplies, and other materials.

Indirect Expenses:

 Your indirect expenses are also reported on your income statement. Indirect expenses are just that — those expenses indirectly related to your ability to create revenue. Examples of indirect expenses are: rent; utilities; administrative expenses; research and development; marketing; advertising; amortization, and appreciation.

Operating Income:

If you subtract your direct and indirect expenses from your gross profit, you then get your operating income, also referred to as "operating profit." Your

operating income

can also be "computed using gross income less depreciation, amortization, and operating expenses not directly attributable to the production of goods." Further, according to the

Corporate Finance Institute (CFI)

, "interest expense, interest income, and other non-operational revenue sources are not considered in computing for operating income."

Earnings Before Tax (EBT):

Now, at this point in the income statement, you'll identify your earnings before tax (EBT). To get your EBT, you subtract your interest expenses from your operating Income. Your interest expense is the cost of borrowed money, such as interest on a bank loan.

Capital Expenses:

 At the bottom of your income statement, you'll identify your capital expenses, such as taxes, interest, the purchase of fixed assets (such as equipment or buildings), or the acquisition of patents.

Net Income:

 Now, we arrive at the income statement's bottom line — your net income. Once you subtract your capital expenses from your earnings before tax, you arrive at your net income figure. Your net income represents the total amount of earnings (or profit or earnings) your startup has received after the subtraction of all applicable expenses.
The income statement tracks all the above amounts across set periods, such as monthly, quarterly, or annually. Additionally, you can typically compare your income statement for the current year to the previous year, identifying growth or loss within specific categories of your startup.
Tech Company Startup Income Statement
Not all startups are the same, as evidenced by the boom in digital and tech companies over the past couple of decades. Tech startups focus primarily on intangible (non-physical) assets, such as digital networks that extend beyond the walls, city, or even country (think Facebook, Uber, or LinkedIn). According to Harvard Business Review, "accounting earnings are practically irrelevant for digital companies," based on recent research. In other words, "[o]ur current financial accounting model cannot capture the principal value creator for digital companies: increasing return to scale on intangible investments."
More specifically, the "building blocks for a digital company are research and development; brands, organizational strategy; peer and supplier networks; customer and social relationships; computerized data and software, and human capital." The company's intangible investments can lead to a misrepresentation of the tech startup's success since they are not reported as assets on the income statement. Instead, they are often treated as expenses, increasing losses on traditional accounting-method financial reports, such as the income statement. This result skews the tech startup's success for investors.
According to Harvard Business Review, it is "unlikely that accounting standards will change in the near future to allow digital companies to capitalize their intangible investments. (And even if digital firms capitalized their intangibles, the recalculated profits or assets would come nowhere close to justifying their current market values.)" Instead, to show their value to investors (and shareholders), tech companies must demonstrate success through their business model, such as "acquisition of major customers; introduction of new products and services; technology; marketing; and distribution alliances; new subscriber counts; revenue per subscriber numbers; customer dropouts, and geographical distribution of customers."
Income Statement Startup Template
Below is an example of an income statement template, showing revenues, expenses, and profits over a set historical period, in addition to forecasting revenues, expenses, and profits into future years.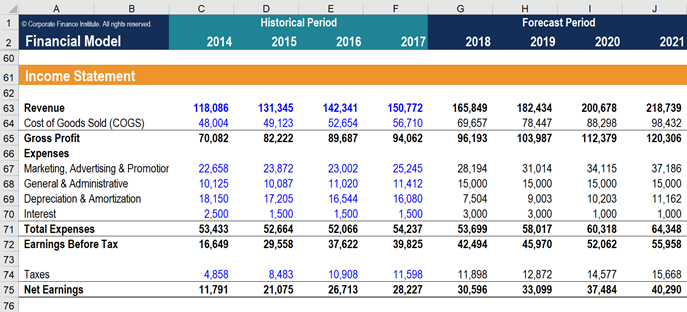 Image: Corporate Finance Institute.
How the Income Statement Links to Other Financial Statements
Additionally, the resulting numbers that emerge on your income statement will be transferred to your other critical financial reports — your balance sheet and your cash flow statement. For example, your net income result links to both the cash flow statement and the balance sheet. On the cash flow statement, the net income amount serves as a "starting point for the cash from operations section," and on the balance sheet, it "feeds into retained earnings."  Retained earnings are "the accumulated portion of a business's profits that are not distributed as dividends to shareholders but instead are reserved for reinvestment back into the business." These earnings are reported on your balance sheet under the section for shareholder's equity.
Here's an example of how the income statement and the balance sheet are interconnected: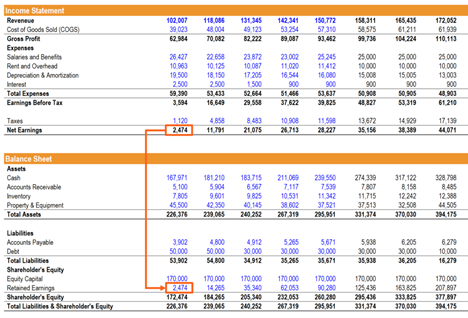 Image: Corporate Finance Institute.
Here is a second example showing the relationship of the three financial reports': the income statement, the balance sheet, and the cash flow statement.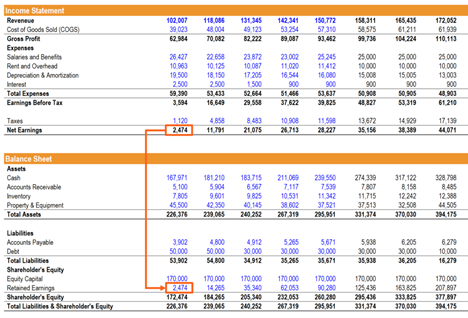 Image: Corporate Finance Institute.
Benefits
If you don't know your numbers, your startup won't succeed, as preached by the investors on "Shark Tank" week to week. However, this is not just the makings of good TV. As a founder at any stage, you must know your numbers to identify your strengths, weaknesses, setbacks, and projections.
Preparing an income statement for your startup provides the following benefits:
It identifies your numbers over many specific income and expense categories, giving you a holistic picture of your startup's financial health.

It gives investors a realistic picture of where you stand financially, providing them with a tool for assessing current or future investment opportunities.

It tracks the performance of your startup in addition to highlighting areas of inefficiency.

It helps you project your startup's growth, serving as a tool for forecasting expenses and revenues.

It can provide an accurate picture of your startup's cash flow.
Limitations
The preparation of income statements don't come without their drawbacks. Here are three to consider:
It does not calculate all factors of a startup's success, such as the founder's knowledge and expertise, the competitiveness of salary offered within the region, or the uniqueness of the service or product provided in the marketplace.

It can misrepresent the startup's overall profitability as it may reflect expenses that have yet to be paid or accounts receivables that have yet to be, well, received.

It takes time and money to prepare a strong income statement. This is not a task that you should try to undertake yourself unless you have a lot of bookkeeping experience; it is best left to your CPA.
Even with these limitations, the benefits of preparing an income statement for your startup far exceed any drawbacks of such preparation. An income statement is a financial tool that you should regularly use in your startup, helping you run your business efficiently, cost-effectively, and profitably.
Learn more with us
Access more guides in our Knowledge Base for Startups
We can help!
At AbstractOps, we help early-stage founders streamline and automate regulatory and legal ops, HR, and finance so you can focus on what matters most — your business.
If you're looking for help understanding or creating your income statement, we can get your documentation ready, overall shepherding this process to ensure it's done right, get in touch with us.
Like our content?
Subscribe to our blog to stay updated on new posts. Our blog covers advice, inspiration, and practical guides for early-stage founders to navigate their start-up journeys. 
Note: Our content is for general information purposes only. AbstractOps does not provide legal, accounting, or certified expert advice. Consult a lawyer, CPA, or other professional for such services.