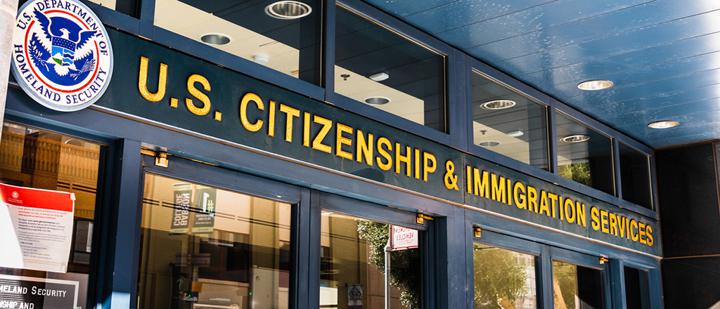 Immigrants are integral to the success of a startup, particularly in the tech sector. 
Beyond the fact that there are greatly talented individuals around the globe looking to make an impact with their abilities, the truth is that there just isn't enough local talent in America to fill the burgeoning tech industry's needs.
As only one example of the dearth of sufficient tech talent in America, for every software engineer who's an agile developer, there are 4.59 job postings available. 
Look:
Finding people who are brave and dedicated enough to leave their homes thousands of miles behind them and start fresh in a new country is easy. Bringing them to America and hiring these immigrants legally can, on the surface, seem much more difficult — but that doesn't necessarily mean that it is.
So, how can your startup hire immigrants legally?
With the right information and the right help, you can safely hire the foreign talent that your startup needs to truly reach its fullest potential. 
How to hire immigrants legally?
Here are five indispensable pointers to remember before you try to hire immigrants legally:
Only hire U.S. contractors and employees with employment authorization

Start thinking about the 2021 H-1B lottery now

You can get an O-1A visa for an expert at any time of year -- no lotteries required

The more organized you are, the more streamlined the process will be

Start the green card process for Asian employees

right away
1. Only hire U.S. contractors and employees with employment authorization
There are a lot of talented professionals in the world and a large percentage of them would be overjoyed to work in the U.S. 
Some are already here as a tourist or a business visitor with B-1, B-2, or ESTA status. While they may be extremely talented and personable, you need to ensure that you're only hiring immigrants who are authorized to work in the United States.
Is it illegal to hire illegal immigrants?
In a word: yes.
Founders and hiring managers are required to check the work authorization of everyone they hire. Startups can face fines or even criminal prosecution for hiring immigrants who do not have the appropriate authorization. Criminal prosecution is especially guaranteed for founders if there is a pattern of hiring unauthorized immigrants.
And this doesn't apply to full-time employees only. It's also against the law to hire a W-9 contractor if you know that they lack employment authorization.
So, it's best to make sure that you're making safe choices. There are some people with work permits who you can hire as contractors without special sponsorship; the most common instance is people with an EAD (Employment Authorization Document).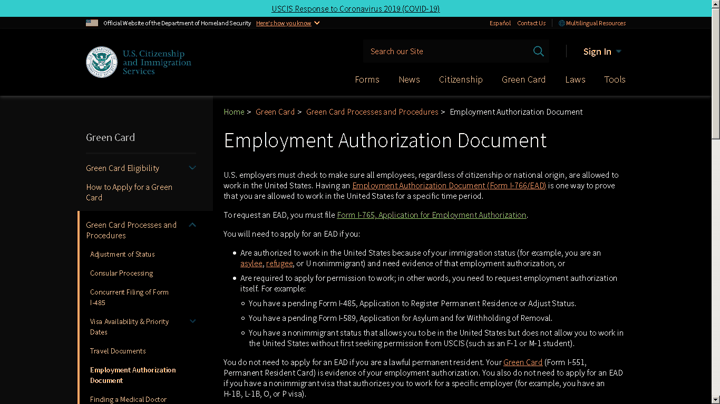 Therefore, you should always check with your corporate immigration counsel before extending an offer.
Some recent university grads might already have work permits. Students on F-1 status who graduated with a degree might qualify for a work permit by working in their field of study. This status, named OPT (Optional Practical Training), is initially valid for up to one year.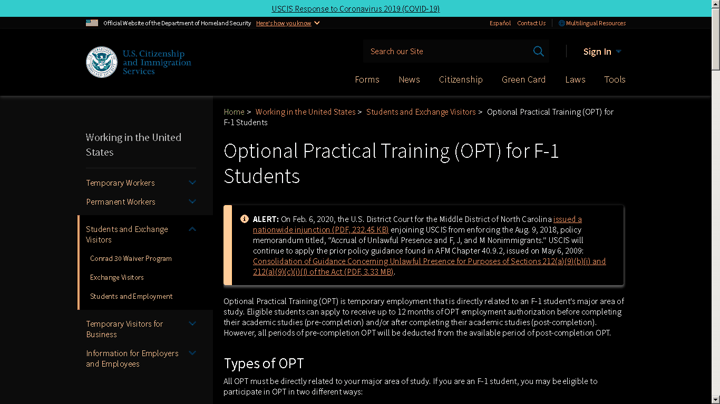 That's not all …
If the student graduated in a STEM field, they can qualify for an additional two years of work authorization (STEM OPT).
Remember: 
If you can find the right talent, you can mostly always find ways to steer them towards employment eligibility.
2. Start thinking about the 2021 H-1B lottery now
H-1B visas facilitate the employment of candidates in professional jobs which: 
Require specialized skills 

Might be difficult to fill with American workers 
Employees are not supposed to do admin work when they're in H-1B status, and the job position needs to match the candidate's field of expertise.
Since H-1Bs are currently over-subscribed, the government now holds an annual H-1B lottery. The law allows for 65,000 H-1Bs candidates who have at least a bachelor's degree (or the equivalent) and 20,000 more for graduates with advanced degrees from U.S. educational institutions. 
Due to changes in effect since April 2019, people with advanced degrees (Master's and PhDs) have a stronger likelihood of getting chosen for an H-1B status over other candidates.
The lottery has undergone additional changes in 2020. 
Sarah Kilibarda, counsel in the Minneapolis office of law firm Faegre Drinker, explains: "The process until now was that employers would prepare and file petitions for all individuals they wanted to have in the lottery. USCIS would run the lottery and return any petitions not accepted. Instead of preparing and filing all those petitions for entry into the lottery only to have USCIS return about 60 percent of them, employers will complete a registration and the agency will hold a lottery based only on those registrations."
The USCIS (U.S. Citizenship and Immigration Services) has switched to a digital system, which has greatly simplified the H-1B process and made it less costly for startups because they'll (hopefully) only need to prepare the full petition for people previously selected in the lottery. This petition is prepared by an employer to help enable a qualified foreign national to take up the job as an H-1 B worker.
The best part?
Researchers recently concluded that U.S. startups that win the H-1B lottery and hire immigrants legally turn out to be more successful. Hiring H-1B workers appears to help startups in getting funded, winning patents, and going public.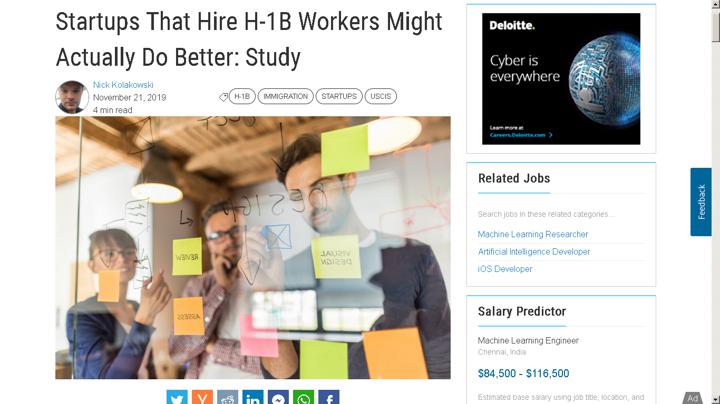 Keep in mind:
The earliest start date for an H-1B hire is always the following October 1st.
3. You can get an O-1A visa for an expert at any time of year —no lotteries required!
O visas (O-1A and O-1B visas) provide a way for startups to hire immigrants who are at the top of their respective subfields (e.g., arts, sciences, education, business, athletics, entrepreneurship, etc.) globally or in their country of origin. 
How can you actually use this?
Businesses have latitude in choosing whatever subfield is appropriate for them. The candidate in question will need to gather evidence to prove their accomplishments. 
This evidence can include:
Prizes won or awards received

Membership in elite/prestigious organizations

Articles chronicling their achievements

Authorship/significant contributions to the scholarly, scientific, or business-related field

Substantial earnings

Working in a critical capacity for a distinguished organization or establishment

Letters of recommendation
The O-1A, like other types of visas (such as E-2, H-1B, H-2B, and L-1), is eligible for premium processing. With this added service, the USCIS guarantees to either make a decision on a petition/application within 15 calendar days for a premium processing fee or otherwise refund your payment.
As of February 2021, this premium processing fee is either $1,500 or $2,500, depending on whether you're requesting nonimmigrant classification by filing Form I-129 or immigrant visa classification by filing Form I-140.
Here's what the USCIS has to say about filing fees:
$2,500

if you are filing Form I-129 requesting E-1, E-2, H-1B, H-3, L (including blanket L-1), O, P, Q, or TN nonimmigrant classification

$1,500

if you are filing Form I-129 requesting H-2B or R nonimmigrant classification

$2,500

if you are filing Form I-140 requesting EB-1, EB-2, or EB-3 immigrant visa classification
These fees are effective October 19, 2020, and are required in addition to all other filing fees required by the application or petition you are submitting. If you are paying by check, please make it payable to the U.S. Department of Homeland Security.
4. The more organized you are, the more streamlined the process becomes
Founders and hiring managers should create a long-term hiring plan, identifying roles that need filling and when. They should additionally highlight the roles that will likely be filled by immigrants. 
It can also be helpful for founders and hiring managers to clarify their immigration sponsorship policies and add information about when -- and under what conditions -- to sponsor a foreign employee for permanent residence (green card) or a temporary stay (nonimmigrant visa).
It's always useful for employers to collect essential corporate documents before starting the immigration process for the first time or before starting the process with corporate immigration counsel. 
If this is your first immigration sponsorship, you'll need to find and scan your SS-4 letter with the Federal Employer Identification Number assignment. 
It's generally helpful to have the following materials handy:
The location where the candidate will work

Offer letter with salary

Job title and description of the job opening as well as the percentage of time that the candidate is going to spend on each job duty

Screenshots of your website, brochures, or marketing documents

Most recent federal tax return

The term sheet, cap table, etc.

Recent bank statements
5. Start the green card process for Asian employees
right away
It's well-known that Asian applicants have to make do with the longest wait times for green cards that are employment-based. This wait time frequently spans decades.
In fact, a recent Cato Institute analysis estimates that individuals from India may face multi-decade waits of about 150 years for the mere opportunity to get a green card (with, of course, no surety of actual success).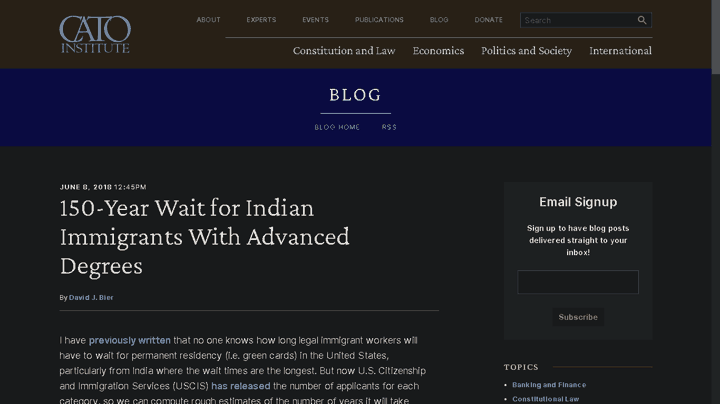 The most egregious situation involves an Indian worker with an advanced degree. These individuals might have to wait for 150 years (or more) to get a green card unless a lot of people decide to cancel their green cards or the law changes. 
But there's a catch.
This possibility need not serve as a deterrent from recruiting rockstar talent -- by hiring immigrants legally.
An H-1B, when granted, is usually valid for up to three years with an option for a three-year extension, for a total of only six years in H-1B status. 
The question is:
What can an employer do to help an employee born in Asia continue working in the U.S. while waiting for their green card?
For an employee to continue working beyond the typical six-year H-1B limit, their employer needs to start the green card process. When sponsoring a first-time H-1B applicant in the lottery, be sure to connect with an immigration lawyer to create a sponsorship roadmap for the candidate. This plan will preserve their ability to work in America beyond the six-year H-1 B limit. 
It would also be a great idea to ask your H-1B employees if they have any previously approved I-140 Petitions from prior employers and, if so, what their priority date is.
Below are the most common paths to a green card for startups seeking to hire immigrants:
Summary
The immigration process doesn't have to be overwhelming or a deterrent to securing the talent that your startup needs to succeed. 
Being educated on the subject and constantly connected with legal help can enable you to hire immigrants legally more efficiently and expediently.
Taking advantage of resources such as this blog, other materials available to you, and an immigration attorney can simplify matters and keep your startup on a safe and secure path to achieving the growth that you deserve.
We can help!
At AbstractOps, we help early-stage founders streamline and automate regulatory and legal ops, HR, and finance so you can focus on what matters most — your business.
If you're looking for help on hiring immigrants legally, we have got your back. Sign up to get started.
Like our content?
Subscribe to our blog to stay updated on new posts. Our blog covers advice, inspiration, and practical guides for early-stage founders to navigate through their start-up journeys.  
Note: Our content is for general information purposes only. AbstractOps does not provide legal, accounting, or certified expert advice. Consult a lawyer, CPA, or other professional for such services.
---