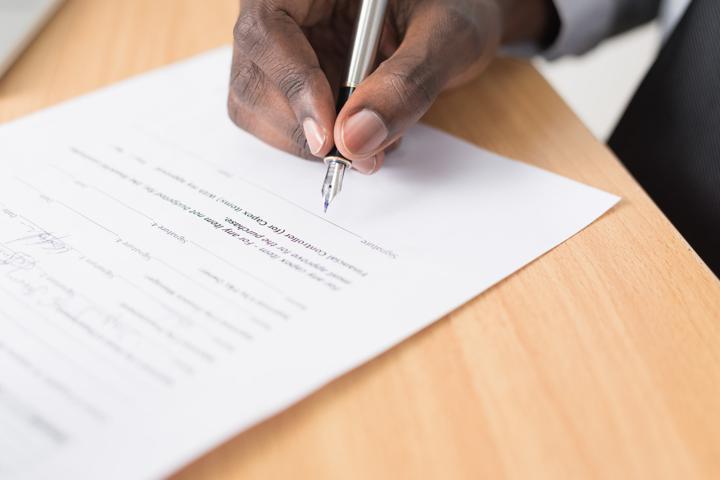 Source: Unsplash
A contract is the best way to have things run smoothly and legitimately. Not only does it set forth the respective responsibilities for each party involved, but it also addresses for  whom one does the work, who should acquire the money for the work, and everything else related to the job!
So, if you have been running an enterprise for a while, or are in the process of setting one up, it is likely that drawing up a contract is something you have dealt with. If your enterprise is particularly required to deal with vendors, it is crucial that you get a sound understanding of how to handle a vendor contract and the vendor processes involved. Whether you are a CEO or an HR Executive, a vendor contract would be among one of the most important parts of your job. 
The following article gives you a basic idea of what a vendor contract is and how it can help you conduct your work vigilantly and efficiently. 
Vendor Contracts 
A vendor contract is a commercial contract in which you and the other party both agree to exchange goods and services at a specified price for a stipend or consideration. This agreement specifies the conditions and details of the transaction, either on a one-off basis or set for a periodic time — it could be in terms of the number of goods and services delivered. By doing so, the organizer reaps the benefits as you can set the regulations under which the provider can operate, giving you full authority. This will help you maintain control and avoid any further complications going forward. Furthermore, the document is accepted in court and helps settle payment terms or unauthorized collisions. Additionally, you, being the first party, can set requirements for alternative situations if neither the vendor nor the buyer can obey the terms set in the agreement. For example, if the goods are not delivered on time or arrive damaged, you can request compensation or a replacement for the goods delivered. 
What to include in a Vendor Contract?
Scope of the Contract
Perhaps the most important thing that a contract must convey is what goods or services will be supplied to your business. The contract will contain all the details of the economic commodities that will be provided and all the conditions that will be involved. Communication and precision are key here, if you don't specifically ask for what you want or agree upon with the vendor; it just leaves scope for error or manipulation. Deceit and manipulation are harsh words, and it is not always the intent of the other party, therefore, it is best to clear things out from the start as a safeguard for you as well as the vendor. 
Contract duration
The duration of the contract is the time period for which you would expect the project involved to be completed, or the timeframe in which you would like the goods delivered. This not only helps you to have a set timeline, nevertheless it will also assist you to set a payment plan. For example, you can set the first installment of the compensation to be given in the first month, or upon completion of 20% of the work which is set to be completed within the first month from the initiation of the contract. 
This timeline is important for you to have a plan laid out regarding investments and other plans that come into play once the current project is completed.
Payment
A valid contract must have some form of reimbursement being given in exchange for the execution of the duties by the other party. The contract must have clear mentions of the payment amount. 
The mode of payment must also be mentioned; such as, may it be in the form of a wire transfer, cash, or digital wallet such as Google Pay. Even if the payment is in kind, it must be mentioned with great detail to avoid any drawback; and of course, the payment being in kind should be of legal nature (according to your jurisdiction).
This clause must also include any default payments, late fees and payment liabilities. It is important to keep in mind the transfer fee and who will bear those costs. Over and above, this also serves to protect you and the vendor from misunderstandings that could lead to legal disputes.
Exit Plan
You must always be prepared for the worst, this applies the same with contracts. A clause to get out of the contract is a must that specifies certain conditions that come into play would allow you to get out of the contract. 
Some contracts will expire upon the completion of the project or the delivery of the products. Others may last indefinitely as long as the parties do not object. Nevertheless, others will continue for a period of time before each party agrees to terminate on its own. Despite that, it would be wise to implement this in writing to protect your interests. 
Breach of Contract
Breach of contract would mean that a party ends up breaching their part of the agreement. The other way is for you to have in the contract some clause that discusses whether they can fix the breach. Think of this as a "cure" for the breach, this clause can allow you to get out of the contracts if things go beyond a point of repair. The phrase indemnity refers to the payment of compensation from one harmed party to another, and it is intended to cover the loss incurred on the beach.
It should be emphasized that this is also the part where some vendors may state their terms for resolving problems, which for larger vendors will most likely be arbitration rather than litigation. Arbitration is a method of reaching an agreement. You may not be able to negotiate this, but you can at least be aware that this is what you will have to deal with if you enter the agreement.
Is it an agreement or a contract?
You may ask what is the difference between an agreement and a contract? Well, the words 'contract' and 'agreement' are often used interchangeably yet can cause confusion. In reality, they fundamentally have different meanings; a contract is a written agreement by both, vendor and supplier and signed with specified terms and conditions that can be admissible evidence in the court of law. Whereas, an agreement may fall short of being an enforceable contract. The agreement may 'lack' certain elements for it to be legit according to the law, in more simple words it becomes more of a blaming game. Ideally, in most cases, a legal professional should write up the document for a vendor agreement. 
Types of Vendor contracts
Now, there are various types of contracts out there that are distinguishable on the terms they set forth. But the main concern for a business would be to focus on the terms that work out best for them and ease the transaction process. 
Based on price; these contracts are distinguishable by a specific focus on how the terms for the price are set. They can be 'fixed price' contracts where a fixed price is paid for the goods. These are very basic buy and sell contracts that are in practice globally. Apart from that, there are reimbursing contracts — the terms of these contracts offer an incentive towards a contingency and are often used where the scope of the project is very uncertain. 
However, because of time constraints; these contracts are formed with the idea of providing compensation for the work done on an hourly basis. Those contracts are entirely different from the fixed price contracts mentioned above. They are commonly known as time and material contracts. 
Pro Tip: Irrespective of what party to the contract you are, having a fixed price or time-based compensation plan for the services you provide can make all the difference in the world. The fixed-price contracts would give an entrepreneur a certain degree of predictability and management advantages, but since you pay in a lump sum for the final product, you will have a certain lack of flexibility as to any changes you may seek in the way things are going with the work.
Contracts to facilitate indefinite-delivery are used when there is an undefined quantity involved; these terms do have a set minimum buy order and a maximum buy order to make things more realistic. 
Distribution agreement contracts are usually supplier agreements, the vendors here are generally supposed to deliver directly to the customers or a third party. The terms of the contract will address the time of delivery, places of delivery, and modes to help the distribution. 
These are some forms of contracts, the terms can be drafted to specific needs of your business; undoubtedly the legality of those terms should be aligned with the law of the land. To put it simply, they must be legal for the jurisdiction where these contracts are executed. Every country and state has laws that have some variations from one another, and they are to be strictly respected to avoid any unwanted legal complications in the future. Hence, it would be wise to work closely with a legal practitioner. 
What should I be careful about?
It is significant that you realize what you're getting into. Communication is key here and having sound knowledge about the terms would be the best option. Here are some more pointers to look out for going forward with the vendor contract. 
Having certainty about what the terms say and that they define all the parameters like the time duration for the project, any deadlines for certain service or goods to be delivered, transparency procedures, modes of delivery, quality and quantity of standards etcetera. 

You can opt to divide a project into multiple contracts for when the size of the project is considerably large or perhaps into phases, so you can have control over the work quality, this will let you come into a new contract once a phase is completed. 

You can add clauses to monitor the performance of the work done, this will allow you to get the desired quality of the work and assess if you want to continue with the same vendor or search for more options. This will, of course, depend on the nature of the work.

Before starting a project and getting into the contractual obligations you must be ready with the resources required for it, it may be market research, equipment, or anything else that the other party might need from your end. Putting time in taking care of the logistics could have an adverse effect on the contractual obligations. 

Being clear about what circumstances could lead to the termination of the contract, who will own various aspects of the work such as intellectual property ownership and other aspects that could be gainful assets. If such a situation arises, what procedures should be followed?
Where do I get one made?
The best course to have a contract made would be to hire a legal professional, usually a lawyer. It is crucial you mention all the necessary details that you need to them, so they can provide you with the best options.
Mostly these agreement drafts are available online and are pretty standard which you can edit to your needs, besides that will be risky since the 'legal language' crucially needed is not something everyone knows. Hiring professionals to aid with the drafting aspect of the contract will make things more favorable for you and help you cover all the bases. 
Vendor contracts are to be taken seriously, and a valid contract is enforceable by law, for this reason, one must not sign anything without reading the terms and definitely should not take things for granted. Anything you agree upon has to be done, and failing to do so can result in hefty losses or even bankruptcy. Doing things ethically and professionally would not only safeguard your rights in the contract and even protect you from any unfair advantages.
Learn more with us
Access more guides in our Knowledge Base for Startups
We can help!
At AbstractOps, we help early-stage founders streamline and automate regulatory and legal ops, HR, and finance so you can focus on what matters most—your business.
If you're looking for help with understanding what makes a great contract for SaaS, Cloud, and other Software as a Service, get in touch with us.
Like our content?
Subscribe to our blog to stay updated on new posts. Our blog covers advice, inspiration, and practical guides for early-stage founders to navigate through their start-up journeys.  
Note: Our content is for general information purposes only. AbstractOps does not provide legal, accounting, or certified expert advice. Consult a lawyer, CPA, or other professional for such services.