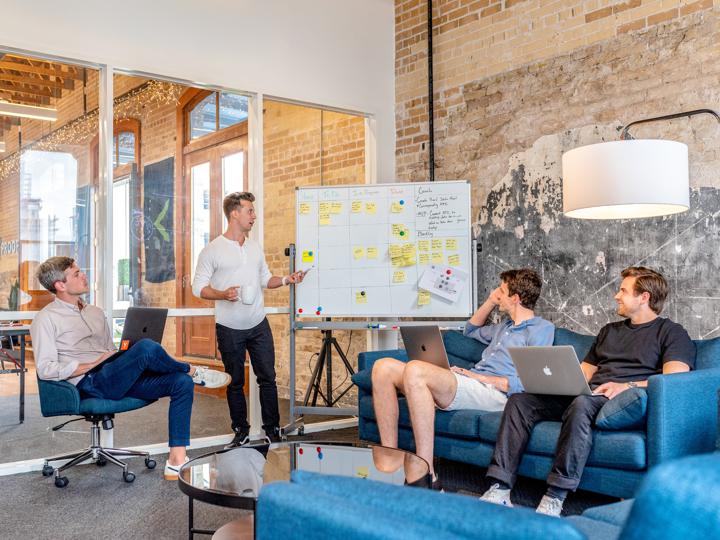 Image credit: Unsplash
Key Takeaways
One key aspect of building a thriving business is

finding the necessary capital

to launch your startup. While having the right motivation and a brilliant idea both help create a business, where many startups fail is a lack of adequate funding.

Funding is almost always necessary for your startup. This is because funding helps you create a strong foundation, capture market attention, build a valuable network, create a strong portfolio, and scale your startup to great heights (and thereby make the venture much more profitable for you).

There could be many potential sources of funding for a startup. These include personal savings, friends and family, crowdfunding, angel investors, venture capital, bank loans, and small business administration loans.

Similarly, there could be several different ways to find and attract investors. These include online platforms, attending events and gatherings, social media platforms, an active online presence via blogging, accelerator/incubator programs, and a credible market presence.  
Why do you need funding?
Launching a startup is a massive undertaking. One key aspect to success is finding the necessary capital. While having the right motivation and a brilliant idea both help create a business, where many startups fail is a lack of adequate funding. Every major company doing business today started small but gained their current success due, in part, to the right funding at the right time.  
As an entrepreneur looking to create the next Google or Netflix or Amazon, the following are some of the reasons why funding is necessary for your startup: 
Creating a Strong Foundation
To build a strong business, you must have a robust foundation. For startups to turn an initial idea into something more solid, you require a founding team of people who are well-versed in their fields. In their early days, startups must focus on hiring a lot of competent individuals as well as investing in production and operations to create a strong development phase. Funding makes this possible.
Capturing Market Attention
Your idea may be the next big thing that happens in the industry and you want the market's attention. To improve your presence in the market over your competitors, you need to heavily invest in marketing strategy and implementation. 
To cast a wide enough net over the market, you need to have adequate funding. 
Building a Network
While the first motivation for reaching out to investors is money, the second motivation is something equally important. Investors can come in numerous forms -- but the best ones are almost always individuals who have been in the business for many years. This is because they have access to a network of individuals who can provide you with knowledge and resources further down the line to help you better run your startup. 
Creating a Strong Portfolio
Approaching investors in your early-stage startup days can come in handy for your business a few years later. When you approach more investors in the future, your portfolio will reflect all the individuals and firms that recognized your early potential and invested in you. This will help instill some form of trust and confidence in the future investors that you may approach. 
To build big, you must be big
Many startups tend to have the vision of building relatively small but successful companies, as that is the best way to have full ownership of the company. However, if your ambition runs deep and you want to build something big, then you need to do that from day one. Involving a lot of investors and using their funding will help create a robust early presence which will further attract skilled employees. By the time of your exit, you may end up owning, say, 25% of your company but at this point, it could be a multi-million dollar international company. 
It is quite clear that this tradeoff will be good for most founders.
Different Types of Investors
Funding can take various forms, depending on the type of investors you approach. The following are some of the common types of fundings that founders use to launch their startups.
Personal Savings
Personal savings, or bootstrapping, is a common way of launching your startup. In this kind of investment, the founder generally uses their savings to lay the foundation of their business. With such funding, founders generally retain complete control of their business and the invested money. There is the risk that if the business fails, then you end up losing part or all of your savings. You will also lose out on the necessary guidance and mentorship that can be gained from third-party investments (e.g., seed-stage investors).
Family and Friends
In this kind of funding, you generally approach close family members and friends for small amounts of money. This money is generally given in the form of a loan that must be repaid or in exchange for equity in your company. Many times, it is given as a gift with no need for repayment. 
While this is a faster source for funding, mixing personal and business life is often known for having hazardous results. It may end up creating rifts in personal relationships and making you the target of criticism which might not always be helpful or constructive. 
Crowdfunding
Crowdfunding involves taking small amounts of funding from various individuals who you may or may not know personally. This kind of funding is generally collected using a social media application. GoFundMe and Kickstarter are some common examples of crowdfunding. In exchange, the startup can offer investors early access to their products and discounts when the product becomes available in the marketplace. While this kind of funding helps increase your consumer pool, it requires a lot of time and patience to collect the amount needed. 
Angel Investors
There are individuals or groups of individuals out there who invest in startups which they believe to have strong growth potential. These high-net-worth individuals are known as angel investors. They are generally founders who have retired from their days of running a business and now look to invest in up-and-coming prospects. They provide this investment in exchange for equity in the company. The advantage of such an investment is that there isn't any form of repayment as the investors make money by selling their stakes in your startup at the appropriate time. These angel investors also act as a source of crucial information and provide businesses with other resources beyond just money. 
Venture Capital
Venture capitalists are individuals who invest in businesses on behalf of an investment firm. These individuals generally look to invest in companies that are past their startup phase and have already created a place for themselves in the market. At this stage, if the company tends to show positive growth then venture capitalists provide them funding (in addition to providing mentorship and access to a valuable network over time) in exchange for equity in the company. However, in exchange for these benefits, there is a chance that you may lose a significant amount of ownership of your company to VCs. 
Bank Loans
Bank loans are a popular means of securing funding for your startup. In this case, you must approach a well-recognized bank and provide them with your business plan. If the plan seems profitable to the bank, then they may provide you with a loan. The loan must be repaid to the lender in a predetermined amount of time along with interest. Sometimes, the borrower may be required to provide some type of collateral equal to or exceeding the borrowed amount.   
Small Business Administration (SBA) Loans
Small Business Administration (SBA) loans are means of funding that are provided by the government. The government has recognized the benefits of the budding startup industry and, therefore, provides eligible startups with all the support that it can. SBA loans help improve relationships between lenders and borrowers; however, there are strict guidelines that need to be followed to qualify for such a loan. 
Ways to Find Investors
With the current trend of burgeoning startups and small businesses, there are many ways you can go about finding investors for your startup. 
The following are some of the common ways to find investors: 
Online Platforms
Recent developments in technology have helped create many platforms which can be used by founders to reach out to potential investors. The development of many such online funding platforms has changed the potential that crowdfunding used to have. Most of the popular platforms are operated from peer-to-peer lending sites which offer loans to donation-, debt-, and equity-based crowdfunding portals. 
The best examples of donation-based platforms are Kickstarter and Indiegogo. Some examples of equity-based crowdfunding applications are AngelList, StartEngine, CircleUp, SeedInvest, Wefunder, etc. 
Even if these platforms are not able to help you raise the amount of capital that you were aiming for, they can act as a marketing tool and help you get noticed. The key to success on these platforms is to find the application that best suits the needs of your startup.  
Attending Gatherings
To succeed in your endeavor of gaining fundraising for your startup, you require significant visibility. And to be better noticed by the right investors, it's a good idea to attend networking gatherings and events where you can find such investors. Find events that are taking place in your vicinity and schedule a meeting with potential investors beforehand for better results. 
Some examples of these events are pitch meetings where entrepreneurs gather to give a presentation of their business with an emphasis on their products/services. Another way to gain visibility is by attending coding marathons. These events are chock-full of investors looking for the next big thing. Some famous events are WebSummit, Money2020 TechCrunch Disrupt, SXSW, etc. Attending charity fundraisers, film festivals, and yacht shows can also be beneficial to your business.
Social Media Platforms
Social media can be used as a great platform to increase your visibility, test your market strategy, and attract potential investors. You can either use your posts and updates to create a compelling online presence or collaborate with the appropriate influencers by sponsoring them.
You can also use direct messaging to contact investors. It is easy to find a list of angel investors who are recognized for investing in startups in your industry. You can create a positive back-and-forth with these investors directly on social media before, hopefully, setting up a personal meeting. Platforms like LinkedIn, Facebook, and Twitter are some common platforms that can be used to find potential investors. 
Online Presence: Blogging
Creating an eventful blog is one of the most effective yet underrated ways of attracting investors to your business. Blogging can be used to give future consumers and investors exclusive insight into your business, including the founders and various other team members who are responsible for making it all work. Blogs can also be used to explain your product or services and their unique relevance in today's market. 
Sometimes, the investors that you are targeting also run their own personal blogs. You can engage in productive conversations about your startup with these investors via the comment section and subsequently capture their attention. Fred Wilson, Mark Suster, Hunter Walk, Fred Destin, and Bill Gurley are a few examples of investors who have active blogs. 
Applying to Accelerator programs
Business accelerators offer programs that target startups and provide them with access to investors, mentorship, and any other resources that they require to successfully launch their company. They generally have an open invitation to serious entrepreneurs who are looking for capital. If your pitch is accepted, then they will provide you with the appropriate amount of capital which will help you continue to launch and grow your startup. They'll also offer you an introduction to investors who would likely be interested in a company like yours. This process includes a demo day where you pitch your startup to a gathering of investors. If any of them are interested in what you have to offer, they will approach you to have further discussions. Before applying for an accelerator program, make sure to do extensive research to find the one which best fits your needs. 
Credible market presence
Investors are generally not extremely interested in funding a company that doesn't already have some type of market presence. If you can show the investors you're targeting that there is significant demand for your product, then they will be more inclined to consider your startup for their portfolio. If you can get your product in the hands of not just consumers but also the right social media influencers, and also show some profits in the recent past, then investors will feel more confident about the credibility of your company. And, this confidence will translate into a better relationship, better investment, and greater trust.
Learn more with us
Access more guides in our Knowledge Base for Startups.
We can help!
At AbstractOps, we help early-stage founders streamline and automate regulatory and legal ops, HR, and finance so you can focus on what matters most — your business.
If you're looking for help with finding investors for your startup, get in touch with us.
Like our content?
Subscribe to our blog to stay updated on new posts. Our blog covers advice, inspiration, and practical guides for early-stage founders to navigate through their start-up journeys.  
Note: Our content is for general information purposes only. AbstractOps does not provide legal, accounting, or certified expert advice. Consult a lawyer, CPA, or other professional for such services.