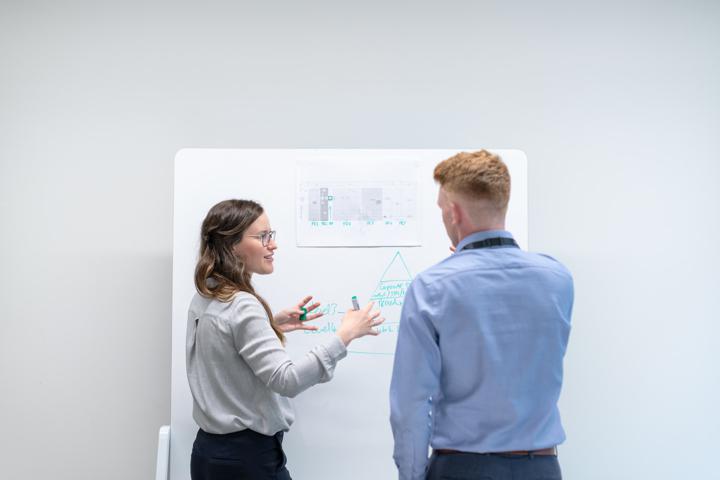 Image credit: Unsplash
TLDR
A performance assessment is a review of an individual employee's job performance and their contribution towards the development of a startup. 

The core purpose of a performance assessment is to provide a team member with a cumulative assessment of their contribution to the startup.

An assessment also creates a platform where you, the founder, can show your appreciation of an employee's work and discuss effective strategies which can be used to improve their performance, productivity, and contribution to the startup. 

Performance assessment can be used for employee development by providing clarity of goals, better accountability, better employee motivation, increase in employee productivity, and help with further training and development. 

Some examples of performance assessment are: self-evaluation, behavioral checklist, 360-degree feedback, rating scale, and management by objectives.

Employee performance assessments are considered to be done well when they are legally valid, use a standard assessment form, ask the employee to write their input, create a good rapport, make the goals of the assessment very clear, and have no unpleasant surprises in the end.
What is Employee Performance Assessment?
Employee performance assessment, or performance appraisal, is a deeply important part of building a startup. A performance assessment is a review of an individual employee's job performance and their contribution towards the development of a company. Such assessments are conducted at regular intervals to track an employee's progress in the startup from the day that they join. The evaluation covers the employee's skills, achievements, growth, and shortcomings - warts and all. These evaluations can be conducted whenever the founders think it appropriate but to be more streamlined, it is advisable for the assessments to be conducted annually, bi-annually, or quarterly.
The core purpose of a performance assessment is to provide a team member with a cumulative assessment of their contribution to the startup. This feedback comes in handy in various situations: for instance, when sitting to discuss pay increases and bonuses. If their performance has been up to the mark, employees will feel appreciated for all the hard work that they have put in. Assessments can also be used to inform the employees of their shortcomings and the areas of their work where performance is not satisfactory. These sessions are ideal to have a frank one-on-one conversation where the employee could be advised on effective ways to improve their performance. 
How could Performance Assessment be used for Employee Development?
Performance assessments are necessary for the growth of both the startup and the employees. 
Following are some of the ways that assessments can be used to further employee development:
Clarity of Goals
For a plan to succeed, your final goals need to be as clear as possible. The same applies to the team members working with you. Employees who have a better understanding of the overall goal of the startup are seen to work more efficiently. Performance assessments seem to provide a conducive environment for employees and founders to assess the progress so far and analyze how aligned the employee is with the goals of the startup. 
Having your expectations transparent to your employees helps them be more engaged and motivated. Furthermore, every task that they overtake and complete is seen in the right context: as a crucial cog working in sync with the rest of the parts to move the startup closer to its larger goal. 
Better Accountability
For an employee to make any form of improvement in their work, they need to be made aware of their work (and its significance) so far. 
Conversations that take place during performance appraisals act as a great platform where the founder can have an honest discussion about the strengths and areas of potential improvement of the employee. This discussion could involve a goal-setting framework such as OKRs. Making the employee self-aware of their current professional position coaxes them to make a personal commitment towards improving in the areas where they lack. As employees become more accountable for their actions, their productivity increases significantly.
Better Employee Motivation
Even the smallest gear in a machine is responsible for helping the system run smoothly. 
Similarly, every employee, irrespective of their designation, is responsible for making some level of a positive contribution to the startup. In light of this, performance assessments are a great way to convey your appreciation to team members for their work, commending them for a job well done. Such appreciation will let the team know that their hard work is not overlooked. 
Appreciation to employees can be conveyed in the form of promotions, salary hikes, rewards, recognition at events, development programs, creative swag, etc. Motivated employees seem to show steady improvement and remain loyal to the startup since a positive feedback loop is created which reinforces productivity in them. 
Speaking of which…
Increase in Employee Productivity
Performance assessments are necessary to track the progress and participation of team members in the startup. These assessments can be used as great tools by founders to better understand the mindset of an employee and to implement the right methods to make them more productive. 
Further Training and Development
To become successful in their respective fields, professionals need to undertake the right training to further improve their skills and knowledge of their field. However, it is the case that many people might not be sure of the next step to take to advance in their particular domain without the correct guidance at hand. Performance appraisals can help founders assess an employee's current level of expertise and advise them accordingly with regard to the next step that they must take to advance in their field. This helps team members expand their knowledge and refine their skill sets - something which is advantageous both to them and to the startup that they are working at. 
Performance Assessment Examples
Performance assessments have taken various forms over the years, each providing different information but all focused broadly on the betterment of the employee and on better defining their role in the startup. Indeed, some startups even turn to paid employee performance evaluation software for their assessment needs.
Following are some of the examples of performance assessments that founders can use:
Self-Evaluation
Self-evaluation is a popular example of how performance assessments are conducted in several startups. As the name suggests, in a self-evaluation performance assessment, the employee is asked to conduct their own evaluation against a list of specific criteria. 
This is not considered an entirely official assessment but more like a tool that helps create a positive and constructive dialogue between you (i.e., the founder) and the employee. It will help you have an idea about where the employee feels unsure about their performance; from that point on, the founder should guide the team member appropriately.
With all that said, since the evaluation is subjective, an employee may have difficulty in making an accurate assessment of their work.  
Behavioral Check-list
A behavioral checklist performance assessment extends a simple format for conducting an employee performance appraisal. The assessment involves a checklist of a series of human traits and attributes with "YES" and "NO" written in front of each trait. Tick "YES" if you feel the team member shows a particular trait and "NO" if you think that they don't. If unsure, you can choose to leave the option blank. This performance assessment is simple and focused on work-related tasks and behaviors. 
Speaking of cons, though its format is very simple and it can be filled out fairly quickly, a behavioral checklist does not convey much detailed information regarding the actual performance of the employee nor does it discuss any future goals. 
360-degree feedback
While a founder's feedback is essential, it only gives the point-of-view of someone who occupies a position above the team member. A 360-degree performance appraisal is when feedback is taken from everyone who has worked with a particular employee. These kinds of reviews help get an in-depth understanding of the character traits, proclivity for teamwork, and leadership skills of an employee. 360-degree feedback helps provide a bigger picture of an employee's performance from varying lenses. The only downside is that you might get feedback from sources who cannot be constructive or honest about what they say.  
Management by Objectives
This is a performance assessment method that is new but gaining popularity quickly. It involves employees and the founder working in tandem and setting performance goals which the employees will try to achieve in a given period. The goals are realistic so as to not put too much pressure on team members and yet provide a healthy amount of challenge to them. In the next review, the achieved goals (as well as the methods used to achieve them) could be discussed while creating new goals to aim at. 
Rating Scale
This is among the more common (or accepted) ways of conducting performance appraisals where the founder can use a set of predetermined criteria to evaluate an employee. This set of criteria is measured in such a way that a final score can be calculated for each employee at the end of their review. 
You have the advantage of having a wide range of criteria from specific job tasks to behavioral traits. By weighing certain criteria differently, the outcome is a more balanced, even holistic, result. Therefore, if the employee lacks in a certain area (of relatively minor concern), it will not tip the scale too drastically against them. 
One possible downside of this assessment technique is misunderstanding the final score. When evaluating team members, you as the founder need to make sure that you have conveyed to the employee what constitutes a good score and what is a bad score and what both of them really mean.
How to do Employee Performance Assessment?
Conducting a performance assessment is not generally a very difficult task. Consider it to be little more than a semi-formal conversation that you have with your employees. However, there are certain guidelines that you can follow to have an amicable and productive appraisal session. 
These are:
Legally valid Employee Performance Assessment 
When conducting a performance assessment, there are a few guidelines that you must follow by law. 
For a performance appraisal to be legally sound, it must be: 
Job-related, professional, and valid 

Based on a detailed analysis of the position and its responsibilities

Standardized for every employee

Should not be biased based on any discriminatory criteria (eg. race, color, sex, religion, nationality) 

Must be conducted by someone who has the necessary knowledge of the job and the employee. 
As performance assessments have the potential of turning into a sour affair, make sure to create a well-thought-out process by means of which employees can reach out to founders in case they feel that they have been unfairly assessed.  
Standard Employee Performance Assessment Form
Create a standard performance assessment form that can be used by you in every assessment that you carry out. There is a standard format that you can follow which will apply to every employee regardless of their job description and current position in the startup. Following are the elements that you can include in such a form:
Name of the employee

Date on which the assessment was concluded

Dates over which the assessment was conducted (start date and end date)

Areas of assessment - this would include responsibilities like job description, assigned goals, and required skill sets like communication, management abilities, etc. 

A simple rating system. For instance, the parameters can be rated as "Poor", "Average", "Excellent", etc., but you can always use a rating system that works better for you and your team. 

Include a space to add comments after each parameter. 

A final section for overall assessment.

A final section to provide advice, guidance, or strategy to aid further achievement.

End the form with respective spaces for the name and signature of both the founder and the team member being assessed. 
Ask the Employee to write their Input
While you are conducting the evaluation, ask the employee to make their own evaluation. Ask them to note down their input of the experience of being evaluated. This input could later be attached to the official assessment along with the notes taken by the founder. The inputs of the employee and the founder (i.e., you) could be exchanged during the final meeting.  
Create a good rapport
Before conducting the assessment, make sure that you, as a founder, have all the requisite information and then some more. Create a healthy professional relationship with the team member and learn as much as you can about their work and current position. This will help you make an accurate performance assessment. Make sure to note major accomplishments, strengths, and weaknesses within the confines of the factors in the performance assessment. Add any comments as and when necessary. 
Make the goals of the Performance Assessment clear
When holding the meeting, make sure that the goal of the performance assessment is made clear. What is this goal? Well, in the case of most startups, the goal is to exchange feedback and create strategies or action plans that seem to be appropriate and effective. Allow the employee to speak first and provide their input before you answer as necessary. Discuss points of disagreement with an aim to find common ground. Avoid excess defensiveness and terminology that conveys binding finality like "always" and "never". The goal must be to find an amicable path and avoid any form of unnecessary blaming. 
No surprises in the end
Nothing that is discussed in the final performance assessment should come as a surprise to the employee. This is because everything should have been addressed in a timely fashion before the final meeting. Any new major query will appear obtrusive and make the employee feel as if the founder has a bias against them. 
Summary
A startup is made up of a group of people with a common objective, each team member playing an important part of one kind or the other. A well-executed performance assessment is an excellent means through which each employee's performance can be analyzed and their progress can be tracked. It also creates a platform where you, the founder, can show your appreciation of their work and discuss effective strategies which can be used to improve their performance, productivity, and contribution to the startup. 
Citations
Performance Appraisal Definition
How Performance Appraisal Helps Improve Employee Performance?
How to Conduct a Performance Appraisal in the Workplace - dummies
How to Conduct Employee Performance Appraisals (Performance Reviews)
Performance Appraisal: Methods, Examples, Process
Learn more with us
Access more guides in our Knowledge Base for Startups.
We can help!
At AbstractOps, we help early-stage founders streamline and automate regulatory and legal ops, HR, and finance so you can focus on what matters most—your business.
If you're looking for help with doing employee performance assessments, get in touch with us.
Like our content?
Subscribe to our blog to stay updated on new posts. Our blog covers advice, inspiration, and practical guides for early-stage founders to navigate through their start-up journeys.  
Note: Our content is for general information purposes only. AbstractOps does not provide legal, accounting, or certified expert advice. Consult a lawyer, CPA, or other professional for such services.