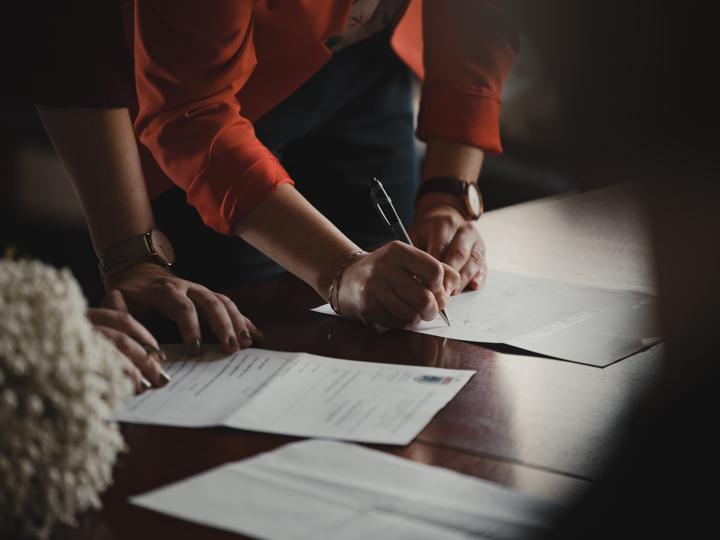 Photo credit: Unsplash
Key Takeaways
Both platforms offer e-signature management, so a founder must choose according to their startup's size and growth stage.

The most attractive feature of managing your signatures online is that you do not have to choose between work and travel. Deals and agreements can be easily signed on the go.

Managing signatures online is easier for team collaboration.
Electronic signature and its advantages
With everything digitized in the fast-paced technological world, electronic signatures have naturally found their way into the lives of businesses. 
Some benefits of using electronic signatures are:
Your workflows are never slowed down because of location or time.

Cost-effective as well as time-saving

Environmentally friendly choice as it does away with the need to use paper

Reliable as the document is protected by advanced security measures and access is user-specific.
HelloSign and DocuSign
The HelloSign mobile app allows you to manage requests for signatures, no matter where you are. This feature comes in handy when you are traveling and do not have access to your computer. The legally binding signatures from HelloSign do not hinder your workflows and making deals and agreements can carry on seamlessly. This on-the-go tool for signing or creating requests for signatures is as simple as it is effective, no matter where you are. HelloSign is owned by Dropbox, making it even more lucrative for users.
DocuSign is an e-signature platform that helps its users with signing important documents and agreements from anywhere. This scalable tool is flexible and easy to use, so nothing comes between you and your agreements. It can be used on any device and vouches for a global reach of 85 million users.
HelloSign vs DocuSign
Pricing
HelloSign
Four plans are available at different prices:
Test Mode: $0
Essentials: $75 per month, $900 per year
Standard: $250 per month, $3,000 per year
Premium: Custom quote available.
The prices above are specific to the HelloSign API. The general pricing (without the API) is as follows:
Free
Essentials: $15 per month; $180 per year
Standard: $25 per user, per month; $600 per year
Premium: Custom quote available.
DocuSign
Four plans are available at different prices:
Personal: $10 per month; $120 per year
Standard: $25 per user, per month; $300 per year
Business Pro: $40 per user, per month; $480 per year
Enhanced Plans: Custom quote available.
Conclusion: The Hellosign vs. DocuSign pricing shows that both applications offer a 30-day free trial but the DocuSign free edition lets you sign unlimited documents with easy access to them from the secure DocuSign cloud storage. HelloSign's free plan offers much less in comparison. However, DocuSign cannot be used for free forever and HelloSign stands out for its reasonable prices.
Features
HelloSign
A few attractive features offered by HelloSign include:
Audit trail, regardless of the plan you choose (although not with the free API plan)

Reminders and notifications on all non-API plans, along with Signer fields (Advanced Signer fields with the Premium Plan)

Multiple language support and template links on all paid non-API plans

Branding and advanced branding on the Standard and Premium API plans
DocuSign
A few attractive features offered by DocuSign include:
Automated reminders and notifications on all plans

Reusable templates on all plans

Team reports and in-person e-signatures with the Standard, Business Pro, and Enhanced plans.
Conclusion: Though both platforms offer a host of features, HelloSign is ideal for small businesses and startups because of the thoughtful yet limited features that it provides. DocuSign provides more features that are usually required by larger businesses with more complex needs. 
Integration
HelloSign: Google Sheets, Slack, Airtable, Webhooks by Zapier, SMS by Zapier, Formatter by Zapier, Filter by Zapier, Trainerize, and Keap Max Classic. Besides, with Zapier, HelloSign can be connected to 4000+ popular apps and this is a no-code integration.
DocuSign: With Zapier, DocuSign can be connected to the most popular apps. Some integrations include Google Drive, HubSpot, Google Sheets, Slack, Airtable, Pipedrive, Gmail, Paths by Zapier, Webhooks by Zapier, Filter by Zapier, and Formatter by Zapier. Built-in integration includes those with Salesforce, NetSuite, Microsoft, and Apple.
Conclusion: DocuSign offers more integration options than HelloSign, whose basic integrations (Salesforce and SharePoint) prove beneficial for small businesses. Though a number of key integrations are offered at a custom price for both platforms, DocuSign offers a wide range of integrations with the Business Pro Plan, such as Dropbox, Evernote, and Microsoft Office 365.
White labeling
HelloSign: The only platform that offers an option to customers through white labeling, so startups can remove the HelloSign logo from their branding content easily.
DocuSign: Startups have the freedom to customize their branding content in terms of visualization through their choice of banners, color schemes, and buttons, but in addition to the startup's logo, the DocuSign logo also will be a part of their content.
Conclusion: HelloSign stands out for being the only platform to provide white labeling. This feature is very beneficial for startups making their presence felt in the market, so there is no confusion regarding the brand identity. DocuSign does not provide white labeling but users do have a higher degree of customizing visual effects as compared to HelloSign.
Customer support
HelloSign: Does not deliver prompt responses to customer queries via a live chat feature. Customers must wait indefinitely to get answers via email or web form.
DocuSign: Enterprise-level support is available only with the Enhanced plans.
Conclusion: Customer support must be readily available at no extra cost, so HelloSign does stand out for not charging for customer support. However, it does not stand out for prompt responses. DocuSign has the provision for a live chat feature but it comes only at an added cost, which is not generally the most ideal situation.
Signing process
HelloSign: Simple signing process that requires you to state whose signature will be needed. If yours will be needed, HelloSign will automatically use your signature and profile information to upload your signature when you're done. Next, HelloSign requires you to upload your document, followed by guidance for adding signature boxes. You can decide on the signing order and signature requests can be sent directly, through the same window.
DocuSign: The process for signing something on DocuSign requires you to first upload the document, after which you are invited to add signers, following which the doc must be edited to set down your signature spaces in a PDF format. After adding the spaces for signing and the signers, one message can be drafted before finally sending it to round up. The signers receive an email from DocuSign containing your message, and they are similarly guided appropriately through the process.
Conclusion: HelloSign is easier to use because of the streamlined process it incorporates to manage signatures. You have to go through only two screens and your document is also sent very quickly. Besides, it also signs for you, and its drag-and-drop editor is much easier to use than DocuSign's. DocuSign has the same process, but it is not as well-orchestrated as HelloSign's is, so you have to go through more than two screens to get the job done.
Security
HelloSign: All documents are stored behind a firewall. TLS encryption exists for all communication while AES 256-bit encryption is available for data at rest. Additional security measures include a unique key for each document's encryption which, in turn, is encrypted with a regularly rotated master key. All backups are encrypted and HelloSign also enables HSTS (HTTP Strict Transport Security).
DocuSign: DocuSign's security measures include an audit trail that is sufficient to defend a contract, document encryption that ensures that only designated users can access a doc, secure online storage of Unique Signatures by every user, and advanced authentication processes.
Conclusion: Even though both platforms comply with standard security measures, HelloSign stands out in terms of the additional security it provides, so even if your hard drive has been accessed through bypassing physical security, your data remains unintelligible to intruders.
Why HelloSign?
HelloSign offers a host of features including:
Ease of use in terms of managing signatures

Allows startups to save time by completing signatures quickly

Robust security that protects your documents through multiple layers of encryption

Efficient in working on NDAs, onboarding paperwork, as well as loans
Why DocuSign?
DocuSign offers many lucrative features like:
Flexible workflow because it enables the preparation of agreements from existing documents on any device.

Time-saving automated processes

Ideally suited for medium and large-sized businesses as well as enterprise companies
Bottom line
Any founder must determine the following before deciding on a particular solution:
Size of the startup

What your startup actually needs from its digital signature software

The flexibility that comes with scalable options
HelloSign stands out for startups with a limited number of employees and requires fewer signatures during onboarding. In fact, small businesses can economically benefit from HelloSign if they do not have the recurring need for multiple signatures. The free version is sufficient to help startups determine the frequency of signatures that they are likely to need, so they can accordingly opt for paid plans in the long run. HelloSign offers features suited to the needs of startups with less complex needs as compared to DocuSign, which offers complex tools for evolving and larger businesses. 
DocuSign is designed so that enterprise companies are more likely to benefit from using it. This is because startups and small businesses cannot afford to have any confusion regarding their brand identity, which is why white labeling is a must. Larger established businesses don't run this risk, thus white labeling isn't a mandatory feature in a product.
Therefore, both HelloSign and DocuSign stand out for the businesses they cater to and the features they provide accordingly. HelloSign vs. DocuSign's market share is 1.22% and 60.73% respectively. This sheer difference is due to each platform's user base. DocuSign serves over 6,000 companies, whereas HelloSign serves over 120 companies. The fact that startups and small businesses are quickly gaining ground - along with HelloSign's promising features that are all-encompassing for its users - is sure to expand the user base of HelloSign very rapidly.
Other alternatives
Other alternatives for managing e-signatures include Adobe Sign and PandaDoc, among others. While HelloSign is great for startups, and DocuSign can boast satisfied users across businesses of all sizes, Adobe Sign is an enterprise grade match for complex technology infrastructure needs. The question of Echosign vs. DocuSign vs. HelloSign provides a substantial answer to the comparison of these three tools in terms of the need for complexity that a business desires.
Learn more with us
Access our Knowledge Base for Startups.
We can help!
At AbstractOps, we help early-stage founders streamline and automate regulatory and legal ops, HR, and finance so you can focus on what matters most — your business.
We can help you decide whether to use DocuSign or HelloSign for your startup! Learn more.
Like our content?
Subscribe to our blog to stay updated on new posts. Our blog covers advice, inspiration, and practical guides for early-stage founders to navigate through their start-up journeys.   
Note: Our content is for general information purposes only. AbstractOps does not provide legal, accounting, or certified expert advice. Consult a lawyer, CPA, or other professional for such services.
---