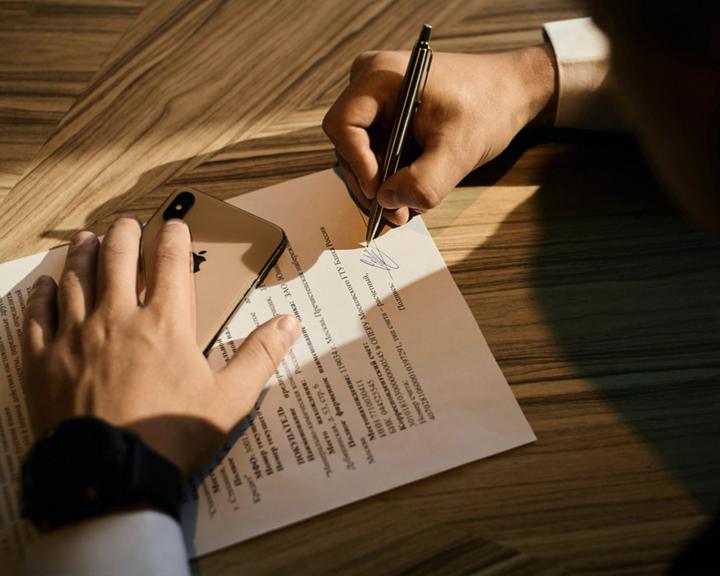 Photo credits: Unsplash
Key Takeaways
HelloSign and Adobe Sign are effective solutions for businesses of all sizes, but when contemplating which one would be best for your startup, you need to weigh which features your startup needs and their respective price points. You don't want to spend money on tools you won't need, yet also want to be flexible to upgrade as you scale.

Both products are evenly ranked in terms of core functionality, but HelloSign edges out Adobe Sign in terms of the layers of customization and security it provides.

Customer support is available at higher pricing tiers for Adobe Sign; on the other hand, HelloSign could be faster in providing customer support by email.
HelloSign vs. Adobe Sign
HelloSign (a Dropbox Company) empowers startups with solutions for seamlessly preparing, sending, signing, and tracking e-signatures. This platform is an easy-to-use solution with the added benefits of an audit trail and automated processes of onboarding employees. With HelloSign, startups can also speed up drafting sales contracts and signing proposals.
Adobe Sign (formerly Echosign) is an e-signature management platform for small businesses and enterprises, that is fast as well as easy to use. Adobe Sign users get added benefits in the form of custom branding, payment processing, and automated notifications and reminders.
HelloSign vs. Adobe Sign
Pricing
HelloSign
Four plans are available at different prices:
Test Mode: Free
Essentials: $75 per month; $900 per year
Standard: $250 per month; $3000 per year
Premium: Custom quotes are available.
The prices above are specific to the HelloSign API. The general pricing (without API) is as follows:
Free: 0
Essentials: $15 per month; $180 per year
Standard: $25 per user per month; $600 per year
Premium: Custom quotes are available.
Adobe Sign
Two plans are available at different prices and for different business sizes:
Sign Small Business: $37.21 per license per month; $446.53 per year
Sign Business and Enterprise: Custom quotes are available.
Conclusion: Both platforms offer tailor-made solutions for businesses and both offer free trials. HelloSign has a free version, which is something that Adobe Sign does not. HelloSign ranks higher in terms of the value for money because of its specific pricing tiers for API and non-API plans. This way, users can opt for what they need, leading to everyone getting exactly what they pay for.
Features
HelloSign
Some attractive features offered by HelloSign include:
Ability to create a link for quickly sharing documents

Advanced threat protection

Unlimited signature requests for customers paying per user

Templates for recurring documents

Efficient mobile app

Audit trail

Automated reminders and notifications regardless of the plan you choose

Signer fields, no matter which plan you choose

Delegation of user-based access for admin and manager-level roles with the Standard and Premium Plans
Adobe Sign
Some attractive features offered by Adobe Sign include:
Signing links to share documents

Real-time notifications and reminders for tracking all documents

Accessibility on your mobile for signing paper documents

Optimal utilization of documents as reusable templates

Provision to send one document to several people through Mega Sign

Streamlined transaction process for processing payments and signatures

Signer identity authentication
Conclusion: While both platforms offer a host of attractive features, it is important to observe the tier of pricing that offers particular features with both platforms. Adobe Sign users can get up to 300 transactions for bulk sending with the Sign Business and Enterprise plans, while HelloSign offers bulk sending with its Standard and Premium Plans. With HelloSign, a single file cannot exceed 40 MB, whereas single requests up to 500 pages or 40 files are accepted. Adobe Sign accepts files of up to 10 MB only, regardless of the number of users on the team. HelloSign stands as the clear winner with its wide array of functions that has a slight edge over Adobe Sign.
Customization
HelloSign: HelloSign offers auto-populated fields and mobile-friendly signing with all its plans. Other customizations include branding, bulk sending, signer attachments, advanced signer fields, and tools.
Adobe Sign: With Adobe Sign, users can customize the signing process so that their customers get an idea of the brand that they are choosing. There is also a provision for customizing confirmation pages with "thank you" messages and signature request emails with logos and taglines.
Conclusion: Both platforms offer custom branding for company logos, but HelloSign offers a  greater degree of customization for its users than Adobe Sign does. Adobe Sign's customization features are limited to onboarding only, while HelloSign offers a wide range of customization features. This detailing towards customization speaks volumes about the value for money that HelloSign provides.
Security
HelloSign: All documents are stored behind a firewall, TLS encryption for all communication, and AES 256-bit encryption for data at rest. Additional security measures include a unique key for each document's encryption which, in turn, is encrypted with a regularly rotated master key. All backups are encrypted and HelloSign also enables HSTS (HTTP Strict Transport Security).
Adobe Sign: ISO 27001, SOC 2 Type 2, and PCI DSS compliance. Specific details can be accessed through the Adobe Sign Trust Center.
Conclusion: HelloSign ranks higher in terms of its security measures. It proves to be twice as secure because of the double encryption of documents and clearly specifies its security measures as transparently as possible, which Adobe Sign does not. Instead, Adobe Sign directs users to the Adobe Sign Trust Center if they wish to know more about the security measures it provides.
Integration
HelloSign: Google Sheets, Slack, Airtable, Webhooks by Zapier, SMS by Zapier, Formatter by Zapier, Filter by Zapier, Trainerize, and Keap Max Classic. With Zapier, HelloSign can be connected to 4000+ popular apps through no-code integration.
Adobe Sign: Microsoft Dynamics, Microsoft SharePoint, Office 365, Salesforce, Workday, Nintex, Icertis, SAP Ariba, Veeva, and Zoho CRM.
Conclusion: HelloSign ranks higher because of its Zapier integration, which allows users to easily connect to almost all applications that are essential to businesses. Adobe Sign provides all the basic integrations and does not currently support an in-built integration with Zapier. It is important to note that Adobe Sign offers certain integrations with its higher pricing tiers. 
Why HelloSign?
Some benefits of using HelloSign are:
Efficient audit trails that are cost-effective

Excellent e-signature solution for startups with basic needs

Easy-to-use solution even for those who are not tech-savvy

HelloSign sends reminders to signators if the document remains unsigned

Easily configurable for clients

Offers easy-to-use templates
Why Adobe Sign?
Some advantages of using Adobe Sign are:
Easy navigation through PDFs

Efficient core functionality and accessibility on laptops and phones

Streamlined collaboration

Reliable and easy-to-implement platform

Startups can close deals quickly because everyone has access to instant digital copies

Has provisions to sign documents in real time
Bottom line
Both HelloSign and Adobe Sign are effective e-signature tools. Adobe Sign is ideally suited for businesses of all sizes that primarily need streamlined customized forms and online payments. HelloSign also works best for businesses of all sizes and specializes in digital signatures, NDAs, sales contracts, and offer letters. 
Startups that need more complex integrations can go with HelloSign, especially because even the most basic of its integrations also happen to be highly effective. It is worth considering that HelloSign is a comparatively new entrant in the market and occupies a promising place with the advanced services that it provides. With HelloSign, users have a greater degree of freedom to choose the solution that they need, owing to HelloSign's flexible pricing tiers. Adobe Sign is an effective solution for startups with basic needs and provides a fairly simple stratification of services based on business size.
Other alternatives
DocuSign is worth considering as a potential alternative to HelloSign and Adobe Sign because it is a similarly scalable solution with a much wider user base. 
With that said, the HelloSign vs DocuSign versus Adobe Sign comparison gives an edge to HelloSign and Adobe Sign over DocuSign. This is because DocuSign offers custom branding but not white labeling, which both HelloSign and Adobe Sign do. While HelloSign and Adobe Sign offer a greater degree of customization to users, HelloSign has more options.
Though all three platforms are suited for businesses of all sizes, it is important to note that DocuSign and HelloSign are evenly placed in terms of their non-API plans. Adobe Sign costs slightly more and is characteristically known for its enterprise-grade features. Before one can answer the question of "What is the difference between Adobe Sign and DocuSign?" it is important to note that the user verdict is in favor of the flexibility that DocuSign provides.
Even though Adobe Sign is more expensive than DocuSign, Adobe Sign boasts a strong reputation for presentation and design that appeal highly to clients. Additionally, Adobe Sign offers payment processing and subsequent integrations with its small business plan (Sign Small Business), which is not the case with DocuSign as it offers payment processing at a relatively higher pricing tier. It is here that Adobe Sign is better than DocuSign.
Learn more with us
Access our Knowledge Base for Startups.
We can help!
At AbstractOps, we help early-stage founders streamline and automate regulatory and legal ops, HR, and finance so you can focus on what matters most — your business.
We can help you decide whether to use HelloSign or Adobe Sign for your startup! Learn more.
Like our content?
Subscribe to our blog to stay updated on new posts. Our blog covers advice, inspiration, and practical guides for early-stage founders to navigate through their start-up journeys.   
Note: Our content is for general information purposes only. AbstractOps does not provide legal, accounting, or certified expert advice. Consult a lawyer, CPA, or other professional for such services.
---