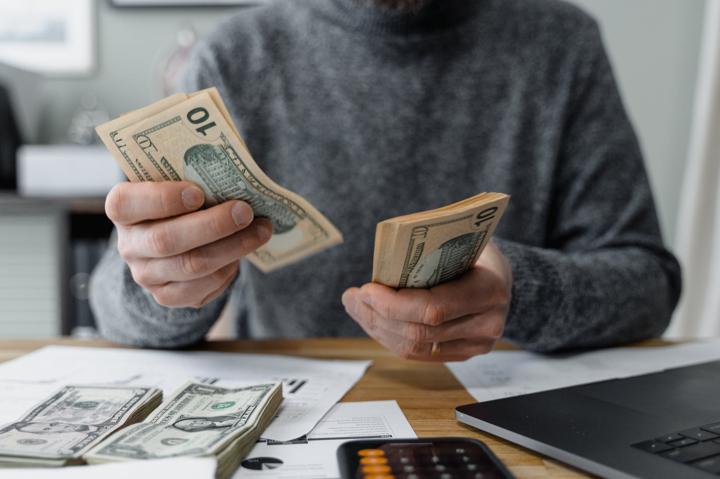 Photo Credit: Pexels
Key Takeaways
Both Gusto and QuickBooks are designed to aid startups with financial management and HR. Every startup needs to plan for its future capabilities before choosing which software is ideal for them. 

Startups can choose plans offered by either software tool, starting from the basics and upgrading as the need arises.

The primary aim of any

payroll solution

is to reduce the amount of time spent learning the details of financial management, particularly for beginners.
Gusto and QuickBooks
Gusto is a cloud-based platform that functions as a full-service payroll tool by automatically filing local, state, and federal taxes and as an HR platform to meet the needs of startups. With the Gusto platform, new employees can help quickly onboard themselves to the business payroll process. Payroll funds are automatically debited from the company's account to be processed within four days. Gusto's integration with AP Intego efficiently manages team members' compensation insurance (pay-as-you-go compensation that stays updated with local, state, and federal provisions and allows for partial payment with each cycle, rather than a considerable amount of money at once). Functioning as an all-inclusive HR platform, Gusto helps startups save time that would have otherwise been spent dealing with new employees, managing employee data, etc., in the absence of one secure platform containing employee data (that Gusto accommodates). 
QuickBooks Payroll is a cloud-based software for startups to pay their employees, manage employee benefits, handle HR activities, and pay federal and state payroll taxes (calculated and filed automatically) - all on one platform. There is an option to change from the automated to manual payroll option. 
QuickBooks Payroll has three plans, priced in the ascending order of features they provide. Apart from providing automated payroll for salaries and taxes, the Core Plan also provides employee health benefits, 401(k) plans, unlimited 1099 e-filing, and messaging and call-me-back support from Monday to Friday between 6 a.m. and 6 p.m. The Premium Plan, in addition to the features of the Core Plan, provides same-day direct deposit for employees, an HR support center, expert review to rectify mistakes that may have been overlooked during the setup, location tracking of employees when they have clocked in (through phones), and 24/7 telephone and messaging options. In addition to the features of the Premium Plan, the Elite Plan allows paying employees in other states without an additional cost, an expert for setting up the QuickBooks Payroll after the necessary documents have been submitted, and tax penalty protection for up to $25,000 per year.
Gusto vs. QuickBooks
Pricing
Gusto: Prices start from $39 per month and are based on the per-feature model. A free trial is available but not a free version. USD is the accepted currency. Gusto offers four pricing plans:
Concierge: $149 per company + $12 per employee per month

Complete: $39 per company + $12 per employee per month

Core: $39 per company + $6 per employee per month

Contractor: For companies without W-2 employees, $6 per contractor per month
QuickBooks: The prices start at $35 per month and are based on the per-feature model. It offers a free trial but not a free version. The several plans offered are:
QuickBooks Payroll Core: $45 + $4 per employee, with a 50% off for the first three months

QuickBooks Payroll Premium: $75 + $8 per employee, 50% off for the first three months

QuickBooks Payroll Elite: $125+ $10 per employee, 50% off for the first three months

Self Service Payroll: $17.50 per month for the first three months, and $35 per month thereafter + $4 per employee per month

Full-Service Payroll: $40 per month for the first three months and $80 per month thereafter + $4 per employee per month.

Payroll with QuickBooks simple start: Self-service payroll: $27 per month for the first three months and 55 dollars per month thereafter + $4 per month.
Conclusion: While Gusto is cheaper with greater HR support and payment options, QuickBooks Payroll's direct deposit processing time is faster. It provides health insurance benefits in all 50 states so that checking of availability in individual states is not needed.
Number of users 
Gusto: Gusto is ideal for 1-50 users. 
QuickBooks: QuickBooks can accommodate 1-200 users. 
Conclusion: Gusto is ideal for startups desiring easy-to-use benefits, administration, full-time payroll processing, and HR resources. QuickBooks is suitable for small-to-medium-sized businesses that already use QuickBooks for accounting but wish to upgrade to be eligible for health insurance benefits for employees in all 50 states.
Integration
Gusto: Gusto allows integration with third-party software, regardless of the plan you choose.
QuickBooks: QuickBooks limits integration to Intuit tools only if you do not use your software with QuickBooks Online.
Conclusion: Gusto's integration with third-party software includes time-tracking tools, POS platforms, and even QuickBooks Online. The limitation in integration with QuickBooks makes the use of QuickBooks Online mandatory for accounting; otherwise, one will have to manually input data from their accounting software into the QuickBooks Payroll.
Mobile access
Gusto: Gusto is mobile-friendly but does not have an all-inclusive mobile app.
QuickBooks: QuickBooks is mobile-friendly and provides a fully functioning mobile app compatible with both iOS and Android.
Conclusion: The QuickBooks Payroll mobile app is included free of cost in your subscription and allows you to manage your payroll anywhere. Viewing payroll expenses, entering employee hours, and filing taxes can all be done through QuickBooks Payroll's mobile app. Gusto lacks this ease of operation and flexibility.
Gusto Payroll vs. QuickBooks Payroll
Tax filing and processing features
Gusto: Gusto allows automated filing and processing of local, state, and federal taxes.
QuickBooks: QuickBooks Payroll allows filing and processing only state and federal taxes.
Conclusion: With QuickBooks Payroll, forms must be printed and uploaded on the local site to file local taxes. Gusto provides uniformity in processing taxes for all tiers.
Payroll Automation 
Gusto: With Gusto Payroll, payment processing can be managed for salaried and hourly team members.
QuickBooks: QuickBooks Payroll allows automation for only salaried employees.
Conclusion: While QuickBooks Payroll does not provide automated settings for hourly employees, it offers customization for setting up hourly employees. In addition to hourly rates, varied rate types can be set up to pay different amounts to different employees depending on the nature of the work. Up to eight different hourly rates are available for each employee.
Direct Deposit Time
Gusto: Gusto allows for two-day direct deposits under its Core package and next-day processing for its Complete and Concierge plans.
QuickBooks: QuickBooks allows for next-day direct deposits under its Starter plan and same-day processing with its Premium and Elite programs.
Conclusion: Startups that require quick, direct deposits and are in a position to pay for upgraded services may opt for QuickBooks Payroll.
HR Benefits
Gusto: Gusto offers HR benefits like generating new hire state reports, employment benefit options like health insurance, and flexible spending accounts, no matter which plans you subscribe to.
QuickBooks: QuickBooks offers only to generate new hire state reports. You will need to file the actual report yourself.
Conclusion: Gusto offers workers' compensation regardless of the plan subscription, whereas QuickBooks provides the administration of workers' compensation only to its Premium and Elite subscribers.
Bottom line
While choosing any payroll solution, a startup founder needs to consider:
The actual capacity of the startup

How many employees are currently employed

Can the plan be upgraded with future expansion?
If QuickBooks accounting software is already in place, QuickBooks Payroll may be a more sustainable option because it allows health insurance benefits in all 50 U..S states. Gusto, on the other hand, offers greater overall HR support.
How to set up QuickBooks for Startups?
QuickBooks can be set up for startups following the steps mentioned below.
It is important to note that the startup's information must be entered by following these steps:
Go to Gear > Account and Settings

On the left panel, click Company

Enter the startup's information

Click Save and then Done
For managing customers or suppliers, these steps need to be followed:
On the left panel, click Sales > Customer (for managing customers) or Expenses > Suppliers (for managing suppliers).

Select the New Customer button or add a supplier manually.

Enter the customer or supplier details in the Customer Information or Supplier Information window.

Click on the Save option.
Next, you can set up your sales tax and start creating sales or expense transactions for your customers and suppliers by following these steps:
From the left navigation menu, click the +New button.

Select the transaction (sales receipt/invoice bills/expense) you want to create.

Enter the transaction details and click Save and Close or Save and Send if you want to email the transaction to your customers/suppliers.
The above information on setting up QuickBooks for startups has been removed from the Intuit QuickBooks website. 
Why QuickBooks?
QuickBooks was founded in 1983 to provide business and financial software for small businesses. While its headquarters are in the U.S., it extends globally to the U.K., Australia, Singapore, France, India, Brazil, Israel, and Canada. QuickBooks has found a firm support base in startups because it takes care of all their details of managing finances to solely focus on improving their business without worrying about financial management. With QuickBooks, the accounting process is more streamlined. Intelligent tools like professional invoices and payment reminders ease the process of quick payments. Robust dashboards show real-time insights into how the business is doing.
Why Gusto?
Gusto was introduced as ZenPayroll in 2012. Gusto is used by more than 100,000 businesses across the country. It also has offices in New York City, Denver, and San Francisco. Gusto's plans include automated payroll for salaried employees, tax filings, W-2s and 1099s, direct deposits, etc. Gusto's upgraded plans come with time tracking and enhanced HR features.
Does Gusto integrate with QuickBooks Online?
Yes, Gusto integrates with QuickBooks Online, building a two-way integration that helps in synchronizing a detailed journal entry to your QuickBooks Online Account. In other words, Gusto can run parallel to your QuickBooks Online Account. Following this integration, Gusto can directly draw out your chart of accounts from QuickBooks Online and create a journal entry using your customized account. This integration provides a range of tools and instruments with startups and small businesses in mind.
Gusto QuickBooks Integration
This integration is highly beneficial for those founders/employers who are maneuvering into payroll as beginners. It saves time that startups could utilize in improving profits. The following are the steps to complete the integration process:
How to Integrate Gusto Payroll With QuickBooks? - [Guide]
Set up the QuickBooks Desktop (this takes a total of 15 minutes)

Then sign in to Gusto

Hit the Integration tab.

Select Accounting under Categories.

Select and click the title named QuickBooks Desktop.

Click Connect.

Enter all credentials related to your QuickBooks Desktop to get connected.

You will need to upload and map the Chart of Accounts from QuickBooks to Gusto. Mapping the following Gusto Payroll items will be required:
Earnings types (Bonus, Regular, Commission, etc.)

Benefits expenses

Employee taxes

Bank account

Benefits 

Liabilities

Garnishment/Deduction liabilities

Owner's draw

Reimbursements
All options in Gusto are generated depending on the file content. After the mapping process is carried out, data can be exported to an Intuit Interchange Format (IIF) file, which can then be downloaded and uploaded to your QuickBooks Desktop account. The benefits and deductions can be carried out according to the requirement, for which Gusto does not charge an extra amount. In QuickBooks Desktop, the debt can be mitigated, and the amount owed can be canceled when the benefit is charged to the right party. Separate accounts can be used for various payroll items within a department by using department mappings.
This integration requires you to choose which QuickBooks account a payroll transaction has to sync to. There is also an option to select whether future integration between Gusto and QuickBooks will be automated or entered each time manually. Even though Gusto extracts your data from QuickBooks Online, some things are still left to be configured.
Learn more with us
Access our Knowledge Base for Startups
We can help!
At AbstractOps, we help early-stage founders streamline and automate regulatory and legal ops, HR, and finance so you can focus on what matters most—your business.
We can help you decide whether to use Gusto or Quickbooks at your startup. Learn more.
Like our content?
Subscribe to our blog to stay updated on new posts. Our blog covers advice, inspiration, and practical guides for early-stage founders to navigate their startup journeys.
Note: Our content is for general information purposes only. AbstractOps does not provide legal, accounting, or certified expert advice. Consult a lawyer, CPA, or other professional for such services.
---