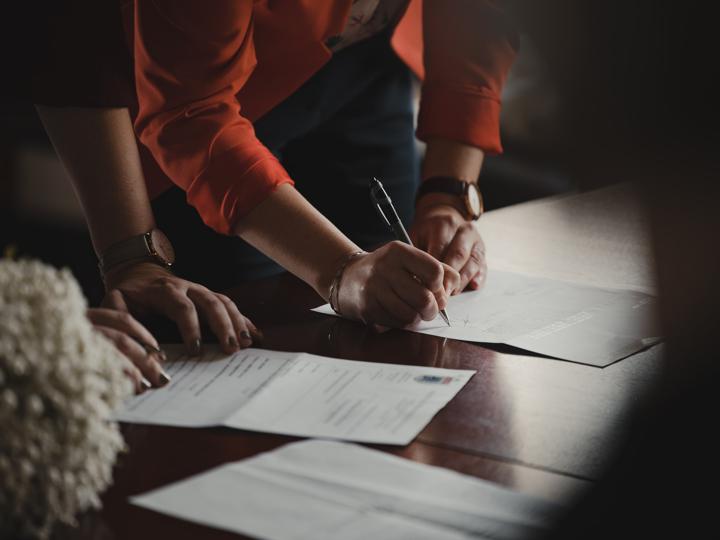 Photo credit: Unsplash
Key Takeaways
Both DocuSign and Adobe Sign for e-signature are highly effective and provide maximum returns to their users.

Founders should be wary that they don't exhaust financial resources on software for a single application, such as e-signatures. Invest in software that multitasks.

Founders must think carefully about the technology needs of their startups. They need to make sure that they can continue to pay for the software they use in the long haul, which would include updates and upgrades.

It is always a good idea to choose the most basic plan and upgrade to higher pricing tiers if and when the need arises.
DocuSign and Adobe Sign
DocuSign lets you digitize your signature requirements through a simple and reliable platform. It is a scalable tool and companies across the globe can attest to the ease they had using it while scaling. Workflows are never interrupted because DocuSign is compatible with every device. Apart from this, DocuSign offers a host of other features like analytics, templates, and reliable workflows.
Adobe Sign empowers startups with the ability to manage electronic signatures so they can carry on with their work, no matter where they are. It provides solutions for small businesses as well as enterprise companies, including solutions that include a host of other features like custom branding and powerful integrations.
DocuSign vs. Adobe Sign
General functionality
DocuSign: Apart from allowing its users to sign documents on every platform (Mac, mobile, Windows), DocuSign offers offline document signatures, automation of the entire e-signature process, powerful integrations, providing links via email to all signers, and following up until all signatures are complete.
Adobe Sign: Adobe Sign provides its users with easily processed e-signatures, management of all documents using their mobiles, automation of the record keeping process, offline signatures (via the Adobe Sign iOS app), custom solutions for the different growth stages of startups, and reminders for all relevant users to ensure that the signature process is complete.
Conclusion: Both platforms offer almost the same general features for e-signature capture and management. They rank equally for offering tailor-made solutions based on business size and growth stage.
Pricing
DocuSign
Four plans are available at different prices:
Personal: $10 per month; $120 per year
Standard: $25 per user per month; $300 per year
Business Pro: $40 per user per month; $480 per year
Enhanced Plans: Custom quotes are available.
Adobe Sign
Two plans are available at different prices and for different business sizes:
Sign Small Business: $37.21 per license per month, $446.53 per year
Sign Business and Enterprise: Custom quotes are available.
Conclusion: While the pricing tiers for DocuSign allow founders to choose as they scale, it is ideally suited to medium- and large-sized businesses because of the value for money its features provide. Adobe Sign, on the other hand, provides solutions according to business size, so its pricing tiers are well-suited to startup needs as well, incorporating everything essential to e-signature management.
Features
DocuSign
Some attractive features offered by DocuSign include:
Automation of all workflows with the Business Edition so that signatures can be obtained regardless of location

Support for complex IT infrastructure with the Enterprise plan

Complete management of online signatures including the gathering of all documents and their authentication

Option to Bulk Send
Adobe Sign
Some attractive features offered by Adobe Sign include:
Provision to request e-signatures, receive automatic reminders and notifications, customize branding, and post forms for signing on your website based on your startup's size

There is a provision to process payments and signatures in the same form with Sign Business and Enterprise.

Real-time reminders for keeping track of each document

Self-serve web forms for growing businesses

If there is a requirement for sending one agreement to multiple people, the Mega Sign option can send a personalized form via bulk mail to every signer.
Conclusion: Both platforms rank equally in terms of the particular features they provide.
Integration
DocuSign: A powerful API and useful integrations including Microsoft, Google, Salesforce, SAP, Oracle, Apple, Smart Communications, and Workday
Adobe Sign: Integrates with Microsoft Dynamics, Microsoft SharePoint, Office 365, Salesforce, Workday, Nintex, Icertis, SAP Ariba, Veeva, and Zoho CRM
Conclusion: While both e-signature platforms offer multiple integrations, Adobe Sign offers quite complex and advanced integrations at the higher pricing level, while DocuSign offers the same degree of advanced integrations at a lower pricing tier.
Customer support
DocuSign: Enterprise-level support is available only for Enhanced Plans. Also available is 24/7 chat support that is not as quick as users would expect it to be.
Adobe Sign: 24/7 live chat support is available, but support by email or phone is available only with the higher pricing tiers.
Conclusion: Though both platforms offer multiple support options, the difference between DocuSign and Adobe Sign is the availability of upgrades with their respective pricing tiers. DocuSign emerges as a clear winner in this category as upgrades for support are available for every plan. Simply put, one can opt to pay extra for quicker support options even with their most basic plans. With Adobe Sign, upgrading to higher-quality support options requires users to pay for advanced features, too, even if all they need is better support and not additional features at the basic level.
Customer reviews
DocuSign: Several positive reviews on popular websites like G2 and Trust Radius. DocuSign has garnered mixed reviews mostly because of the lack of signature options at the lower-priced tiers. The recommendation for DocuSign is on the higher side as given by Gartner users, but the ratings are fewer in number, and not fully explanatory.
Adobe Sign: Adobe Sign has garnered a wide array of user reviews on popular websites that have in-depth reasoning of why users liked/disliked the product, or what specifically appealed to them. The mixed reviews were complaints about the small number of integrations at the lower pricing levels, or for small business needs.
Conclusion: DocuSign versus Adobe Sign reviews show mostly positive responses, but Adobe Sign ranks higher because of the sheer number of user reviews from its wide user base. This larger sample leads us to believe that Adobe Sign's reviews have more credibility and are more reliable. 
Which is more secure: DocuSign vs. Adobe Sign?
DocuSign: DocuSign adopts an all-inclusive approach towards security, including measures like AES 256-bit encryption at the application level, HTTPS transfer of all data, SAML (Security Assertion Markup Language) use for optimal utilization of web-based authentication, SSO, multifactor and two-factor authentication for users, and industry standard compliance such as HIPAA, IRS, SOC 1 Type 2, and SOC 2 Type 2.
Adobe Sign: Industry standard compliance along with a variety of security-related resources offered by the AdobeTrust Center.
Conclusion: DocuSign ranks higher in terms of the transparency it maintains while clearly stating what security measures are in place and how all data is stored. Adobe Sign provides resources for security without clearly stating the details.
Why DocuSign?
DocuSign is preferred because it provides:
A completely traceable audit trail

Error-free transactions

An all-inclusive approach for preparing, signing, and managing documents

Automation for even the most complex workflows with its Enterprise solutions

An intuitive user interface.
Why Adobe Sign?
Adobe Sign is preferred because it provides:
Advanced solutions because of the inclusion of Adobe Document Cloud for higher-tier plans

An all-inclusive approach to the e-signature needs of startups

Offers payment processing for startups (with Sign Small Business)

Efficient signature management with few delays
Which is better: DocuSign or Adobe Sign?
The bottom line for both platforms suggests that these unique solutions are ideally built for businesses with different needs according to their growth stages. Adobe Sign is better for startups and individual use. It is a simple solution for e-signatures with features that include everything essential to signing, sending, and managing business documents. Even though Adobe Sign is more expensive than DocuSign, Adobe Sign has a strong reputation for presentation and design that appeals to clients. Additionally, Adobe Sign offers payment processing and subsequent integrations with its small business plan (Sign Small Business), which is not the case with DocuSign. DocuSign offers payment processing at a higher pricing tier. To conclude, a large number of users have vouched for the services provided by Adobe Sign and that counts when you're calculating the value for money in a software solution.
DocuSign, on the other hand, is better suited for rapidly growing startups, established businesses, and enterprise companies as shown by its wide user base. Its ability to scale to include a larger number of users wins the recommendation of growing startups. DocuSign is practically unrivaled in terms of integration and flexibility. The DocuSign versus Adobe Sign Reddit comparison also shows mixed reviews for both platforms as users found the DocuSign deployment to iPhone seamless while Adobe Sign proved problematic in terms of using it on small screens.
Other alternatives
With a high number of alternatives available in the market, it is worthwhile to consider HelloSign as it is the only e-signature platform that offers white labeling. This feature is particularly attractive for new startups that are trying to create - or cement - a distinct brand identity. The DocuSign versus Adobe Sign versus HelloSign comparison gives HelloSign an extra point for enabling white labeling for its users, as both Adobe Sign and DocuSign do not offer it.
Learn more with us
Access our Knowledge Base for Startups.
We can help!
At AbstractOps, we help early-stage founders streamline and automate regulatory and legal ops, HR, and finance so you can focus on what matters most — your business.
We can help you decide whether to use DocuSign or Adobe Sign for your startup! Learn more.
Like our content?
Subscribe to our blog to stay updated on new posts. Our blog covers advice, inspiration, and practical guides for early-stage founders to navigate through their start-up journeys.   
Note: Our content is for general information purposes only. AbstractOps does not provide legal, accounting, or certified expert advice. Consult a lawyer, CPA, or other professional for such services.
---