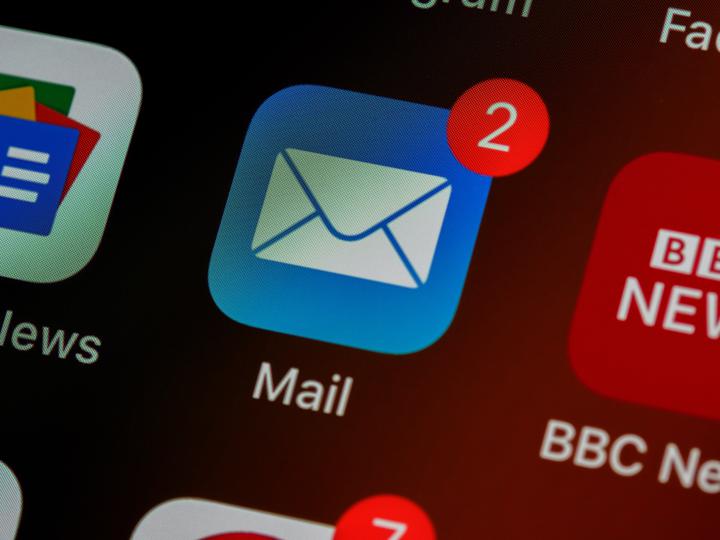 Photo credit: Unsplash
How long should an e-newsletter be?
What is the number-one piece of advice that e-newsletter readers have for e-zine (electronic magazine) senders? Keep it brief.
According to Nielsen Norman Group's (NNG) e-newsletter usability research, users spend a median of 51 seconds on an email newsletter after opening it.
Why do people read e-newsletters for such a short period of time?
There are far too many emails
As per The Radicati Group, institutions and individuals send approximately 269 billion emails every day. There's strong competition for attention in the inbox.
Smartphones
More than half of your market today reads their e-newsletters on their smartphones. Because of the small screen, readers need information in small bites that they can scan quickly. 
The sophistication of the recipient and the sender
Subscribers have grown to demand more carefully edited e-zines as e-newsletters have gotten shorter, more graphic, and more scannable.
Therefore, less is what readers desire. What is the optimum length for a newsletter? The simple answer is: it is uncertain. However, it's well worth the effort. Here's the lengthy answer: compute your A.R.T.
People read at a rate of around 200 words/minute. We may use this statistic to calculate the Average Reading Time, or A.R.T., a concept developed by Roy Peter Clark of The Poynter Institute.
Multiply how many minutes you believe that people are willing to spend reading your newsletter at 200 words per minute. The end result is your e-newletter's suggested word count. We know that individuals will read your email newsletter for an average of 51 seconds — which we can approximate to 1 minute. To calculate the required length of your newsletter in words, multiply 1 minute by 200 (words/minute).
The conclusion is that, in general, each newsletter should be no more than 200 words long.
What is the purpose of a newsletter?
Startups and organizations use newsletters to convey valuable content across their range of clients, leads, and subscribers. Newsletters allow you to send compelling material, encourage sales, and attract more customers. Furthermore, email campaigns are simple to monitor and alter, allowing you to evaluate your performance and make real changes that result in additional victories. Any email marketing campaign should include newsletters. Creating a monthly newsletter, in particular, may provide enormous benefits to both large and small businesses.
How to monetize a newsletter?
Selling Subscriptions Directly
Among the simplest methods of monetizing newsletters is to sell subscriptions to them. In its most basic form, the newsletter is written by an author, and consumers pay a set amount on a regular basis (e.g., monthly, semi-annually, annually, etc.) to access your content.
Sponsoring a Brand
Email sponsorships come in a number of different forms. Allowing a third-party vendor to fund your content in return for an endorsement or recommendation in your email is a common strategy.
Display Advertising
The technique of advertising a product/service (in this case, your newsletter) using visuals - such as photos and/or videos - on circuits of publisher websites or related domains is known as display advertising.
Classified Ads
Classified advertisements are becoming an increasingly common option for newsletter publishers to monetize their publications. Sponsored content and display adverts are combined in classified ads.
Affiliate Marketing
Affiliate marketing involves advertising the products of other individuals or businesses. You locate a product you appreciate, recommend it to others, and get a cut of the profits from each sale. A "free newsletter" can also be used as an incentive.
What to look for when choosing vendors in this space?
There isn't a single email newsletter tool that reigns supreme. The following criteria can help you make the vendor that is the best fit for your needs:
Pricing
This should go without saying: if you want to see a good return on your email marketing strategy, you'll have to start by picking a solution that suits your budget.
Features
If you're new to newsletter marketing, it makes sense to have a platform with a good interface and capabilities that are simple to use like drag-and-drop design. If you're an experienced e-marketer, you can go for a more sophisticated system.
Limits on Subscribers
Many providers charge based on the size of the databases or the number of monthly newsletter blasts.
Furthermore, the length of the client lifecycle that newsletter tools may cover varies from one vendor to another.
Finally, you'll want to be certain that the email newsletter tool aligns with your startup's objectives, which is why we wanted to eliminate the guesswork and highlight some of the best newsletters tools available for your company.
Writing/Designing Newsletters: 
Description: Create and edit text documents directly in your browser – no dedicated software required. Several people can work on a document at the same time, and every change is saved automatically.
Best for: Designed for businesses of all sizes, it is a cloud-based document management system that helps teams collaborate, share, edit, chat, and comment across multiple files in real-time.
Pricing: A Google Docs subscription comes with your Google Workspace Subscription plan.
Business Starter: $6 per user per month

Business Standard: $12 per user per month

Business Plus: $18 per user per month

Enterprise: Contact Sales for pricing
Evaluation of Key Criteria:
Features: Google Docs newsletter templates are well-designed and editable. The UI/UX is uncomplicated. 
Pros:
Ease-of-use

Good storage capacity
Cons:
Does not hold up well against other exclusive newsletter-designing software.

Limited template options
Description: Canva is an online platform that makes designing anything easy for every individual and team. 
Best for: Designed for anyone who needs to create. Canva has solutions for individuals, small businesses, enterprises, not-for-profit organizations, teachers, and students.
Pricing: Canva Pro is 119.99 when paid annually or $12.99 paid monthly, for up to 5 people. Any additional team member is $60/year ($5/month). It has a free version as well. 
Evaluation of Key Criteria: 
Features: Explore millions of graphics, illustrations, images, and other elements. Add borders, backgrounds, and text boxes anywhere on your newsletter. Use the drag-and-drop tool to experiment and fine-tune your design. Customize your newsletter by adding your own branding elements.
Pros:
Canva is affordable and easy to use which makes it ideal for most

marketing

personnel who have little graphic design experience.

It has a lot of free templates, designs, and images to choose from. Its drag-and-drop interface is perfect even for a beginner.
Cons:
Can do better on

customer service

The software has limited photo editing functions and a lot of features like resizing images are locked in the premium version.
Description: Open-source software that is free to use for creating blogs and websites
Best for: Anyone creating or requiring a modern web presence
Pricing: To purely cover the basics, WordPress costs around $11/month. Realistically though, you should expect a one-off cost of around $200, with a small ongoing monthly charge ($11 – $40/month). Your WordPress costs could quickly creep into the $1000+ mark if you need to hire a web designer.
Evaluation of Key Criteria:
Features: Easy-to-use drag-and-drop composer to build responsive newsletters. Unlimited subscribers with statistics and unlimited newsletters with tracking. Subscription spam check with domain/IP black lists, Akismet, and captcha. Delivery speed fine control (from 12 emails per hour to as many as your blog can manage).
Pros: 
You can customize your newsletter, change color, style, size, fonts, and other elements without editing code.

WordPress comes with a built-in mail feature that uses PHP's mail function to send out emails.
Cons: Potential compliance issues
Description: It's the best email app for building a newsletter from curated content.
Best for: Small businesses
Pricing: 
0-1500 subscribers: Free

1501-2500 subscribers: $39/mo

2501-5000 subscribers: $69/mo

5001-10000 subscribers: $129/mo

10001-15000 subscribers: $189/mo

15001-25000 subscribers: $299/mo

25001-50000 subscribers: $399/mo
Evaluation of Key Criteria:
Features: Offers Quick Capture, effortless editing, beautiful publications, sponsorship and paid subscriptions, audience management, and powerful analytics
Pros: 
Great for creating quick and relevant articles for your subscribers

Curated also has a nice landing page with all the things you shared earlier.
Cons: Has a problem with interfacing with structural modulation.
Description: SendinBlue combines a robust suite of services within a single, user-friendly solution.
Best for: 175,000+ growing companies around the world use SendinBlue's cloud-based email marketing and marketing automation tools.
Pricing: 
Free: $0/mo

Lite: $25/mo

Premium: $65/mo

Enterprise: Custom pricing
Evaluation of Key Criteria:
Features: SendinBlue empowers startups to build and grow relationships through marketing automation, email campaigns, transactional emails, SMS messages, chat,

CRM

, Facebook ads, and retargeting ads.
Pros: 
Modern web-tracking/lead-scoring capabilities

They also offer good software integration (like Mailchimp,

Woocommerce

, etc.)
Cons:
The customer service is not as proactive as it should be.
Writing + Email Sending
Description: Substack makes it simple for a writer to start an email newsletter that makes money from subscriptions.
Best for: Small businesses and freelancers
Pricing:  As of 2021, the minimum fee for a subscription was $5/month or $30/year, and Substack usually takes a 10% fee from subscription payments.
Evaluation of Key Criteria:
Features: Substack provides a reliable way to build an email marketing list, write newsletters, charge subscribers, and manage payment. This platform offers an intuitive email creator that helps writers create interesting emails with links, images, content, and more. It lends itself towards all sorts of creators, including bloggers. 
Pros: 
A flexible, user-friendly platform

No experience necessary
Cons:
Minimum subscription of $5/mo

No audience, no money
Description: Mailchimp's all-in-one marketing platform helps startups market smarter so they can grow faster. 
Best for: Businesses of all sizes use Mailchimp's cloud-based email marketing solution to design, automate, and manage marketing campaigns across various email platforms, ad channels, and more via a unified dashboard.
Pricing: 
Premium: $299/mo

Standard: $14.99/mo

Essentials: $9.99/mo

Free: $0/mo
Evaluation of Key Criteria:
Features: Mailchimp is a marketing automation platform that allows you to create, send, and analyze email and ad campaigns. The software offers complete campaign transparency, email tracking, the ability to view success and click-through rates, custom reports, and the ability to manage both subscribers and "un-subscribers."
Pros:
It's totally intuitive and has a top-notch layout.

Has an amazing collection of templates which definitely helps beginners in getting started quickly.
Cons: Pricing can get steep at certain stages of business growth. 
Description: Shopify is an e-commerce platform that allows anyone to easily sell online, at a retail location, and everywhere in between. 
Best for: Small to midsized companies on standard plans and enterprise companies on Shopify Plus.
Pricing: 
Basic Shopify: $29/mo

Shopify: $79/mo

Advanced Shopify: $299/mo
Evaluation of key criteria: 
Features: With

Shopify Email

, you can create, run, and track email marketing campaigns natively inside

Shopify Marketing

. Using highly customizable email templates, existing brand assets, and product content from your store, creating your next marketing campaign is extremely easy.
Pros: 
Great choices of storefront themes

24/7 support
Cons: 
Exporting blog posts is not really hassle-free.

Customers cannot use multiple discounts, only one discount per order is available by default.
Description: Build customer relationships while growing sales with email marketing. 
Best for: Small businesses, entrepreneurs, nonprofits, bloggers, podcasters, and other online content creators around the world.
Pricing: AWeber Free gives you access to all the powerfully simple and key features that you'll need to build awesome, long-term relationships with your audience of up to 500 subscribers.
AWeber Pro:

0-500 subscribers: $19.99/mo or $49/qtr or $193.80/yr

501-2,500 subscribers: $29.99/mo or $79/qtr or $313.80/yr 

2,501-5,000 subscribers: $49.99/mo or $139/qtr or $553.80/yr 

5,001-10,000 subscribers: $69.99/mo or $199/qtr or $793.80/yr
Evaluation of Key Criteria:
Features: AWeber's email marketing solution gives you access to practically unlimited email templates, a drag-&-drop builder, pre-stocked images, and all the tools that you need to grow your business.
Pros:
Cons: 
AWeber lacks the capability to integrate multiple websites' data seamlessly without some third-party apps.
Description: MailerLite helps you create professional and personalized campaigns on your own with powerful yet easy-to-use marketing tools. 
Best for: Freelancers, writers, small and mid-size businesses, non-profits, public administrations, and large enterprises.
Pricing: 
Free plan for up to 1000 subscribers and 12,000 emails per month (limited features) 

$15/month for 1,001-2,500 subscribers and unlimited emails

$30/month for 2,501-5,000 subscribers and unlimited emails  

$50/month for 5,001-10,000 subscribers and unlimited emails  

$75/month for 10,001-15,000 subscribers and unlimited emails
Evaluation of Key Criteria:
Features: MailerLite provides all the latest email marketing features designed to help you grow subscribers and build stronger relationships. Try everything in the free plan, including their drag-&-drop editor and handy automation features.
Pros: 
Easy to use with lots of features which are usually only available with expensive services

Quite intuitive
Cons: 
Going in and out of the drag-and-drop editor can sometimes be slow.
Learn more with us
Access our Knowledge Base for Startups.
We can help!
At AbstractOps, we help early-stage founders streamline and automate regulatory and legal ops, HR, and finance so you can focus on what matters most—your business.
We can help you choose the best product to create your newsletter in 2021. Learn more.
Like our content?
Subscribe to our blog to stay updated on new posts. Our blog covers advice, inspiration, and practical guides for early-stage founders to navigate through their start-up journeys.   
Note: Our content is for general information purposes only. AbstractOps does not provide legal, accounting, or certified expert advice. Consult a lawyer, CPA, or other professional for such services.
---