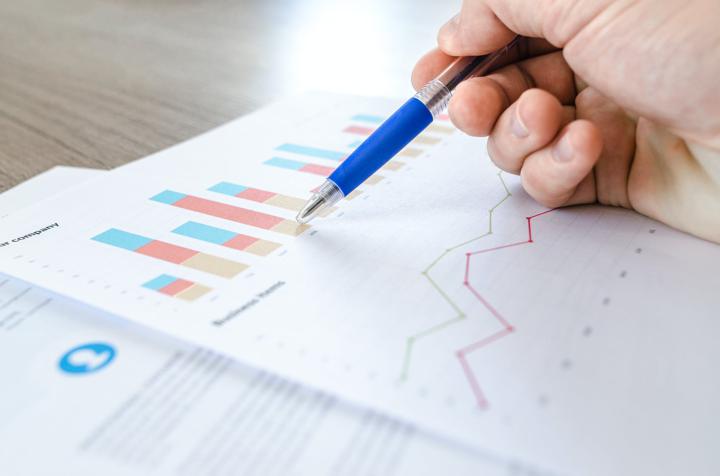 In early days of starting up, your cap table is often simple and can be managed on Excel. It's free, it's simple, it works. However, as your startup scales, you raise funding, hire people and grant equity options, keeping this information up-to-date and accurate can be a cumbersome task. Mistakes at this stage are costly and relying on professional legal help for each action can slow you down significantly. So here you are looking for a significant upgrade to your Excel cap table.
To help you choose the best system for your startup, we've collated a list of 2021's top 10 cap table management software programs.
Lets find you the best one for your needs!
5 Criteria Founders Should Consider When Choosing a Cap Table Tool
We've evaluated these tools based on 5 key criteria that early to late stage founders should keep in mind when choosing a cap table management system.
Ease of use.

An equity management system should help you automate and streamline the complexity of the

equity management

process without a huge learning curve. The interface should be simple, intuitive, and save you time and money.

Cap Table Management.

This is the core of it. A good system will enable you to centrally track and manage who holds equity and has the right to exercise equity in the future covering transactions like exercise of options, cancellations, conversions of debt to equity, transfers, and stock issuances with legal compliance.

409A Valuations.

A

409A

is used to determine the value of a company's

common stock

and set the

strike price

for issued options. 409A valuations should be done annually or each time the company has a material event like a new financing round, keeping you protected from costly audits and penalties.

Compliance.

A key benefit from using an equity management system is to achieve compliance with relevant regulations and taxes without needing professional legal assistance at each step.

Growth and Exit Scenario Modeling.

Planning for your

next round

or an exit event? A good system should help you model out different scenarios, assess the impact on stakeholders, and ultimately, help you choose the best path for your startup.
10 Best Cap Table Software for Founders in 2020
Pricing

: Based on stakeholder count, complexity, and plan; Annual Subscription

Best for

: Large and Medium Businesses

Free Trial:

Yes

409A Valuation:

Free in every paid plan

Cap table:

Yes

Supported Platform:

Web-based, iOS, Android

Scenario Modeling:

Yes
Noteworthy Features:
Offers

support for all security types

(issue preferred stock, restricted stock awards, restricted stock units, profits interests, warrants, convertible notes, and

SAFEs

, etc)

Provides

real-time cap table updates

and reports are auditor-ready with formulas

Has

built-in checks

(Rule 701, Rule 144, and ISO $100K limit) to ensure compliance when issuing equity

Provides

ASC 718 reports and

409A valuations

which are regularly audited by the "Big 4" accounting firms

Offers

robust scenario modeling tools

that pull data directly from the cap table making it effortless to plan for financing rounds and exits

Provides a

streamlined process

for option grants, board consents, and approvals that can be stored and encrypted for historical documents

Offers feature

to

send updates

on financials, customer wins, and company performance through the

investor updates portal
Pros:
A combination of intuitive and comprehensive which makes Carta ideal for both experienced and first time tech entrepreneurs

Easy to use, clean interface makes equity management process efficient and a big time saver
Cons:
Comprehensive capabilities may not be of great value to smaller startups

Some of the features are a bit hidden and expensive
Pricing:

Startup - Free, Growth - $7/stakeholder/mo, Scale - by quote

Best for:

Small, Medium Businesses

Free Trial:

Yes

409 Valuation:

Yes 

Cap table:

Yes

Supported Platform:

Web

Scenario Modeling:

Yes

Noteworthy Features:
Manage and issue

digital certificates

to investors and employees

Provides 409A valuations in

5 days

Uses

machine learning models

that read documents to create cap tables, resulting in fewer data entry errors

Offers 15 minute

onboarding

Provides modeling tools (with

pre-money SAFEs, post-money SAFEs and factors in pro-ratas and discounts

) which help founders model dilution in future rounds

Pulley works with accelerators like

YCombinator

to help their portfolio companies manage their cap table
Pros:
Free for early-stage companies regardless of size of funding amount raised
Cons:
Pricing: 

Seed to Series A: $160/mo, Series B: $280/mo, Series C+: by quote

Best for:

Small and Medium Businesses

Free Trial:

Yes (free version/demo)

409A Valuation:

Yes

Cap table:

Yes

Supported Platform:

Web-based

Scenario Modeling

: Yes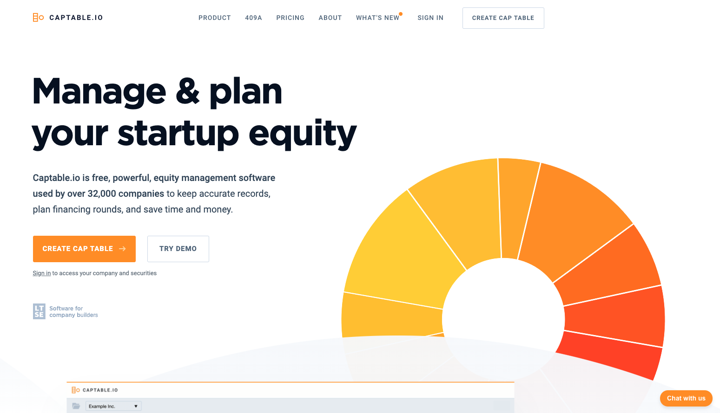 Noteworthy Features:
Provides a

fully-guided process

that enables startup founders to set up their cap tables

Cap tables

 are free

and

can be securely shared

with employees, co-founders, and investors

With the

'Fast409A' process

, 409A valuation takes just an hour or less to submit and is delivered within days instead of weeks

Offers

reliable round

and

exit modeling tools

which allow founders to explore the effect of liquidation preferences

Access to '

HiringPlan

'

, a headcount-planning tool for startups with built-in marketing data

Access to '

Runway

'

, a cash planning tool to help companies understand, manage, and extend their cash runway

Access to '

Disclosure

'

which makes it easy for founders to provide the information and files that the investors are requesting and saves them from duplication of effort and wasted time
Pros:
Free tool that makes cap table creation and scenario modeling as easy as possible
Cons:
Captable.io doesn't have tools to help companies streamline communication with their board and investors
Pricing: 

Startup (Free), Premium (€2 / stakeholder / month), Enterprise (by quote); Annual Subscription

Best for:

Small and Medium Businesses

Free Trial:

Yes

409A Valuation:

Yes

Cap table management:

Yes 

Supported Platform:

Web-based

Scenario Modeling:

Yes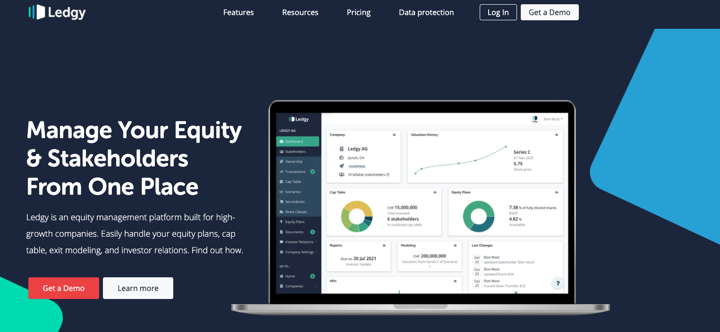 Noteworthy Features:
Best for

companies/startups with high-growth ambitions

and

investors with multiple portfolios

The tool is

deployed via the cloud

so it can be

accessed virtually anytime

and anywhere, which is great for investors who are always on the go

Offers

digital signing and signature workflows

to sign shareholder agreements and convertible loans online

Allows

reports and KPI sharing

with investors

Offers

flexible round modeling

and ability to

assess the impact of liquidation preferences

with waterfall analysis and breakpoint charts

Cap tables with granular access levels allow owners to

control and double-check the publishing of new transactions

Supports efficient

implementation and management of employee participation

plan, encompassing stock options, and vested stocks

Offers

instant customizable PDF and excel exports
Pros:
Great tool for portfolio management and seamless communication with stakeholders

Single click access to information which is presented in an easy to understand, visual way

History on transactions, splits, valuations can be viewed together without tedious search

Support is always available
Cons:
Doesn't have the ability to automatically send pre-formatted update reports on a weekly, monthly, or quarterly basis

Logon procedure has been a little bit confusing for new users
Pricing:

Quote-based

Best for:

Medium and Large Businesses 

Free Trial:

Free Demo

409 Valuation:

Yes

Cap Table Management:

Yes 

Supported Platform:

Web-based

Scenario Modeling:

Yes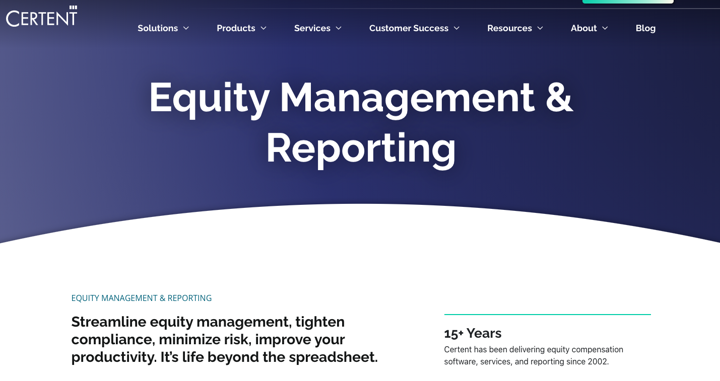 Noteworthy Features:
Best for public and private companies from start-up to enterprise in all industries

Uses

distribution waterfall

with a

high-impact graphical presentation

to model and compare various term sheets and analyze capitalization outcomes

Offers

comprehensive Equity Compensation Management

that simplifies and streamlines all crucial aspects of stock administration and reporting including

ASC 178

components (valuation,

SEC

disclosure, dilution, expensing, and corporate tax)

Features DisclosureNet

which provides a comprehensive suite of accounting standards to increase the quality of and readability of the company's filings

Offers

bootcamps, customized training, and coaching curriculum

to customers

Provides

a team to

simplify complex reporting concepts

associated with XBRL and to manage all SEC and proxy requirements for Equity Financial Reporting

Computes Black-Scholes valuations

automatically and

offers built-in expected lives

and

historical forfeiture calculator

ERSP Management

which reduces time spent in managing ESPP programs
Pros:
Linked to

ADP

and

Bank of America

Merrill Lynch that make the equity management process more seamless 

Ability to handle a number of award types, from stock options to RSA/RSUs to PSUs

Integration with vast network of brokers is helpful based on company needs

Support has been very knowledgeable on the software, tax, and accounting principles around equity management
Cons:
No functionality for viewing different tabs simultaneously without having to navigate away from other windows 

Users complain of a bland and basic UX 
Pricing:

Quote-based

Best for:

Small, Medium, Large Businesses

Free Trial:

Free Demo

409 Valuation:

Yes

Cap table:

Yes

Supported Platform:

Web-based, Android, Apple
Scenario Modeling: Yes
Noteworthy features:
Best for businesses looking for control over their employee's equity plans

Available on app stores

Features Global Intelligence

which is an easy-to-use online database of legal and international tax regulations and is updated regularly by a network of top global law firms

Enables private companies to run tender offers

Calculate stock compensation expense

(ASC 718)

Allows lockdown

to protect employees from trading during the blackout period and the

ability to set up default release elections

at vesting dates
Pros: 
Organized equity plan management makes work easy for admins

Employees get visibility into their stock value, vesting schedules, release option elections, etc. 

Employee legal and tax guides per country and award make legal and tax compliance easier to manage

Realtime dashboard shows current stock price at the top of the page allowing users to get quick glance updates
Cons: 
Limited functionality to run expense simulations based on different inputs

Potentially difficult to use if the user doesn't have a financial background
Pricing:

Quote-based

Best for:

Small, Medium, Large Businesses

Free Trial:

Yes

409 Valuation:

Yes 

Cap table:

Yes

Supported Platform:

Web-based

Scenario Modeling:

Yes

Noteworthy features:
Best for startups

Free software that

offers a full suite of cap table management tools, modeling for rounds and exits, 409A valuations, and ASC718s

Main features include

options and valuation management

,

private equity, and cap table management

that enables users to see cap tables at any stage and share customized views with all stakeholders

Includes

round modeling tools

that make it easy to visualize the dilution impact on imminent equity

Provides

audit-defensible 409A valuations

within days
Pros: 
Easy, intuitive interface to manage the dispersal of equity internally instead of paying hefty hourly rates for a law firm to draft the documents 
Cons: 
Monetary exchanges for equity can't be managed in the same system 

Some advanced capabilities not available that you may need as your startup grows
Pricing: Under 50 shareholders:

Free,

50-249 shareholders:

$99/mo,

250-750 shareholders:

$399/mo

750+ shareholders:

by quote

Best for:

Small, Medium, and Large businesses

Free Trial:

Yes

409 Valuation:

Yes 

Cap table:

Yes

Supported Platform:

Web-based

Scenario Modeling:

Yes

Noteworthy features:
Best for private companies, venture capital, private equity, and law firms

Offers

cap table management

that is designed to track and manage shares, convertible notes, warrants, options, and secondary transactions

Features include

stock option planning, employee portal, and scenario modeling

to evaluate term sheets and future funding rounds

Provides 409A valuation

that is fully integrated and stored on EquityEffect, whether produced by partners or accounting firms

Users can

set alerts and email notifications

for ongoing maintenance
Pros: 
Simple navigation allows customers to understand and use the tool easily

Dashboard and cap table have useful graphics with quick rendering for easy to understand, quick updates
Cons: 
Users often run into bugs both in the UI/UX and core capabilities

No flexible reporting functionality

No forget password mechanism

Some users question the software's reliability
Pricing:

 Bronze - £50/mo, Silver - £100/mo, Gold - by quote

Best for:

Small, Medium, Large businesses 

Free Trial:

Yes 

409A Valuation:

Yes

Cap table:

Yes

Supported Platform:

Web-based

Scenario Modeling:

Yes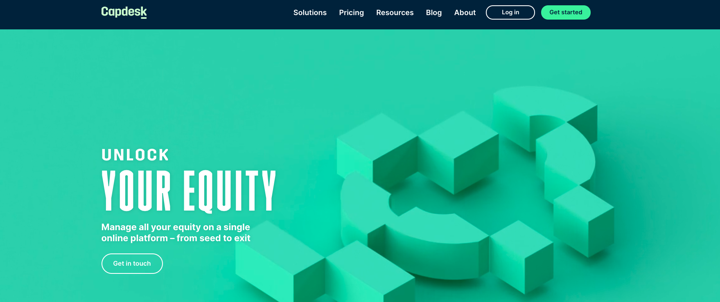 Noteworthy features:
Known for

employee equity plan and reporting capabilities

that have a quick set up and end-to-end functionality to share schemes and grants and deliver information to employees

Employee Share Management capability

allows tracking of employee share options across jurisdictions, issuing of grants with electronic witness signatures, and giving employees access to their vesting schedule in real time

Board reporting feature

where cap table and other information can be reported to the board

HMRC reports and Companies House filings

(eg. EMI and CSOP Annual Return, SH01, SH02, SH06, CS01) can be produced and stored
Pros: 
Employee equity plan management capabilities are comprehensive and easy to use allowing one platform to issue shares, review/edit documents, and provide access to information to employees

Integration with

DocuSign

makes the online agreement process seamless

Processes of issuing certificates, exporting cap tables, adding new shareholders, etc. is easy
Cons: 
User have mentioned the UI is quirky and cumbersome at times

No capability for custom reports

Refreshing a template doesn't always result in a new version of documents being created
#10
OPTRACK
(now GEMSpm)
Pricing:

Ramping Up: $90/mo, Scaling: $200/mo, Mature: $600/mo 

Best for:

Small, Medium, Large Businesses

Free Trial:

No

409 Valuation:

Yes 

Cap table:

Yes

Supported Platform:

Web

Scenario Modeling:

Yes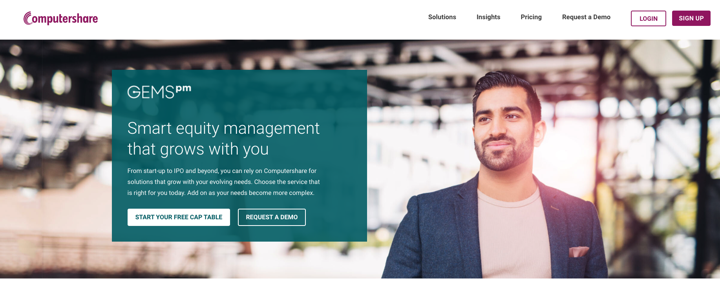 Noteworthy features:
Designed by Computershare to streamline both

private and public equity management

Easy processes to complete

multifaceted financial reporting tasks

and stay compliant

Detailed

ownership reports and personalized views

keeps stakeholders informed

Key capabilities include equity plan self-administration, financial reporting, cap table management, liability accounting, comprehensive internal reporting, document management, and detailed valuations

Automated

expiry notification

process

Provision for both

ASC-718 and IFRS-2 standards

where users have the choice of automatic Black Scholes calculations or manual calculations for accurate historical reporting
Pros: 
Strong, efficient capabilities for financial reporting

Great customer support with quick turnaround times
Cons: 
Choosing the Best Equity Management System as a Founder
It can be a challenging task to choose an equity management system for your startup. What you choose will depend on what you value more of the key criteria we discussed - ease of use, comprehensiveness of cap table management capabilities, 409A valuations, compliance stack, and scenario modeling capabilities. Choose a system that fits your needs today and enables your plans for the future.
We Can Help
Still confused? We can help. Write to us at hello@abstractops.com. We'll help you choose the right cap table system for your startup.
At AbstractOps, we help founders like you automate and streamline back office functions so you can focus on what matters.