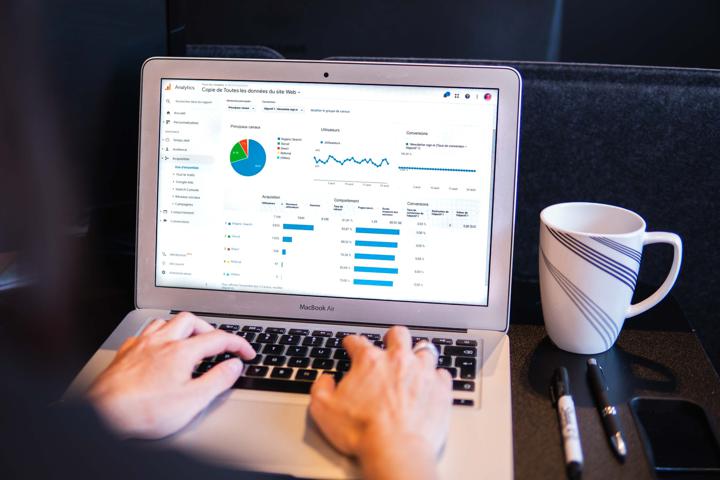 Why you should begin tracking metrics as early as possible
It is important to have a clear picture of how your business is doing at every stage. In the early stages (i.e. Seed through Series A), analytics isn't usually a priority and while it's not necessary to have a full-fledged roster of metrics to view daily, there are 3 questions you should be able to clearly answer as a founder: 
How is your business doing against the plan you had in mind? 

What's working and what's not working for your startup and your users?

Are your efforts and investments paying off for you?
If you're very early on, you may be able to track this mentally or on a simple spreadsheet. As you grow, you'd want to start collating data from different sources (e.g. Google Analytics, Hubspot, Stripe, etc.) to get a clearer picture of your company's growth.
What should you be tracking?
When you're in the early stages of starting your company, it is important to think through the ideal set of metrics to track growth. When I say "growth," it essentially means tracking progress towards the goals you want to achieve within a set timeframe and is usually focused on user and/or revenue growth in B2B SaaS.
During the early stages, it's a good idea to start with an annual plan broken down into quarterly targets. While you may find your plans very different (typically more ambitious) than what you end up achieving, this exercise helps in calibrating results with planned actions and gives you a sense of predictability as you continue this exercise over time.
A good way to track your annual plan is by creating reports for different timeframes that will help you track your current progress towards planned goals, with room to make changes in your plan immediately (vs. waiting till the end of the year to review what went wrong): 
Weekly review

- Use this to identify anomalies in data and whether you're on or off track to achieving your monthly target. (e.g. if you see a sudden drop in traffic, it's worth diving deeper to understand what's caused that as soon as possible). 

Monthly review

- Identify whether you're on track to meet your quarterly targets and use this information to drive action in the current and upcoming months. 

Quarterly review

- Use this to reflect on your quarterly plan vs. actuals, understand why there is a difference and how you can use this information to better inform your next quarter's targets and plan.

Yearly review

- Similar to a quarterly review, you'd want to evaluate how your year has been compared to what you planned and the targets you envisioned. 
If you have investors, they will likely expect a quarterly and yearly review of plan vs. achievements. These reports can be used to communicate updates with investors as well.
Coming to the actual metrics: It's easy to go overboard and think through all the key metrics you'll need, but the idea is to focus only on the few that matter. Why? You want metrics that you'll actually look at frequently, understand, and then take action on. Too many metrics could be overwhelming leading to at best, lost focus, and at worst, a lack of interest in even keeping the metrics updated.
Here's what we focused on at AbstractOps in building out our first reporting mechanisms:
#1 TOFU (Top of the funnel):
As we start building out our top of the funnel, it's essential to understand new user growth across the channels we care about. In AbstractOps' case, we care about inbound leads from organic, direct, referral, and social traffic sources. 

In addition to this, we want to track the ROI on our marketing efforts. For instance, if we look at SEO as a focus area, we want to track impressions, click rate, and also rank and traffic driven by specific keywords and posts.
#2 Lead conversion: 
We want to make sure that our incoming traffic is of "good quality" i.e. leads to a product trial or purchase conversions down the line. Here, we want to also understand a

cohort view

of how our leads convert, how long they take to convert, and how we can improve the lead journey. 

An example of a cohort is a group of leads that started in a particular month (e.g. January 2021). For these users, we want to study the group's average time to convert, the conversion rate, and ARPU (average revenue per user) upon becoming a paid customer. This is helpful to understand user behavior and can give you a sense on what to improve on - e.g. improve the lead journey to drive faster conversions or improve the lead to customer conversion rate. You can then track future cohorts to see if these metrics improve over time.
#3 Sales channel performance: 
If you are a B2B SaaS startup, you likely have an online self-serve sales channel, a direct sales channel (or some version of that), partnership channels, or a combination of these and more channels. The idea is to track how effective these channels are in converting your leads into high value customers and whether the unit economics makes sense. 

Taking the direct sales channel as an example, we want to understand things like what our pipeline looks like, what range of contract dollar values we win the deal at, and how we can improve our sales processes to drive sales faster. 

On the online self serve side, the focus is primarily on conversion rate optimization (CRO) - ensuring that the user journey is with the least amount of friction.
#4 ARR & Subscriber metrics: 
This is the core of B2B SaaS business metrics. Are you seeing growth every month across your subscriber base and recurring revenue? It's good to keep an eye out on churned customers and understand why your product didn't work for them. 
#5 Product:
Given the early stage of your startup, you're likely in the process of building out your product. While it's great to have a view into activation and engagement metrics early on, it's okay to wait until you have a large enough user base and a stable enough product where these numbers make sense and can drive action. 

What we want to track from the onset is customer feedback and advocacy. At AbstractOps, we do this using periodic NPS surveys.
Below are example images of the reports we use for our weekly, monthly, and quarterly reporting. Note the data in them is mock data. You can access our weekly, monthly, and quarterly reporting template in Google sheets.
*Images below have mock data.
Weekly traffic and leads report: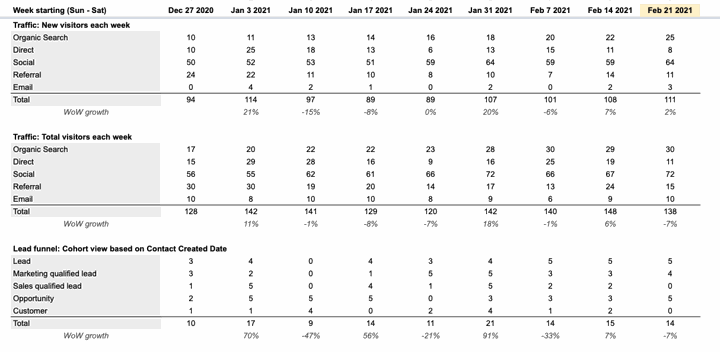 Monthly and quarterly deal pipeline report: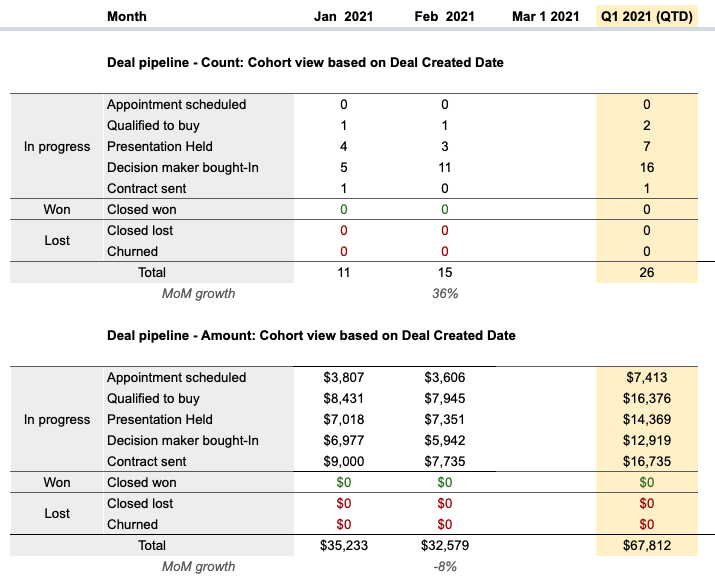 Monthly and quarterly MRR and subscriber report: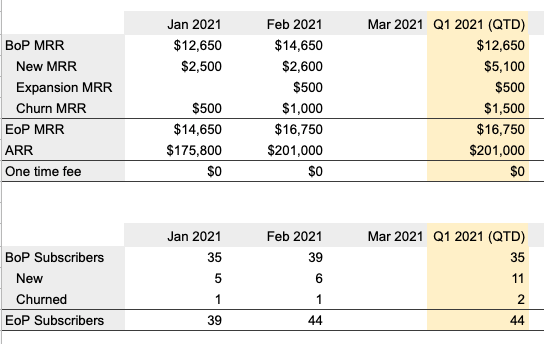 Key considerations for choosing an analytics system
The ideal analytics system at this stage allows us to track the metrics we discussed above and more as you scale and grow. 
At AbstractOps, key considerations for choosing an analytics system were:
#1 Seamless integrations with key data sources
CRM: Hubspot

Marketing tools: Google Analytics, Google search console, SEMRush, AHREFs, Social channels

Billing engine: Chargebee
#2 Minimal time and effort required to set up, update, and refresh reports
#3 Coverage of key metrics and views
This covers metrics discussed above with required granular views (i.e. the ability to drill down a report and see data for individual leads/customers)
#4 Value for money 
A way to quantify this is to pull these metrics manually and put a $ figure on the team member's time and effort in setting up and updating these metrics every month. This will give you a good sense of whether the pricing is worth getting a system in place to save manual time and effort that could be invested elsewhere.  

A good analytics system should save time and effort while giving an accurate and reliable view of the progress your business is making.
#5 Ease of use
Easy to set up and modify metrics without engineering help 

Scheduled refreshes of reports

Effective visual graphics/reporting formats

Bonus: Alerts if metrics are beyond predefined ranges
Analytics systems suited for early stage B2B startups
Based on these key considerations, we evaluated 7 analytics systems that are suitable for early stage startups. We ranked each of these systems on a scale of 1-5 to indicate their strengths and limitations across these considerations. 
Here's a quick summary of our findings with an overall ranking:
Score: 4.2
Integrations: 4/5
Seamlessly connects to Google Analytics, Google Search Console, Hubspot, SEMRush, AHREFs, and Stripe. 

Granular views are not available for SEMRush and AHREFs. 

Doesn't connect to other billing engines (Chargebee, Recurly, etc.)

*If you currently rely on your CRM for sales, this tool is great for converting CRM data into ARR and subscription metrics by using Google Sheets to add another layer of calculation. 
Time & Effort: 5/5
Easy to set up

Refreshes can be auto-scheduled periodically
Metrics & Views: 5/5
Ability to use Google Sheets as an interface which gives incredible flexibility and is great for those that like spreadsheet views. 

No in-built dashboards but can connect to various tools for visualization (DataStudio, Tableau, etc.) 
Pricing: 2/5
Varies based on the type of reporting interface you choose. For google spreadsheets, pricing starts at ~$119 / mo. 

For CRM integration, we would look at the Super Pro version at ~$229 / mo, which includes 45 data sources, daily refreshes, unlimited metrics, and 1 user access. 
Ease of Use: 5/5
Very easy and intuitive to use with Google sheet connector 

Easy to set up all metrics through 14 day free trial with no engineering help required
Score: 4.0
Integrations: 3/5
Has a native add-on for Google Analytics. 

For practically any other sources where exports of data are allowed such as Hubspot or Chargebee, a manual copy-paste of data works
Time & Effort: 3/5
One time setup time is more given calculations and metrics for most data sources need to be manually set up. 

Refreshes should be "one click" for Google Analytics and a copy-paste of new data for others.
Metrics & Views: 4/5
Gives the highest amount of flexibility in terms of metrics, drill downs, and views given you are setting up the views but views are limited to what Google Sheets offers
Pricing: 5/5
Free for use or at least part of the Gsuite package so there is no additional cost for this
Ease of Use: 5/5
Intuitive to use given most of us are familiar with Google Sheets (or at least Microsoft Excel which has a similar setup).
Score: 3.8
Integrations: 4/5
Connects with Google Analytics, Google Search Console, Hubspot, AHREFs, SEMRush. Google Sheets

Connects natively with Stripe billing engine. Can use API keys to connect to Chargebee, Braintree, etc. but requires engineering support.
Time & Effort: 5/5
Easy setup/drag and drop interface 

Capability for alerts and scheduled refreshes
Metrics & Views: 3/5
Pulls ready metrics from other platforms into a single visualization layer. 

Cannot transform data into new metrics (i.e. MRR from Hubspot data, funnel views)
Pricing: 2/5
Pricing capped on historical data storage. The starter plan is $49 / mo. which includes 10 data sources but stores data only for 11 months. The next plan is $99 / mo. which includes 10 data sources but stores data for 24 months. The 'Business' plan is $248 / mo. and includes 50 data sources with unlimited historical data. 

Ideally, we would want the ability to pull data across custom historical time frames in the future.
Ease of Use: 5/5
Seems fairly easy to connect and use the product based on the free trial
Score: 3.8
Integrations: 2/5
Doesn't connect to Hubspot yet. Connects to Google Analytics.
Time & Effort: 5/5
Very similar to Supermetrics as a Google sheet add on
Metrics & Views: 2/5
Doesn't connect to Hubspot major data source for most B2B SaaS startups with a direct sales channel, which means missing metrics. 
Pricing: 5/5
Free in early access for now with 20% off the first year of subscription. The starter plan price is $100 / mo.
Ease of Use: 5/5
Easy to use with Google sheet connection.
Score: 3.4
Integrations: 2/5
Focused mostly on MRR and subscription data sources (Chargebee, Stripe, etc.) Doesn't connect to Google Analytics, Google Search Console, and SEO tools
Time & Effort: 4/5
Once connected, seems easy to set up metrics 
Metrics & Views: 3/5
Great focus on MRR and subscription analytics with sleek visualizations

Doesn't cover marketing analytics (i.e. traffic and lead funnels)
Pricing: 4/5
Pricing scales with MRR. Plans at $100 / mo. for up to $10K MRR with an incremental $25 / every additional $10K in MRR.
Ease of Use: 4/5
Easy to use, drag and drop interface but won't work for all the metrics we'd like to track
Score: 2.8
Integrations: 1/5
Very limited integrations supporting only billing engines (Stripe, Recurly, Chargify, Braintree, etc.). 

No native connections with Google Analytics, Google Search Console, or Hubspot. API keys exist but you will need to test out how seamless the connections are in the sandbox.
Time & Effort: 2/5
Requires engineering help for first time setup
Metrics & Views: 4/5
Focused mostly on subscription analytics (MRR, subscriber count, churn, etc.) This won't cover marketing metrics

Good in-built dashboards with sleek visualizations
Pricing: 4/5
Pricing scales with MRR. At ~$25K MRR, the price is $75 / mo. At $30K MRR, the price is $100 / mo. and so on. 
Ease of Use: 3/5
Unknown given there isn't a free trial to set up and try without engineering help
Score: 2.8
Integrations: 4/5
Connects with Google Analytics, Hubspot. 

Can use API keys to connect to a billing engine (Stripe, Recurly)
Time & Effort: 3/5
This is more of a data connection platform, which means likely more effort required to set up metrics and visualization using a different platform
Metrics & Views: 2/5
Better suited for combining data sources into a single platform; not ideal for metrics and visualization.
Pricing: 2/5
Pricing is driven by the number of data sources starting at $325 / mo. for 3 data sources; $665 / mo. for 5 data sources
Ease of Use: 3/5
Not ideal for startups looking for one platform to connect data sources and view metrics
As you grow, the range of metrics you focus on will change
As you continue to grow in size, the breadth of metrics you'll want to track will continue to grow. Some things to keep in check when selecting an analytics system is whether it will accommodate new data sources that you'll need to integrate with as well as new metrics you'll need to begin tracking. Examples of metrics that will be more important as you scale include:
Growth
Revenue retention by cohorts

ARPU growth by cohorts

Acquisition and lead conversion by cohorts

Tracking growth loops

A/B testing and growth experimentation
Unit economics
Payback period by channel

LTV / CAC ratios by channel
Product
Activation metrics 

Engagement metrics (e.g. MAU, DAU, etc.)

Usage metrics
Conclusion
At AbstractOps, we did this analysis to understand what the best analytics system is for an early stage startup looking to track growth metrics. With our findings, we decided to go with Google Sheets for now with Supermetrics coming up as a very close second. 
The reasons for going with Google Sheets for now are:
Supermetrics doesn't support Chargebee yet, a billing engine we're thinking of implementing. This would mean we would still need to put in some manual effort in tracking our MRR and subscription analytics.

For the data sources we do have, we'd have to subscribe to the Super Pro plan which comes at ~$229/mo. Given point #1, this price tag does not make sense for us at this stage. 

Google sheets has an addon for Google Analytics and we've configured Hubspot and our SEO tools as manual copy-paste refreshes which update the main report. This works great for us for now with weekly manual refreshes and can scale when we add in ChargeBee. 
When it comes to a stage where the manual refreshes are getting too cumbersome, we will come back to this list and revise our decision on which system to use.
We hope you find our analysis helpful in your search in setting up the ideal analytics system for your startup.
About Us
If you're an early stage CEO, AbstractOps handles and automates your HR, finance, and legal ops — so that you don't have to. We help you Be Scrappy, Not Sloppy. 
We understand that ops can be painful. If you have any questions or need assistance with your ops, drop us a note at hello@abstractops.com. We'll do our best to help.